Published:
April 16th, 2012 17:42 EST
| | | |
| --- | --- | --- |
| | Chase Von Interview with Atira! Taking the Entire World by Pop, Rhythm, Blues and Soul! | |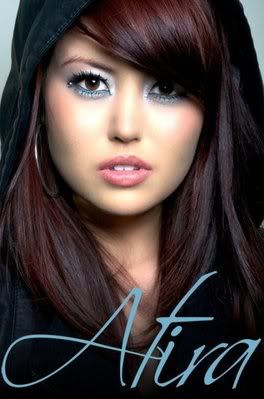 Chase Von: Hello Atira and truly want to thank you for taking time out your busy schedule to share yourself with our readers here at the Student Operated Press! And I have to tell you, that the first day I heard "AYO" I wrote Chris Targett who handles the Atira Management as well and is also one of Atira`s musicians and said I love the music! Let me know if you wanted to do an interview--- And here we are!
I`m also sure that I am not the first to be truly touched the very first time I heard this group! I have a myriad of questions but I first want to share something I found out in my correspondence with Chris. Like Sade, the band`s name is Atira which is yourself and you are the face of the group but also like Sade, who is known not only for her truly moving lyrics and one of a kind voice but also the music that accompanies her voice and brings the full package, Atira which has you as the lead singer is also composed of world class musicians who all contribute to your unique sound!
I think when a band is this great pretty much in the infantile stages so to speak, that there is more at work then just happenstance! How did you all manage to form such a world class force? Was it in your view luck? Or what I would think fate that you all mesh together so perfectly? And again, thanks again for making time for our readers and I`m sure many that read this that haven`t yet heard of you, future fans!
Atira: To be honest Chase, All of the above! Fate, luck and some careful planning all came into play. We were introduced a couple of years back and we instantly knew we had some great music chemistry and a vision that was clear and mutual.
Chase Von: A few things came to mind the very first time I heard your song "AYO" Atira. Quite a few things really but first, she`s beautiful and sings beautifully! (Smile). And then this sounds too fantastic to be from a group "I haven`t heard of Before"--- Which led to--- This is one of those songs you know will be around forever! I heard it on Easter Sunday mind you so I will even recall the day but to sound as amazing as you all do, I was thinking if this is a new group, it has some old souls in it and musicians that were born playing instruments!
How many of the other musicians in the group are already recognized I would think, worldwide for their musical genius before becoming members of Atira? And can you share here who plays what because I know since you`re the face of the band, fans that know of this group, certainly know you but I have a feeling in addition to you, the entire band is going to be enjoying super stardom in the very near future!
Atira: The Atira members consist of Chris and myself as a writing team. However to create and complete our works we have had the pleasure to work alongside some very talented and gifted musicians. Some of these include Phil Stack (bass), who is a member of the great Australian band Thirsty Merc, Rex Goh, (guitar) who has worked with the likes of Savage Garden and Air Supply and grammy award mix engineer Matt Marrin who has worked with Chaka Khan, Lauren Hill, Janet Jackson and Usher.
Chase Von: Like I mentioned above, I learned of you on Easter and--- I shared the video AYO " with just about everyone I could think of because it was Easter and I wanted to share something good. I got nothing but positive feedback and thanks and one that loved it is also Spanish. So I asked her if AYO was Spanish? (Smile). She wrote me back and said no but she thought it meant hey you--- Can you tell us what it means? Is it slang in Australian and also is there a meaning behind the name Atira?
Atira: Hahahaha. Well... Ayo in this instance is about a great feeling that you get inside. When you`re feeling positive, happy, in love and alive! I guess we may have turned it into Atira slang as a feel good word! You got me singing AYO! (Laughs).
"Atira" is a name I have always loved... It sounds beautiful and we felt it represented our sound, image and the vibe of our music. BUT! If you want to get really analytical, Atira " was the name of the first asteroid that navigated the earth. It also means Prayer " in Hebrew. (Smile).
Phil Stack Double Bass!
Chase Von: That is really deep Atira and I just found this one also on Wikipedia--- goddess of the Earth and wife of Tirawa, the creator god, in Pawnee mythology. (Smile).
What is your ethnicity if you don`t mind my asking, but the reason I do is I was born in Japan but I can`t say I can always tell the difference myself. (I always say, made in Japan, but not Japanese when people ask me where I`m from), I`m Black, Blackfoot and Cherokee Indian and rumored in family lore a bit French but the true reason I ask is I believe in the near future if not already where ever you are originally from lineage wise, you are going to have a plethora of fans loving you and your music there as well as the world over!
Atira: Fans all over the world? I like the sound of that!... I was born and raised in Perth, Australia which makes me Aussie Made (Smile). My Mum is Singaporean and my Dad is Swiss which explains why I love all the spicy food and chocolate!
Atira!
Chase Von: When I first heard your music, I told you I thought a plethora of things. One of them was this is timeless music and I say that in all seriousness. Thirty years from now I can still see me loving it! The flip side is there is also what I call Fly by Night music in my book-- Popular today and forgotten tomorrow. As an example, Norah Jones music and especially Don`t Know Why, all of Sade`s music, Luther Van dross` music, Stevie Wonders music, Bread`s music, Etta James music and particularly At Last, just about every song Everything But the Girl has ever made as well as Dido, Louis Armstrong`s What a Wonderful World, Almost Home by Craig Morgan, John Denver`s music, James Taylor`s music, Tupac, Elvis, Michael Jackson and I could go on but I think you get what I`m saying.
The other day me and the wife and son were driving home and we drove by a car that was blasting I Don`t Want To Be a Playa No More " and we both looked at each other and smiled and my son said it made his ears hurt. When I say blasting I`m not exaggerating. (Smile).
But your debut CD Butter Fly Rocket which has received many rave reviews and firmly established you on the map is your first effort and you have just completed work on your second CD.
Forgive me if I`m being a bit long winded here but when I discovered My Space, which hardly anyone I know uses anymore, it opened a whole new world for me i.e. Independent Artist. I shared communications with Kim Kline BEFORE she beat the sadly no longer with us Amy Winehouse, Cobie Caillat and Daugherty for the Best Top Forty Artist of the Year. As well as with Lisa Lavie, hailed as the next Mariah Carey and I`ve interviewed Alina Smith who won battle of the bands for KTLA TV, Dozie, who is also compared to Seal and Sade, Nhojj, MT Robison, Alice Marie, Nicollette Varanelli, Kashy Keegan, Leah Devon, Barbara Evans, Reggie Solomon, Alice Marie and I could go on but my question to you is you guys are getting really big really fast!
Are you at all concerned about maintaining your own artistic content because I also know a very talented singer by the name of Rachael Rachael and also as Rachael Bell who turned down a major label for just that reason.
Atira: At the end of the day we all need to be true to ourselves and true to what we do as I believe being yourself will always serve you well for longevity. It`s really important to stick to your guns in this industry but also be receptive to criticism and external input. We are always going to have something to learn with new challenges and I think success is not just about yourself but the people that are there for you along the way. Record deals can be made every day, however if it`s not the one for you, you keep going until you find it.
Chase Von: When will your new CD be available to the public and is there anything on the horizon that you can share with our readers and your fans about upcoming concerts/appearances so they have a heads up?
Atira: It`s all very exciting and we have a lot of new music in the works that we can`t wait to share with everyone! Hopefully all will be revealed by July which will also be supported with tour dates and promotion throughout the US. Summer 2012 will be a big year for Atira so watch this space! (Evil Eye- Laughs).
Chase Von: You and your eyes are too pretty to pull off the Evil Eye Atira, (Smile). If fans want to learn more about Atira, what are some of your websites/links that you can share with them? And that`s an idea; maybe you could take a picture posing like Austin Powers Dr Evil for your fans? (Heh, Heh).
Atira: Our official website is www.atiramusic.com. They can also like us on Facebook and get up dated information there as well and--- Tell their friends to like us, if they like us. (Smile).
Here`s that link: http://www.facebook.com/AtiraMusic
Chase Von: Do you sing other peoples lyrics or do you strictly write your own?
Atira: Predominately we like to write all our own lyrics and find the process exciting.
Chase Von: A year from now or less, I believe your group will be a household name worldwide but what do you want in the future for Atira?
Atira: Why thank you Chase! We aspire to keep creating great music that we can share with the world and if success and fortune follow that, even better! (Smile).
Drums Chris Targett!
Chase Von: How important are dreams to you? And what would you say if you were standing before a microphone that could be heard by every child on the planet, and regardless of what language they spoke, they would understand you? What positive advice would you give the children, if that were possible?
Atira: If I could say one line to any child it would be "Believe in your dreams, work hard for them and don`t be afraid to show the world what you`re made of."
Chase Von: Who are some of the people in music that you truly admire and consider have in some way, influenced your own style or inspired you as a singer?
Atira: I have been inspired by so many people and artists. From Stevie Wonder, Sting and Aretha Franklin to John Mayer, India Arie and Erykah Badu. All of these musicians have influenced me in one way or another and I like to keep my mind open to diverse genres and new sounds. As an artist I feel it is really important to explore your own sound drawing from your influences while still creating something new.
Chase Von: The first time I heard you sing, I said this is a voice I definitely want to hear more of! What advice do you have for singers in particular that want to reach your level?
Atira: The thing with music is no matter what level you are at, it`s important to enjoy yourself. For me, it was just a case of loving singing so much that I would practice every day and was determined to push myself to achieve higher levels. If you have the passion, there is no stopping you!
Chase Von: I could certainly ask you more questions but I am thankful for the time you have already shared. I haven`t been to Australia but if there are beaches where only you are on it--- (Smile). I better back step on that or risk being slapped by my wife. (Heh, Heh).
But in closing, I want to thank you again for myself and for all our readers and I`m wishing you and the band Atira continued success. Blessings to all of you and I definitely look forward to hearing more!
Atira: For the entire band thank you Chase and thanks also to the Student Operated Press and... AYO! (Smile).

"Ayo" Music Video by Atira
In the event video does not work, link is below:
http://www.youtube.com/watch?v=yrIzvj8jBFY&feature=player_embedded