Published:
July 5th, 2012 23:32 EST
| | | |
| --- | --- | --- |
| | Director Dimi Nakov`s Short Film Premiered at Cannes Film Festival: Dimi Tells All by Betty Dravis | |
Betty Dravis: Welcome to Dames of Dialogue, Dimi. It`s a pleasure to have such a talented man from the film industry with us today. In case any of our readers haven`t heard of you yet, I want to tell them you`re the producer/director of an award-winning New Zealand Filmmaking company, Zodiac Entertainment.
I met you through your friend and colleague author Barbara Watkins, who, as you know, is my co-author on Six-Pack of Blood. Barbara is known as the Queen of Terror, " but my short stories in Six-Pack are my first venture into the dark and macabre. That`s why it blew my mind when you read all six stories and awarded us your coveted Best Paranormal/Horror award. Please know how grateful Barbara and I are by your faith in us and your encouragement.
Dimi, I usually start off by asking questions about how my interviewees first got started, but I`ll get to that later this time. I`m too excited about your recent humongous achievement to keep it in for long. So tell us all about your short film BlindSide being accepted into the Cannes Film Festival! I`m sure our readers will cling to every word about your first trip to Cannes and what happened there when BlindSide premiered. I especially want to know about your Cannes personal highlights "your favorite moments! Feel free to tell a little about the submission process filmmakers go through, also.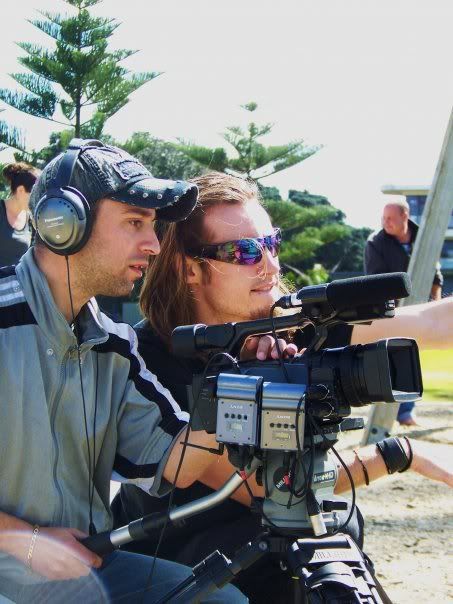 Dimi Nakov: Thank you so much for having me here, Betty, and giving me the chance to share some insights about BlindSide and what Cannes means to everyone involved with the film. And it was my pleasure to award Six-Pack of Blood the award; those stories are all so original and blood-curdling, like the title implies.
BlindSide is a short dramatic thriller which highlights the issues that often flame within broken and troubled families. Issues like family violence and sexual and mental abuse. BlindSide has a gentle yet deep way of presenting those issues which will leave the audience free to think and watch the entire film without closing their eyes because of graphic scenes or moments. What I wanted to achieve with BlindSide is to keep the audience engaged by pulling them into the characters` heads and not shocking them with the violence of each issue. I hope it will make at least one person think about any signs of abuse they might have seen and I hope they can do something about it to stop the suffering of the victims who are trapped in that vicious circle of pain.
About Cannes, I personally didn`t expect to be accepted into the Cannes Short Film Corner 2012 and even less to attend this huge and prestigious Festival event. It`s a dream come true and was not possible without the help of family and friends: my parents, brother and sister and friends such as Kay Rayner, Phil Greeves, Jonathon Rayner Burt, Chantal Rayner Burt, Barbara Watkins, Christy Bradshaw, you, Betty, and many more. Thanks to the strong and constant effort of everyone we managed to raise half of the funds I needed to get to Cannes and attend the Festival.
For the full interview, do click on the below link:
http://damesofdialogue.wordpress.com/