Published:
September 6th, 2012 23:32 EST
| | | |
| --- | --- | --- |
| | Chase Von Interviews Tanya Dallas Lewis! Gospel Music Sensation! | |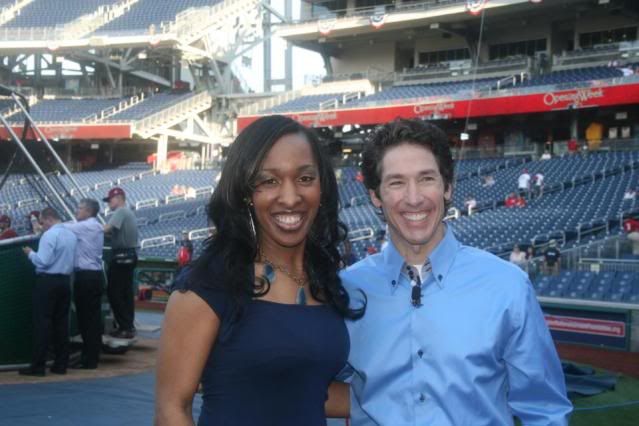 Tanya Dallas Lewis and Joel Olsteen
Chase Von: Hey Tanya and on behalf of myself and the Student Operated Press, I truly thank you for finding the time in your hectic schedule to share yourself with our readers.
When I first saw your video "Something About A Miracle" I knew you were the real deal and anyone can see you`re a legend in the making!
So thanks again God Gifted Talented One!
Tanya Dallas Lewis: Double OMG Chase!!! You are way too kind! Yes, that music video has been a blessing to many, and BET Gospel has been an even BIGGER blessing to me as they, and the BET Centric play that music video up to three times a week and varying times of the day. I never get tired of someone texting me, tweeting me, face booking me, or calling me screaming "Tanya", I just saw your video on BET!!!!" LOL!
Virally, the music video has received over 80,000 views, and on YOU TUBE we`re almost at 10,000 views.
Anyway, I`m honored that you would be interested in interviewing me. What an honor, indeed! The song is available for download on iTunes, Amazon, cdbaby-- and its track no. 6 on my debut CD, entitled `Miracles.`
Chase Von: I have many questions for you but I want to start out with your younger years Tanya.
Where did you grow up?
Did you have a happy childhood? When did it become evident that you had a voice gifted from God?
And was it a pleasant thing or a challenge of sorts being raised by an actual Preacher?
I know kids can be cruel and not everyone is raised in the faith which is why I ask the question.
Tanya Dallas Lewis: I grew up in Herndon, VA as one of three daughters of Pastors [Carl and Tina Dallas]. God had revealed Himself to me as early as the age of 5, in a way that I could know and understand. So, like many other PK`s, I`ve never had to say that I`ve lived my `parents` faith. It was truly `my faith.`
God made sure of that! My childhood was quite happy. I count it a blessing to be raised in a two parent home, especially as a little black girl. The marriage rates in the black community have always been lower than any other racial group from what I understand. Lots of single parent families in the black community, and I was raised in a home with two very strong, good parents. They weren`t perfect, but they did the best they knew how, and I will always be grateful to them for that.
My daddy raised me to be a princess, and that`s just what I was. My mom raised me to be God-fearing, and that`s just what I was. Some called me a `goody-two-shoes` but I really wasn`t anything special. I just didn`t have a desire to party, to rebel, to drink and live a promiscuous lifestyle like many PK`s do. It just didn`t interest me--but that did not make me a saint either. I just genuinely believed that my parents had their best interest at heart for me, and I trusted them.
And so I went against the grain. And that took a lot of courage that I didn`t know I had. It cost me a lot, too, but I don`t have any regrets. Ever since God had put his fingerprint on my heart, I knew I didn`t have to live life without Him and that fueled me to go against the grain. To not give in to peer pressure and societal demands for young people at that time. I was a rebel `with a cause.` LOL.
It became evident that I had a voice that God had loaned me for His work around 5 or 6 year old when my mother forced me [yes, I said FORCED! LOL!] To sing in the children`s church choir. I cried the entire time. I was angry. But I also had a `black momma` and `black momma`s don`t play` so I knew better then to totally refuse. :0) As I grew older, even my parents began to see the anointing God had on my life, especially when I opened my mouth to sing. I noticed it too, and would often argue with God b/ca when I sang, I could feel His presence so much, I would cry, and no one could understand what I was singing after a while! LOL!
I was like `God, if you want me to sing, can you help me stop crying??" LOL! His presence was just that sweet, that I couldn`t keep the tears from flowing. And He eventually honored my request. ;0) Whew! I`m glad! Cuz me, crying AND singing is SHO` an UGLY SIGHT TO SEE! hahahahaha!
Chase Von: Both my parents are from Virginia so we`ll have to talk Food " a little later... (Smile).
Were you affected by that unusual earthquake that took place there and in surroundings areas? And do you think we are actually in the end of days or close to it?
Tanya Dallas Lewis: Chase, I didn`t know WHAT was going on when the earthquake hit! I was in my home office at the time, and so, I thought that maybe the house was about to blow up!!
Because it was shaking, and when I looked outside, it didn`t seem like anything was shaking. And let me tell you, I did the LAST thing you are supposed to do when there`s an earthquake. My silly behind was walking around the house investigating!!!
I was just like the people in the movies--BEING NOSEY, instead of heading for safety!!!
Lord have mercy! I do believe that the earth is seeing some of its final groaning pangs according to Biblical prophecy, yes. But one day to the Lord is as a thousand years, as a thousand years are to one day.
Chase Von: My thanks for you sharing your perspective on that Tanya, being someone who walks so closely with the Lord.
And a lot of people are thinking the way things are going, it very well may be the last day`s prophesized in the Bible. Folks engaging in cannibalism and there`s just a myriad of bad and insane news we are barraged with.
How do you stay so positive with all the things we all are facing daily?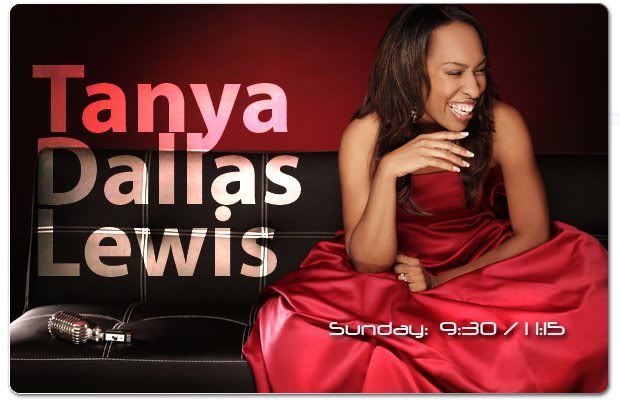 Tanya Dallas Lewis!
Tanya Dallas Lewis: Quite simply: I don`t want the local news! The local news is filled with negativity and violence, when there are stats out there that actually show that the U.S. has seen a decrease in violence. The local news would have you believe that you will be shot if you walk out your front door! That your kids will be kidnapped! The local news seems to prey on our fears and I hate it.
The reality is, kids really DON`T get kidnapped all that often here in the U.S. It does happen, but it is not by any means an epidemic. I think we have become so paranoid, and the news encourages behavior that really does no good for any of us. Consider it.
When I was a little girl, we would go to sleep at night with the front door open, and only the screen door locked. We also had less of an influence of television and media, then, too. I can`t help but notice the connection. But let`s also be clear, because I`m not saying that we shouldn`t be wise and practice good safety tips.
Chase Von: My co author Betty Dravis who did Dream Reachers and Dream Reachers II with me just recently interviewed Dimi Nakov, an up and coming Film Director and in that interview she asked him who were some of the one`s he admired--- One was Quentin Tarantino and it just so happens Betty has interviewed Tony Tarantino, Quentin`s father!
When I met you, Poet and my friend (And a true sweetheart) Toni SymplisaTee Atkins said she had known you for years!
Hope she doesn`t mind me sharing this, but I met Toni through poetry many years ago and unfortunately, her mother was one of the casualties during the nightmare that was Jones`s Town where people drank the Kool Aide.
And--- Ironically, my older brother who was in the Army at that time was part of the clean up mission for that. Sharing all that to say it seems to me like the world is getting smaller and smaller and there really is something to the six degrees of separation.
And also, my Mom sent me Joel Olsteen`s book "Your Best Life Now" for my Birthday and there you are in a picture with him!
And here we are, I`m interviewing someone that has shared the stage with names or should I say people that just about everyone knows which I will address later as well but what was it like sharing the same stage that the wife of the President of the United States spoke on?
And are you meeting people now you thought you wouldn`t ever meet in your life time, based on your amazing singing abilities?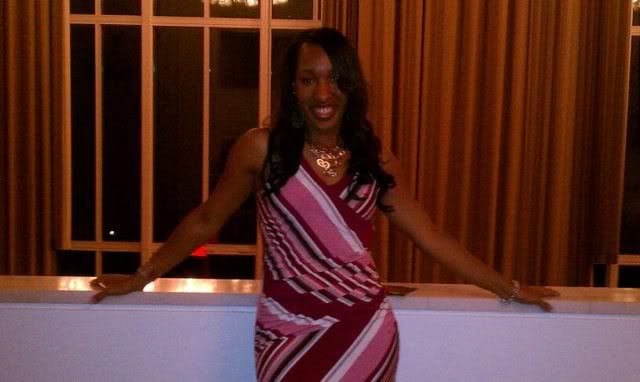 Tanya Dallas Lewis!
Tanya Dallas Lewis: Yes and No. I always somehow sensed and believed that God had something special for me. I`m a dreamer, and I often have day dreams of me walking in the constellations/galaxies/heavenliest [can you walk in a constellation or do you float?] Exactly!
That`s how `out of the box` and `crazy to believe the impossible` I really am! I believe it was George Bernard Shaw who said, "You see things that are, and ask why; I see things that aren`t and ask why not." That is me ALL DAY. And I totally believe in the `six degrees of separation` theory. I think its super neat-o!!! Anyway, I`ve met some pretty prestigious people and at the end, beginning and the middle of the day, they are just like me and you!
Chase Von: "Something About A Miracle" is an amazing song and the video tells a story that all in life in my view can relate to.
It is incredibly well done and yes, brings tears to the eyes. It`s about loss, recovering and discovering the new and good to replace the bad. Very deep in just the way the cycle of life goes for the large majority of us.
Who put that together and will they be making more video`s of your songs in the future because that one is a classic!
Tanya Dallas Lewis: Tony Colapietro and Adrian Corriea are the masterminds behind this wonderful music video. Check Tony out at http://www.stonegatestudios.com! He is the Founder/ Creative Director of Stone gate Studios!
And Adrian Corriea`s work can be seen in some of Hollywood`s biggest box office smash hits! It was a pleasure to work with them both, and they both kept me laughing--anyone who knows me well, knows--I LOVE TO LAUGH!!! [And sleep! and eat pizza!] LOL!
I had a blast shooting the music video--as it was my first, and it`s amazing at how God can take what you think is just `Ok` and make it beyond fantastic! It`s kind of neat to have someone walk up to me and say that they recognized me because they saw my music video on BET. I pray I never get used to it!
There were certain scenes to this video that had to be deleted due to time--and it included one of the things I am MOST passionate about: Kids! It was me, walking thru beautiful fields, holding hands with about 10-12 beautiful kids of all races. I love children! I`ve got two little chocolate ones of my own, and had it been up to me, I`d have had at least four of them! Sigh! ;0)
Chase Von: If fans want to learn more about Tanya, can you share some of your websites etc so they can?
Tanya Dallas Lewis: My website is: www.TanyaDallasLewis.com/ they can also learn more about me on Face book, https://www.facebook.com/tanya.dallaslewis/info?ref=ts and www.reverbnation.com/tanyadallaslewis as well as www.blogtalkradio.com/the-music-box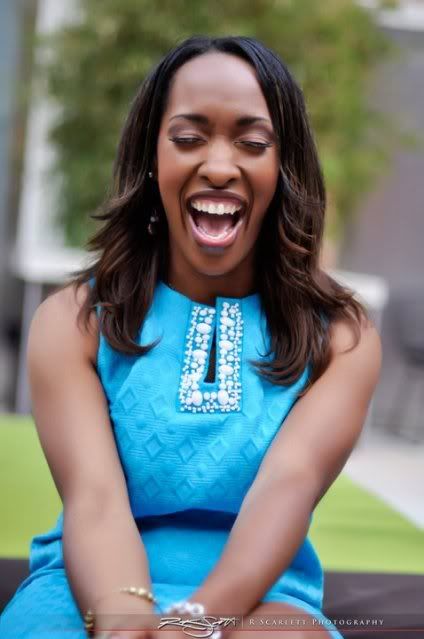 Tanya Dallas Lewis!
Chase Von: Let`s talk about some of your accomplishments Tanya... (Then Food)... (Smile). You`ve Charted on all (3) gospel music charts, and received two Stellar Nods on the 27th Stellar Awards first and second final round ballot (New Artist of the Year and Contemporary Female Vocalist of the Year).
You`re also a nominee for the South Florida Gospel Music Awards and you were a three time nominee for the Rhythm of Gospel Awards, and are a 2010 YGEA Awards winner for ``Best Female Performer of the Year.``
You also were nominated for a 2011 Washington Area Music Award (Whammies).

You`ve sung the National Anthem for Jesse Jackson and the Mayor of D.C., and shared the stage with artists like Yolanda Adams, Donnie McClurkin, Vickie Winans, Mary Mary, Kenny Lattimore, Canton Jones, Richard Smallwood and more.

You were featured on the live BET tapings for Dr. Bobby Jones in Washington D.C. You were recently invited to the White House to sing, and also performed with famed mega pastor Joel Osteen before a crowd of more than 16,000 this past April. And I could go but your accomplishments are off the charts!
Can you share with our readers any future projects you have in the works so they have a heads up about it?
Tanya Dallas Lewis: Absolutely! I`m working on my 2nd project, anticipated to be out by Fall 2013! Am also now an ambassador for the Tiger lily Foundation www.tigerlilyfoundation.org.
They are a breast cancer support organization impacting young women`s lives before, during and after breast cancer! In October, at their annual Empower Ball, I will be singing the award winning balled "Something About A Miracle" to an audience that will include the First Lady of DC and many other distinguished guests.
I`m also DESPERATELY trying to get my music to music producers for EXTREME MAKEOVER: HOME EDITION I and SECRET MILLIONAIRE. Call me nutty, but I believe my song `Something About A Miracle` belongs on these shows!!!
So ANYONE who can help me to dream the IMPOSSIBLE [Nothing is impossible! Nothing!!!] Please help me!
Got some other things in the works that are still in its infancy stages, and while I`d love to tell the world about it, mum`s the word until my team and I get some other things in place. :0) So, STAY TUNED!!!!
Chase Von: What is your ultimate goal Tanya and how supportive are your family and friends of your dreams?
Tanya Dallas-Lewis: My ultimate goal? There isn`t just `one` ultimate goal, life would be too easy if it were that simple! LOL! I have many! To be an honorable wife and mom to my husband and kids! To love my neighbor as myself, and to make God happy by serving my fellow man with the gifts He has entrusted me with, and one of those gifts is the gift of MUSIC!
Those are a few that come to mind. My family and friends are extremely supportive of my dreams. Sometimes they make me cry. There are a few areas that I badly need their support in, but until you walk a few miles in my shoes--in `this` journey, I think it`s unfair and unreality to be disappointed when they are not supportive of my dreams in the areas that are lacking--simply because "I" want them to.
They don`t owe me anything anyway, and secondly, it is `my dream.` You can`t expect everyone to be gung ho about YOUR DREAM. LOL!
And so I push forward, even when I feel isolated or alone. Overall, I am BLESSED with great family, friends and supporters!
Tanya with supportive and loving husband Dale and their beautiful children
Chase Von: I already know one of your favorite meals is one of mine Tanya--- Catfish! (Smile). But since you`re in Virginia you might know a little something, something about Spoon Bread or Batter Bread and salty fish? My Grandmother use to make it. Have you heard of it?
Tanya Dallas Lewis: ummm.....NOPE! LOL! LMBO! Not at all. Whew! That was funny. :0) BTW, my favorite food of all time is: [drum roll...] PIZZA!!!! But I am curious about this `spoon bread/batter bread` and `salty fish.` For all I know, I `do` know about it, just call it something different. I do have A.D.D. you know. So there is no telling. ;0)
Chase Von: Might have to visit after all then... Pizza works for me... (Smile)... And I`ve gotten better but the first time I tried to make chicken you could use the drum sticks to pound nails. (Heh, Heh).
How important are dreams to you? And what would you say if you were standing before a microphone that could be heard by every child on the planet, and regardless of what language they spoke, they would understand you? What positive advice would you give the children, if that were possible?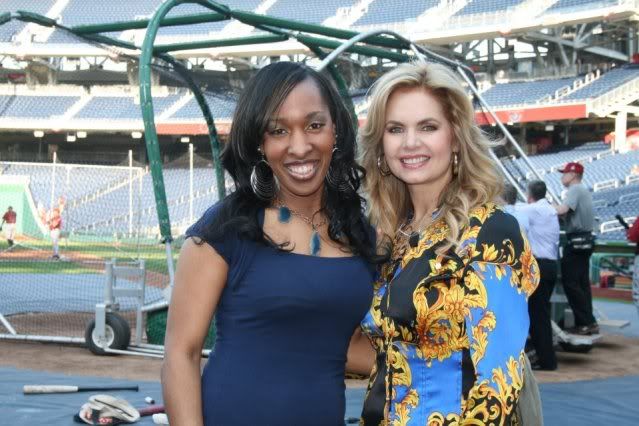 Tanya Dallas Lewis and Victoria Olsteen!
Tanya Dallas Lewis: Dreams are very important. How can you live without them? After all, it`s a DREAM that can sustain you through times when you feel you can`t make it, or have even lost the will to live. Dreams are powerful!! And God dreams even bigger dreams than we do! That`s what I love about Him!
What you think is foolishness, God can turn into wisdom! What you think is weak, God can make it strong! Psalm 37:4, I Cor. 1:25
I would say one word to the children: LOVE.
Chase Von: Who are some of the people in music that you truly admire and believe they influenced your own style or inspired you as a singer? And also some that aren`t in music that you admire and look up too?
Tanya Dallas-Lewis: Musically, my favorites range from every musical genre! Growing up, we were only allowed to listen to gospel music, so I had to sneak to admire the musical genius of Steveland Morris [Stevie Wonder], Whitney Houston, Terrence Trent Darby, Patsy Cline and others...!
Anyone who is singing from their heart and soul has got a fan in me! Even the riffs from the guitar from a group like Metallica can get my heartstrings strumming!! But gospel music will always be first place for me. The music speaks to me far deeper than any other music can. It radiates through me, down deep into my soul. And artists like--[the usual suspects] Yolanda Adams, Steven Curtis Chapman, Natalie Grant, Vanessa Bell Armstrong, John P. Kee, Thomas A. Dorsey, and even some you may never have heard of--- like Salah, Indelible, Trish Standley or Keesha Rainey or Sonny Rivera or Jana Jackson. It becomes unfair if I have to start listing them. Let`s just say I love all good, clean, heart/soul stirring music. ;0)
Chase Von: I`ve seen pictures of your husband Dale in prime form. I can see Atlas saying "I need a break from holding up the world " and Dale stepping in to give it to him... (Smile).
Homey looks like he has muscles in his eye brows... (Smile).
Dale Lewis, Tanya`s Husband
But with your hectic schedule and I have kids so I know how much time they take--- How do you stay so well, shapely yourself and is he part of why you look so great?
Tanya Dallas-Lewis: Yes, he [DALE] is chocolate and handsome and very muscular! Destined for greatness in his own right! He`s dreamed of bodybuilding since he was a teen. He`s got some excellent genes and won various bodybuilding contests before we married. We met through a mutual film maker friend of mine Cuong LeNguyen [Pho Cinema:http://www.phocinema.com/main/work.html ] back in college.
I`m a television broadcast major and was also the `campus reporter` for "The Mason Report` at George Mason University in Fairfax, Va, and Cuong was my camera man for all four years. He was also a groomsman in our wedding. So glad he set me up with Dale! He is a great husband and father to our two chocolate boys.
Because of his muscular genes [you should see his dad, well into his 60`s, but still lean and muscular! wow!], our boys have these same genes, and people would always marvel--even when they were infants and I`d be walking thru the grocery store, how cut and muscular my two boys were. My 6 year old has biceps and a 6 pack!! And let`s not even begin to talk about my 11year old son! If we lived during slave times, they would have taken my hubby from me and paired him up with the other black slave women for good breeding [Mandigo!]! ;0( He is huge and his nick name amongst my friends and family is `The Incredible Hulk.` You think I`m in good shape? Ha!
If it were up to Dale, I`d be a fitness competitor, for sure! But you can`t borrow or buy a will like his [or most bodybuilders, for that matter! they catch a lot of bad press, but they are amazing human beings with an awesome will and standard for excellence!]. Bodybuilding is not for the faint in heart! Chase, let me be real and say any `shape` I have is due to genes as well. I can only `wish` I had the body of an Olympic track star! [Or actually go out and WORK for it!] LOL!
Tanya Dallas Lewis
Chase Von: I don`t know how you do it Tanya, but you also have your own Blog Talk Radio Show! I plan on sending you some of the people I have interviewed and or know if I can reach them like the The Voice, Joan Baker, Susaye Greene, one of the singers with the legendary Supremes, " Lesley Chase Barton, Kimberlee Morton, author Dr. Joye Jeffries Pugh, singer Sunny Daye, Clint M. Byars, author of Devil Walk, poets Dawn Huffaker, Bryant McGill, Stan C. Countz, Donna Solitario, Aberjhani and Ed Roberts, actress, dancer and poet, Jamie McCall, Poetic Flow, singers, actresses and models Shawn Richardz, Barbara Evans, Darcy Donavan, Debra Garrett, Claire Dodin, Jenny McShane and I can`t list them all but certainly Betty Dravis, my co author and artist Shannon Grissom who has her own show, singer, Leah DeVon who also has her own show as well as Judyth Piazza who I`m am sure is going to want to do an audio with you and again, probably too many for me to name here. But can you tell us a bit about your show?
Tanya Dallas Lewis: ♫TheMusicBox♪ is a live blog talk radio show that is syndicated on a total of 3 stations [5 stations come THIS FALL!!] that is hosted and created by a musician(me!), for musicians, and the crazy people who have to love and tolerate us! It`s a fun, laid back show, where we laugh A LOT!
We also celebrate indie artists as well as mainstream artists, and their musical journeys. From vocal tips to performance tips, booking tips, music industry updates and insights and encouragement and `how to`s` for new and aspiring artists--and of course the BEST in gospel music being done by independent artists, the show is truly my way of `giving back` and staying on top of my game in the business and art of music. The show is doing quite well, and I learn something new every live taping!
Remember, I`m a TV Broadcast/Production major from GMU, only took 1 radio class, so transitioning into radio after doing TV for 12 years [for a national TV network] continues to be a cool process! I`m still doing television on a freelance basis, but the radio show is growing! Check out this sweet and delightful article done by Gospel Historian and Radio Announcer Bob Marovich of THE BLACK GOSPEL BLOG that brought me to tears!!!: http://www.theblackgospelblog.com/2012/08/radio-check-out-tanya-dallas-lewis.html?spref=fb Please check us out EVERY THURSDAY AT 8PM EST, you can LISTEN IN FROM YOUR CELL PHONE at 646.652.2106 or join us in the chat room at www.blogtalkradio.com/the-music-box
And Chase, I`d love whoever you would send my way! You know some amazing people doing some extraordinary things! It would be my honor!!!
Chase Von: Well I could keep asking you questions Tanya forever but I`ve taken up enough of your time. I want to thank you for sharing yourself with our readers and I`m wishing you and yours many blessings and all of you continued success.
I`m no Saint and seen as you know, a bit of ugly in my life but what works for me is finding beautiful, lovely, inspired people who are going after their dreams and making this world a better place and you are certainly one of them!
Stay in touch and again, blessings to you and yours Lady... And one day at a minimum... Some Catfish? (Smile).
Tanya Dallas Lewis: As long as it`s FRIED or BLACKENED, I`d love to! Would like to thank my manager Wanda Adams and my fabulous team `The TDL Engine` as they keep me chug-chug-chuggin` along!
Thank you SOOOO much Chase. You are a treasure to me!
Thank you for being you, and for having me as your special interview guest today.
The journey continues.....! ♫
"Something About A Miracle" Official Music Video - Tanya Dallas Lewis
In the event video does not work, link is below:
Tanya Dallas-Lewis feat. Thom Lourim - "Hold On" Acoustic
In the event video does not work, link is below:
Tanya Dallas Lewis singing "Intimate"
In the event video does not work, link is below: