Published:
April 24th, 2013 13:45 EST
| | | |
| --- | --- | --- |
| | Interview with Shanaya Fastje! Singer, Actress, Author, Prodigy and World Changing Power House! | |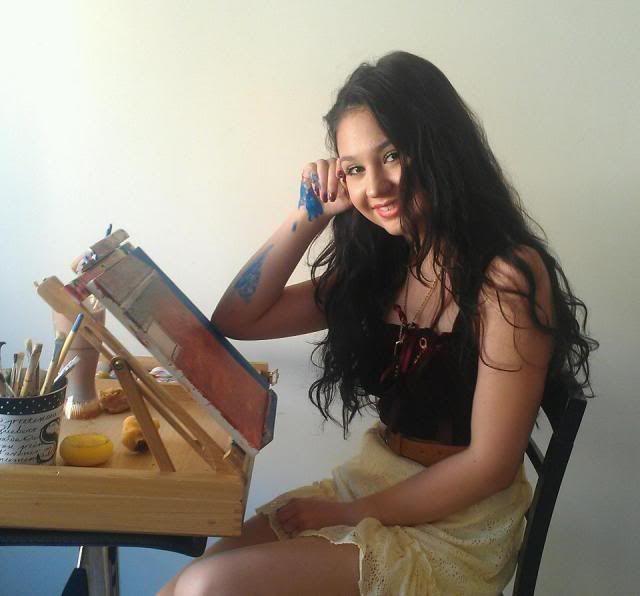 Shanaya Fastje
Chase Von: Hey Shanaya! I want to really thank you for squeezing this in so our readers here at the SOP can learn more about you!
You`re an amazing young Lady and this is truly an honor and also as you know, one of the many things you do and are very knowledgeable about hit pretty close to home just a few days ago, so thanks again for making time for this!
Shanaya Fastje: I am grateful! Thank you! I truly can only imagine the pain when tragedy occurs because of suicide.
Chase Von: Usually in the beginning I ask folks here about their younger years etc, but I want to get into that a little later and address something else at the onset of this, Shanaya.
You`ve been taking this issue head on and have even written a book regarding this that has been highly applauded by some extremely prominent people that everyone will recognize.
That issue is "Bullying" and on a personal note, I shared recently what my former boss in the USMC, and all around great guy experienced during his latest birthday along with some of his dear friends.
For the readers, he was celebrating his birthday at first with his father and then later with his wife and some other friends at a different location.
What should have been one of the happiest days of his life turned into one of the worst ones! Friends, who are great people attended only later to find out that their son, 13 years of age had taken his own life in their absence!
You and I have been in communication for a bit so I shared that horrible tragedy with you in real time Shanaya, but what I want to ask you is this, how prevalent is teen suicide?
And also, although it is still being investigated from what I gather, how many of those suicides can be directly attributed to "Bullying" because that is what is believed caused Jaylin to take his own life.
Shanaya Fastje: Teen suicide occurs on a daily basis, we only hear some of it in the news. It happens much more often than any of us could even imagine. It is becoming so common, that I believe everyone will know someone somewhere at some time that has either attempted or committed suicide, and this is my belief.
Bullying is so widespread; meaning for example: someone can be bullied at home by a parent or sibling. Another child can have extreme low self esteem and be triggered much more easily than another child. It goes on and on, on the attributes that will finally lead to some sort of thinking that there is no way out. Which at that point, will become suicide or attempted suicide; and most of the time, they don`t want to die. They just don`t know how to end their pain and get help.
Bullying is one word with many meanings that causes depression, suicide, anxiety, extreme anger etc, etc. So though the word "Bullying" is used, pain is pain. Words are used as weapons and all weapons can kill. Bullying must come to a stop.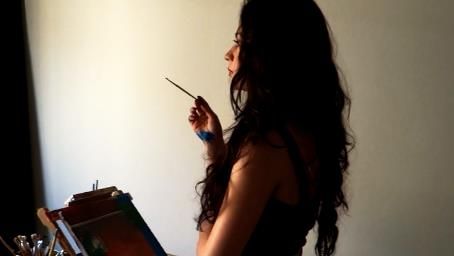 Shanaya Fastje in MD-Squared
Chase Von: When I read what he had gone through, I instantly thought of you Shanaya and shared that with you. Fortunately, he also started a site and in my view, by the goodness of God, raised almost 10,000 dollars to aide this family in funeral expenses. Although they are no longer accepting donations the site is still up and I will share that now for those who want to offer their condolences. Funeral Fund for Jaylin M. May (Age 13)...
http://www.gofundme.com/2lphbw?utm_campaign=Emails&utm_source=sendgrid.com&utm_medium=email
And granted, that of course cannot eliminate their loss, but it has to help not having to worry about the unexpected financial burden on top of the tragic unexpected loss and also, with giving their son a proper burial.
Was there a specific "Happening" that caused you, who are so great at reaching people with this message and who have undoubtedly, saved many lives that you recall triggering you to get involved in this fight?
Shanaya Fastje: I`m on a mission, a mission to reduce bullying. Being a big fan of The Ellen Show, one day while sitting in my living watching Ellen; and she had a tribute to Tyler Clementi, Asher Brown, and Billy Lucas. They were all victims of bullying; and decided to end their lives by suicide.
I was so touched by the stories. After making the decision to educate myself for about a year and a half on the subject of bullying, I began speaking about bullying, self confidence building, and teaching how to empower one`s self.
I then realized that I can help even further, soon giving workshops teaching my twenty eight page curriculum. By taking it even one step further, "Bully in The Mirror" curriculum, became and turned into my fourth book, which took about another year to write. It is now three years later.
Chase Von: What are some of the warning signs that both children and adults can/should be on the lookout for Shanaya? Although I know all people are different but are there certain things that we all should be aware of that seem to be tell tale signs that someone is being bullied?
Shanaya Fastje: There are numerous signs to look for and should immediately be investigated. Including getting someone help before it could be too late. Things to look for are: staying in their room and hardly coming out, more reduction is socialization than before, drastic sudden drop in grades, feeling/showing sadness, depression, expressing their will do die including telling their friends etc, self harm like cutting themselves, or taking drugs and alcohol.
Many times they cannot even concentrate in school. Any form of these need attention and many times parents ignore them thinking they will just get better on their own. Sometimes people don`t know what to do and you should find someone who can help if unable to yourself.
Waiting will only make things much more worse. At the very least, you should tell a victim that they might not have the answers to help, but that they are going to find them. They also need to say to the victim that they want to be part of helping and they care, and that nothing they say can change that. Adults fall in the same scale, they also need the same support as kids do, adults who are bullied might have been going through it since childhood and the pain just becomes normal to them.
It is not normal in any way, and they also can make the tragic decision to end their lives even after years of pain. Every single person needs to care for others, being family, friends or not. We all are people equally and helping is something we all need to share with each other much more than we do now. For every one person I help, there are 100 or more needing it, there is never enough, but if everyone cared enough to help; that would create a major change in suicide and bullying among other positive changes. No one deserves to feel alone, no one deserves hate.
Chase Von: I thank you for sharing that Shanaya and my daughter is only a year behind you come next month, so this hit me very hard--- Changing the subject for a little bit if you don`t mind.
You`re a singer, actress, motivational speaker, author and CEO/owner of Shanaya 13th Productions LLC, your production company!
And amazingly, you graduated High School at thirteen years of age and just recently turned fourteen on April 13th! And you`re also making your own original music!
Shanaya: I am currently working on composing music and singing; two singles are out! Working on furthering this aspect of my career with my new team!
(Smile). You`ve also written four books, one of which is "The Bully in the Mirror!" You`ve appeared on the Jeff Probst show on CBS and been hailed as the most prominent young person of our time!
I`ve seen on your web page where you have been recognized by such prominent people as Sarah Palin, numerous Governors which include Governor Rick Perry, Mayor John Cook, various organizations, the city of Burbank California and also--- The leader of this nation, President Obama!
You also have a day dedicated to you in El Paso Texas, aptly named the Miss Shanaya Fastje Day, on March 15th!
So, when was it first recognized that you just weren`t the average bear? (As Yogi used to say)--- Although I don`t think you watch a lot of cartoons with your full plate "but again, that you were such an amazingly gifted soul? (Smile).
Shanaya Fastje Speaking at University of Southern California, (USC)
Shanaya Fastje: Well I recall probably at the age of five or six, then soon after being promoted in school several times. The rest is history!
Chase Von: I always try and ask a current events question Shanaya, but I want to wrap this in with what is happening in Texas with the fertilizer plant.
You once lived in Texas so I`d like your thoughts on that catastrophe and also if you could tell me what your younger years were like living there, and how you feel you have adjusted to living in California?
Also, do you return there often and with what just took place, is that something you may have to put off for a while?
Shanaya Fastje: I feel deep sorrow about the tragedy knowing many volunteers put their lives at stake for the sake of others, being a volunteer myself I can truly understand, that giving to others is sometimes the ultimate sacrifice. When you know you are needed, the only thing to do is respond. Being born and raised in Texas, for me, I spent most of my life focusing on my education for as long as I could remember. Not because my parents forced it on me but rather supporting my wishes. It hasn`t been easy, my parents and I have sacrificed many things. Especially materialistic things " we are in a place, where unless you`ve been in it, you might not understand it easily. I don`t want anyone to misunderstand, on top of that my parents made sure I had a balanced life that includes friendships. I haven`t been back to Texas in over a year; we still own our home there. Planning to go back with the tragedy that occurred wouldn`t be a factor. I`m hoping to visit my city to continue my work and planning to be back soon.
Chase Von: I agree, it is truly horrible and with that and the equal tragedy of Boston, the hits just keep coming it seems.
Speaking of that travesty, will that possibly affect your future speaking engagements?
Shanaya Fastje: As I tried to say earlier, when you put yourself to volunteer to help others on a grand scale, it might occur that the reality is and will be safety concerns. We do plan to take extra precaution moving forward.
Chase Von: What is your ultimate goal Shanaya and how supportive are your family and friends of your dreams?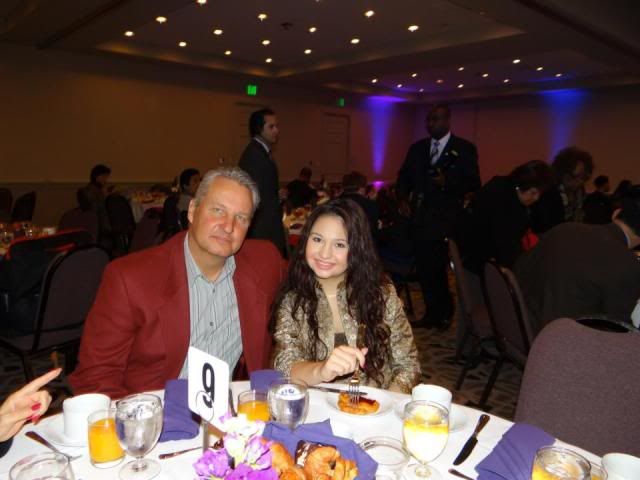 Shanaya with Father; Lothar Fastje
Shanaya Fastje: The ultimate goal is to build an empire. Will consist of many, many branches and in fact, moving forward with that goal as we speak. The support from my parents being an only child is undeniably surpassing being my heroes. The support keeps pouring in literally daily. The people I call my team, come from all walks of life, all ages and I love them all truly. I couldn`t do it without them.
Chase Von: What are some of your favorite meals? (Smile). And what do you do for fun when you aren`t working so hard?
I know you enjoy Martial Arts, Art and music but what are some of the other things that you love to do?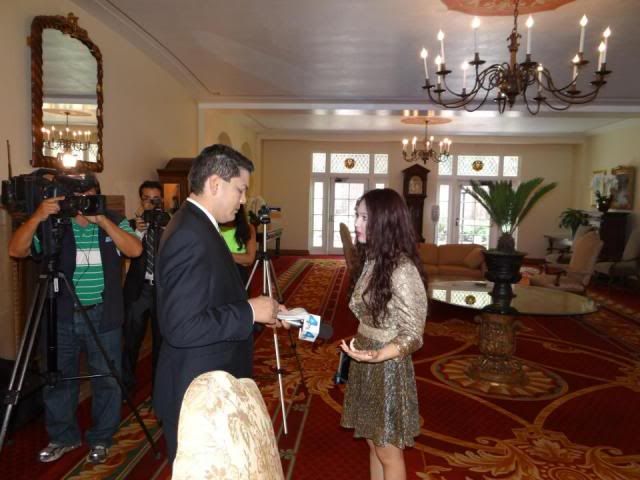 Shanaya Fastje being interviewed by NBC News, Channel 4
Shanaya Fastje: I`m a big eater (that`s probably an understatement)! Steak, Chinese food (preferably orange chicken), and a strong weakness for Oreo Cookies " I enjoy reading, writing poetry, going to the movies, going to the beach and meeting up with friends just to laugh.
Chase Von: I dig Oreo Cookies myself but the original ones. Not the extra stuffed... (Smile). What would you say if you were standing before a microphone that could be heard by every child on the planet, and regardless of what language they spoke, they would understand you? What positive advice would you give the children, if that were possible?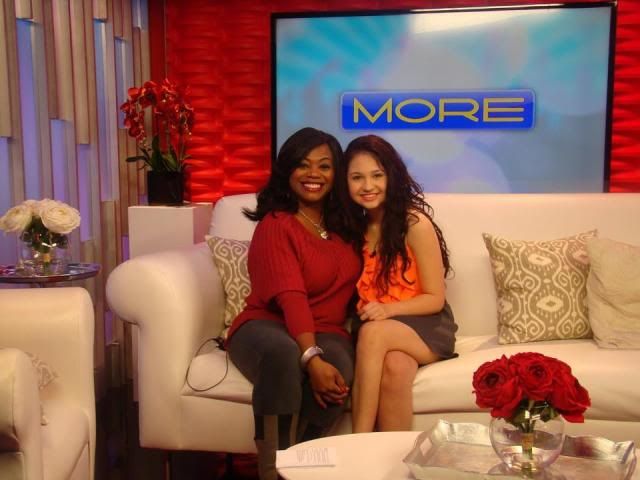 Shanaya Fastje on Fox 5/Las Vegas More Access Show!
Shanaya Fastje: Never give your inner power away, even when people (bullies) try and steal it from you to use as their own. A bully`s power is fake.
Chase Von: Great answer! Who are some of the people you truly admire and do you see politics in your future since you`ve been recognized by so many of them including the top one in the land? (Smile).
Also, unless I missed it, you don`t have "Model" on your extensive resume but as pretty as you are, I`m certain you could be that as well.
Is that something you might add to your list of many accomplishments or do you model and is that something I just missed?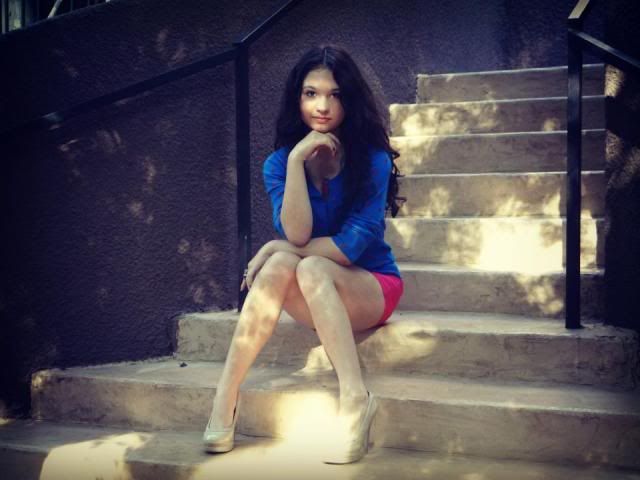 Shanaya Fastje
Shanaya Fastje: I admire my peers; they are what motivate me every day. They are the future and I will be part to take care of them. Politics is something I`d consider, being I`m not afraid to speak my mind and using it for the good of my country.
I consider myself fear less, nothing is stopping me from reaching my destiny and my journey will include changing the world for the better.
I actually did a year of training in modeling, but mainly to help my stage presence. I have had an offer or two, and actually enjoy it. I would love to model if I could!
Chase Von: Where do you see you being in say, five years? You already have an adult mind at the tender age of 14 and you haven`t even celebrated the traditional "Sweet Sixteen" yet!
Also, I shared that article with you about eighty percent of New York City High School graduates have to go to remedial classes to be accepted in colleges because they weren`t up to that standard yet.
For those of you that are as surprised as I was by that, here`s the link.
Almost 80% of NYC High School Graduates Need Remedial Classes Before Attending Community College
http://townhall.com/tipsheet/danieldoherty/2013/03/09/almost-80-of-nyc-high-school-graduates-need-remedial-classes-before-college-n1529581
Do you think that the students of this nation by and large are not truly being challenged?
And what do you think the benefits of being home schooled are in comparison to going to public schools although granted, that isn`t something that all are able to do.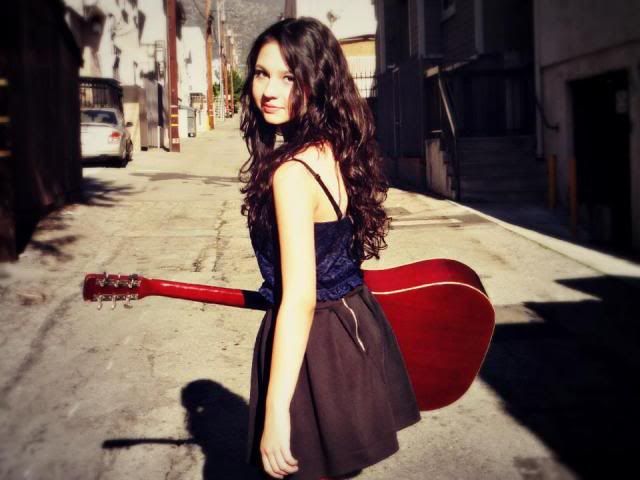 Shanaya Fastje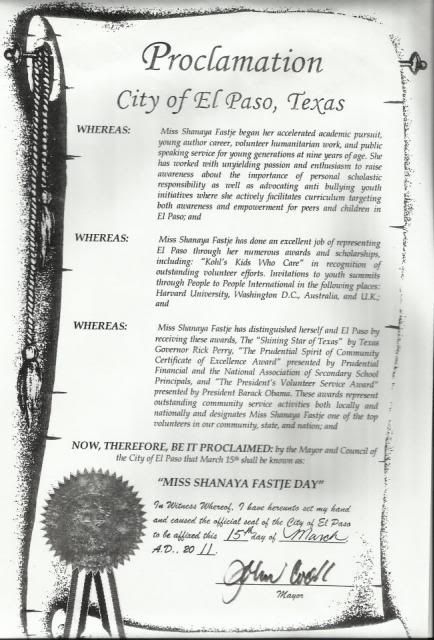 Shanaya Fastje: in five years, I hope to be in the planning stages of building my hotel in Las Vegas. Not that I`m a party girl per-say, I am very intrigued with architecture (and lights). I truly believe students around the nation today are not challenged enough. A big part of it is, not being focused on the right things. Being in the line of work I am in, and hearing the feedback from many kids, feeling lonely at home is frequently voiced. Secondly, social media helps in some ways but in many ways doesn`t. Well I`d like to point out that I have attended public school, private school, charter school and only was homeschooled the last three years of high school. But, my homeschooling was very untraditional, in the sense, I had many private sectors, fulfilling my education by means of private teachers, educational institutions (like community college classes) and even two years of city government where special permission had to be granted by city hall for me to serve at the age of ten. Being it was for high school students. And of course both my parents shared part of my education.
Chase Von: Can you tell our readers more about your project called M.D. Squared?
Shanaya Fastje: M.D. Squared is my drama based web-series. It revolves around Mae, a very lonely, depressed, and suicidal girl (due to life changing events like personal torment) who gets by, each and every day, trying to find something to live for. I hope to bring a total of nineteen episodes in this series. Episodes will be put out bi-weekly. I am currently writing other series` along with writing a 5th book, which will be my first fiction novel, anticipated to be out end of this year (2013).
Chase Von: Shanaya, you are an incredible example for all the youth of this nation and for the world! How can those that wish to have you come and speak at their Elementary, High Schools and or Colleges--- Should your schedule allow, reach you for appearances/book signings?
Shanaya Fastje: They can learn more about me here at Facebook Chase;
https://www.facebook.com/shanayafastje13th?ref=ts&fref=ts &
https://www.facebook.com/pages/The-Bully-In-The-Mirror-anti-bullying-developed-by-Shanaya-Fastje/115685555167069?fref=ts
This is my website: http://www.shanayafastje.com
My Imdb page is: http://www.imdb.com/name/nm4914934/
I`m also on Twitter @shanayafastje !
Chase Von: Do you have any particular college in mind that you would like to go to or is that something you might want to put off for a spell until you`re like say... Fifteen? (Smile).
Shanaya Fastje: I don`t narrow down my possibilities, willing to look at all offers! Fifteen-ish sounds about right! (Wink)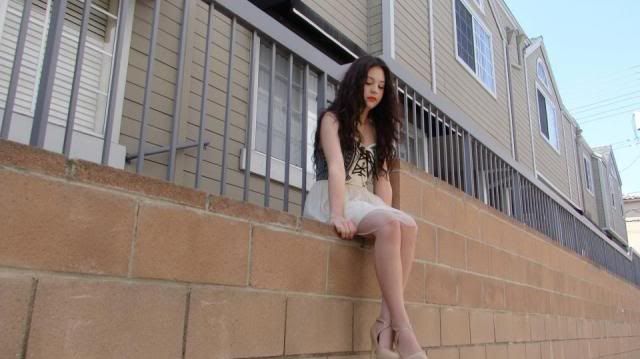 Shanaya Fastje in MD-Squared
Chase Von: I can`t possibly ask you all the questions I`d like to but I`m looking forward to hearing your audio interview with Judtyh Piazza as well! I`ve met and or learned of many amazing individuals in my life Shanaya. In the Corps like my former boss, life saving poet Ed Roberts, Gospel Singing Sensation, Tanya Dallas-Lewis, R&B Singer Leah DeVon, who went into war zones to entertain the troops, Humanitarian Bryant McGill, Life Coach Willard Barth, "The Queen of Voiceover," Joan Baker who does so much for Alzheimer`s, Lisa Tenzin-Dolma, who does so much to help dogs, co author Betty Dravis, Delphine French who I should be interviewing next and countless others too numerous to mention but I`m again blessed by learning of you Lady!
I applaud all your hard work and also cannot tell you how important it is to me, having children of my own, how much I support what you are doing to educate children and those older on how to effectively handle "Bullying!"
I wish you God bless, continued success and I look forward to hearing about more amazing accomplishments by you in the future! You are definitely a blessing to this world of ours and all who learn of you!
Shanaya Fastje: The pleasure is all mine, I am honored to have met you!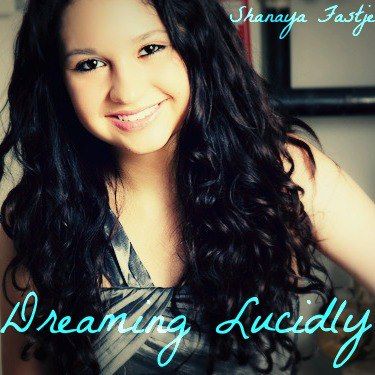 In the event video does not work, link is below:
M.D. Squared " Introduction
In the event video does not work, link is below:
Shanaya Fastje- Dreaming Lucidly: Acoustic (Original Song)
In the event video does not work, link is below:
Book Review `Bully in the Mirror` by Shanaya FastjeCairns