Published:
July 12th, 2013 16:07 EST
| | | |
| --- | --- | --- |
| | Chase Von Interviews Lovely Virtuoso Multimedia Artist Apachula! | |
Apachula
Chase Von: Apachula, I love your name! And I want to thank you for making time to share yourself with our readers here at the Student Operated Press.
I have a lot of questions but first thank you, who I know are spinning many plates (sometimes with food on them), for taking the time out your busy schedule to do this!
Apachula: Thank you Chase for your time and interest. I really appreciate having this opportunity to meet with you.
Chase Von: You`re an accomplished musician, model, photographer and artist, but before we get into that part, what does your name really mean?
I looked up Chase once which is my nickname.
Root word Chaucer... Origin... Old French... Meaning... The Hunter... I like to think I hunt truth. (Smile).
"Singing Tree Flutes`, Apachula recording in the Colorado Mountains
Apachula: I have not been able to find the true meaning of "Apachula." My mother once told me it means "The Flower of the Universe."
I have only met one other person who has the same name and he was from Africa!
I do know that my mother named me after a Thai woman who won a beauty pageant and her name was "APACHULA."
So I believe this is a Thai name.
"Singing Tree Flutes," Apachula Recording Live in Hilo Hawaii
Chase Von: That really is beautiful Apachula! I also know the name "Leilani" means flower in Hawaiian.
What was your childhood like? And were you introduced to music at a young age?
Apachula holding one of her paintings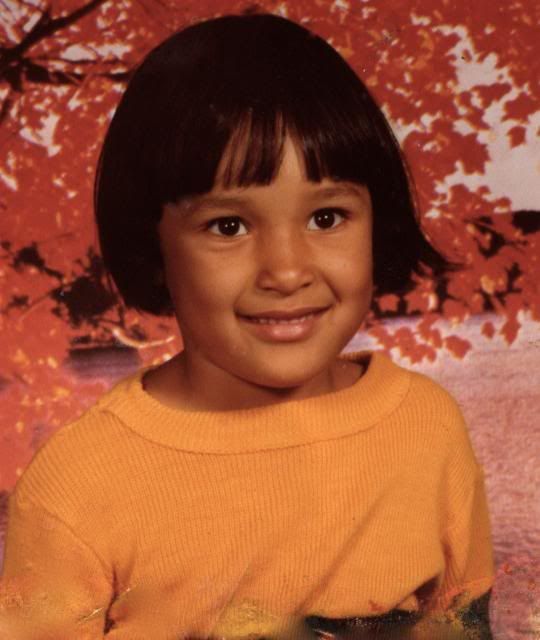 Apachula at age 5
Apachula: My childhood was strained Chase. My mother who immigrated to Wyoming from Thailand struggled to speak and learn English.
Wyoming at that time was a very dynamic place as integrated marriages and not being Caucasian were less than desirable in that generation.
My father and mother did their best under the circumstances however, the pressure and challenges of raising a family and my mother trying to adapt to a completely different country as well as my father dealing with the residue of the Vietnam War, caused our family to fall through the cracks.
I found myself as a child reaching for fantasy and the arts to escape the harsh realities of Wyoming living.
Albeit we did not live there for a long time. My parents divorced, my father raised us 3 children by himself in Colorado. In that era it was an anomaly. I consider him to be my lion heart. He is the inspiration in my arts and music and continued success and soul awareness.
To answer your question about being introduced to music at a young age? My father had a few records that had my name on them for reference. "Pachy`s" music was what he taped on the records. There was Ravel Bolero`s, "Close Encounters of the Third Kind" and also the sound track as well as Andres Segovi`s song, titled "Austurias."
The Composer Evangelos Odysseas Papathanassiou also became a major influence and inspiration in my life, the way his music married the cinema is enchantment and perfume for me till this day.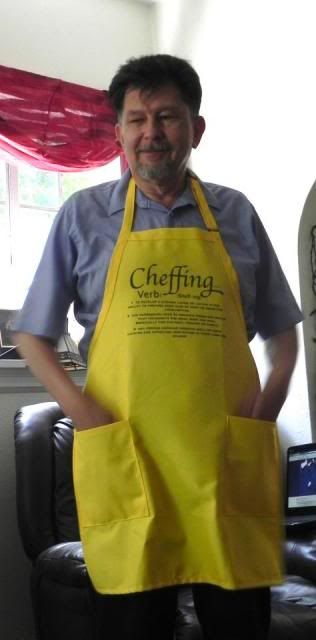 Apachula`s Father Tito
(Apron design by multimedia artist Apachula, leased through the USCA and other advertisements)
Apachula working on another painting, inspired by "Domes" Beach, Rincon, Puerto Rico, Apachula and lifework
Chase Von: So very sorry to hear that Apachula but you have obviously over come and continue to keep rising and you don`t often hear of single successful fathers so mad props to him!
And I also thank him for his service to our country.
Apachula: Thank you Chase, (Smile). I suppose everyone has their song and dance on the path to find their way to illuminations in life. Learning the attitude of gratitude really pays off. I`m thankful for the priceless ability to have imagination.
Chase Von: I think I shared the story with you about when I was cooking Rice A Roni in the kitchen in sweat pants and no shirt and how badly that went. (Smile).
But you are an accomplished Chef as well! And you often feed first responders! Can you tell us more about that and how you came to do that?
Apachula, Photo credit COVALLI
(Apron design by multimedia artist Apachula, leased through the USCA and other advertisements)
Apachula: Rice A Roni got the better of you? Too funny Chase! (Smile). That was a great story, I love Rice A Roni! Maybe someday we can share some Ha Ha!
So thankful you were not too terribly injured during that event.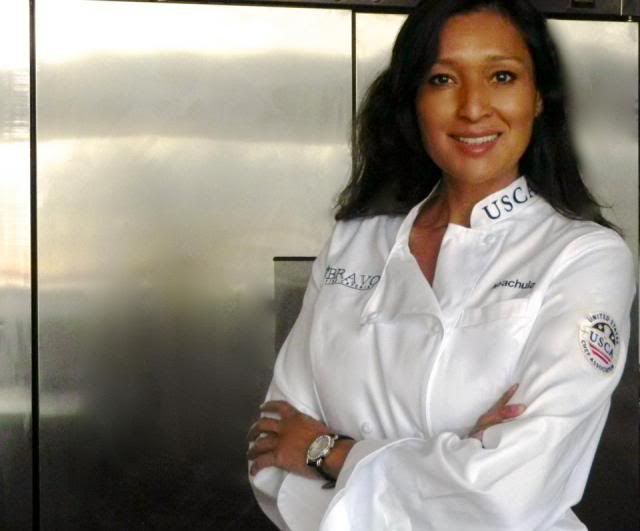 Photo, property of Apachula
I am an administrator for The UNITED STATES CHEFS ASSOCIATION and their Parent Branch BRAVO FC.
My lifelong professional trade has been in the arts of Natural Alternative Health and Professional Nutrition Applications. The USCA allows me to consult for top chefs and their clients needs.
I also have a small column with their newsletters that allows me to share some of the classic and pioneering view points of my field for their members.
In the event of "Emergency Responses" our company has Government Approved Certifications to assist and feed in case of a catastrophe.
Our recent responses have been to level 3 classifications Wild Fires with Food Assistance. Meaning if a fire breaks out, and there are at least 150 firefighters at the crisis for more than 24 hours, our company may be called in to feed these firefighters nutritional meals to keep them going.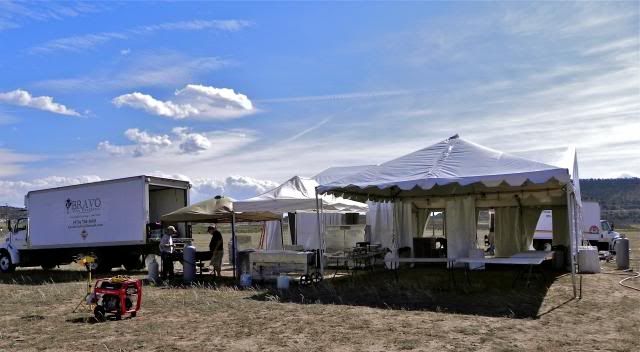 Wild fire emergency response setting up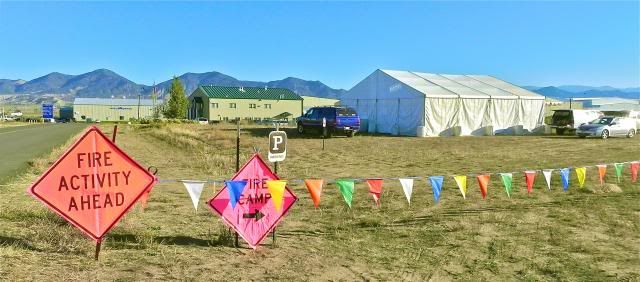 Fire camp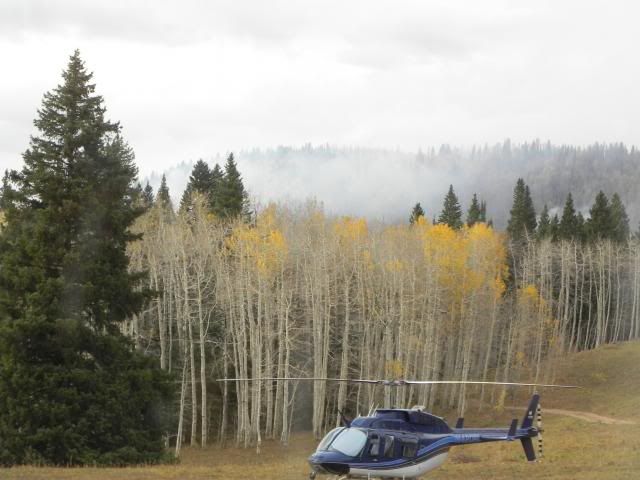 Emergency response, sometimes we are way out there! (Apachula)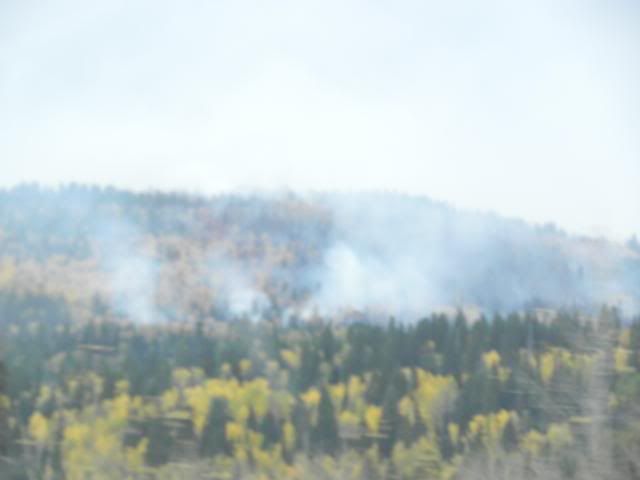 FIRE! At White River National Forest!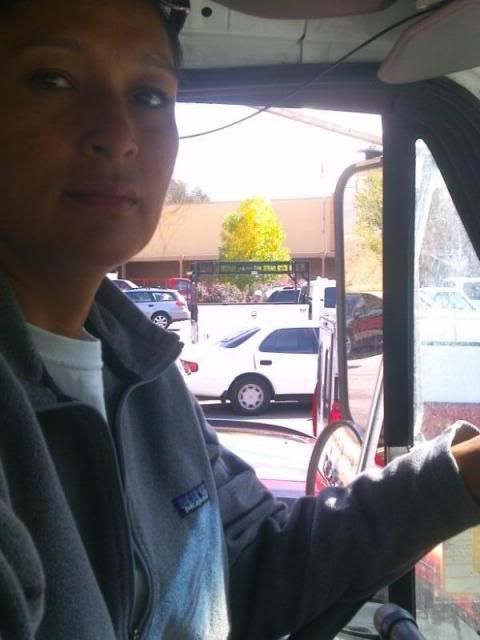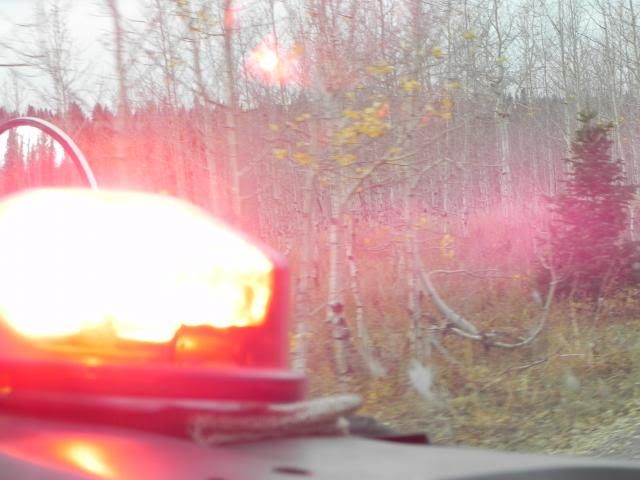 Driving "KING KONG", this is the mobile kitchen we use to feed Emergency Response personnel
King Kong and Female Mrs. King Kong right behind. Two self sufficient mobile kitchens ready for action
Chase Von: Thank you for sharing that Apachula, I don`t think many of us think about how folks fighting fires have to have the energy to do so. Being retired military myself, I know, an army travels on its stomach. You should be getting awards for that Lady!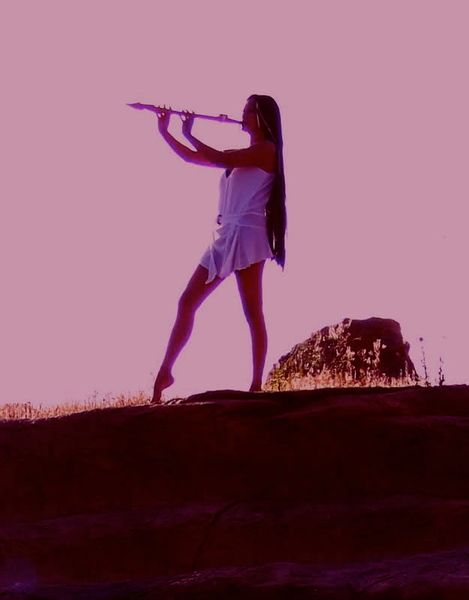 Photo Credit, Kii Photography
Apachula: It is an awesome experience. Pales in comparison to what the Firefighters are doing. I am so thankful for Emergency First Responders all over this planet. They truly are the "Superheroes."
Chase Von: I believe it was 19 Firefighters Apachula that were recently lost in Arizona, very sad.
Two of my most prize possessions are my Marine Corps suit lapel pin and another pin that was given to me during my last go around. I was standing on the tarmac receiving the folks that had come in to entertain the troops.
Met Kidd Rock, the sadly now departed Brittany Murphy, Nappy Roots, Country singers Chely Wright and LeeAnn Womack and I could go on but an older gentlemen walked up to me, shook my hand and thanked me for my service then walked away.
When I looked in my hand, there was a New York City Fire Department suit lapel pin in it. I asked the coordinator who he was and she said he`s a man, that lost two sons on that infamous day in New York. One a Firefighter, one a Policeman--- You can understand why it too has very special meaning to me.
Apachula: Two sons in one day? That is so horrible Chase! Also I would like to thank you for your service.
I definitely understand why that is so special to you and my heart goes out to all the family and loved ones of those who died in Arizona, to him and all others who have lost people on the front lines which of course includes our military!
Love & Mercy Angel, Photo Credit Apachula
Multimedia Artist Apachula holding one of her hand sculpted beeswax candles. Photo op for a Gallery Showing
Chase Von: Changing the subject Apachula to something less sad.
You`re a top class model as well as singer and an artist and a writer! I`ve interviewed women that were models in the past like Darcy Donovan, Joan Baker, Barbara Evans, Shanaya Fastje, Debra Garrett, Kimberly Prendez, Shawn Richardz, Kiara Hunter, Kimberlee Morton, Alina Smith, Vanessa Jay, Kitania (Kitty) Kavey, Jamie McCall, Claire Dodin, Leah DeVon, Jenny McShane, my co author Betty Dravis and I could go on but... What I want to ask you about is I wrote a poem once and from memory, I think I called it, You See with the Eyes of Man...
You`re obviously beautiful, but do you have to down play, or hide your beauty sometimes, just to have what we might call, a normal day?
Apachula: (Laughing). All I have to do is put a T-Shirt on and put my hair in a ponytail. I am one of those peeps if I am not all gussied up--- I look pretty normal and can blend in, in any crowd.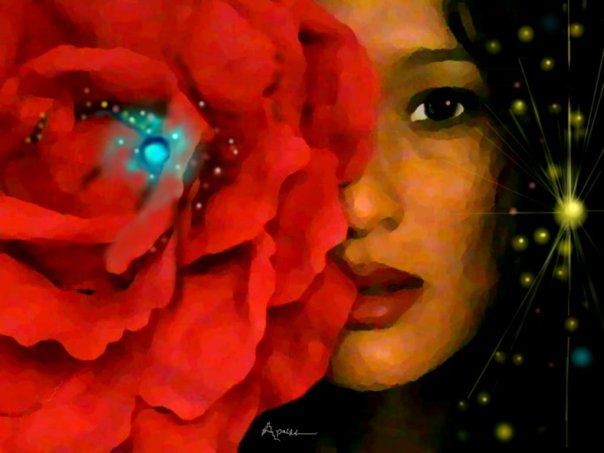 Photo Credit Suad Photography
Photo credit COVALLI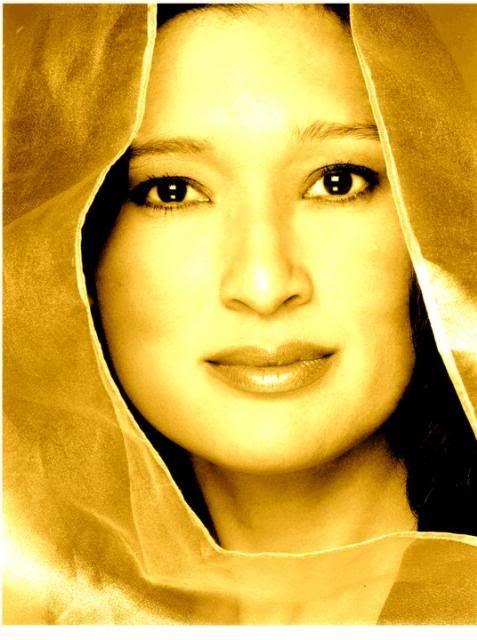 Photo credit COVALLI
Portrait used for ASCAP
Photo Credit B` Amore Photography
Photo credit COVALLI
Photo credit COVALLI
Photo Credit Suad Photography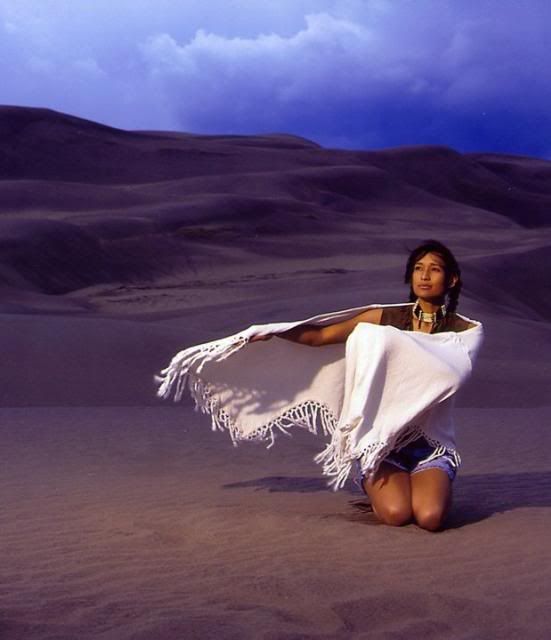 Photo Credit, Kara Brewer Photography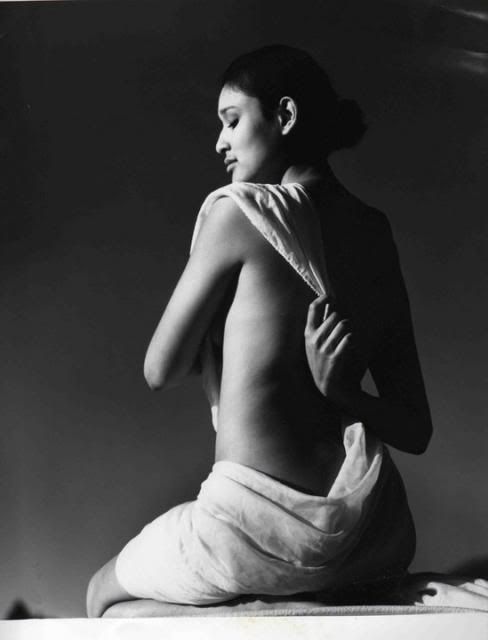 Photo credit COVALLI
Photo credit Fico Photography
Photo credit COVALLI
Chase Von: Keeping it short, in the poem a beautiful woman goes to a funeral to pay her respects to a lost loved one and folks there desire her and get in the way of her trying to share her respects for the lost and her mourning.
I interviewed Atira also who is like yourself, definitely someone who can model. She has a song called Burning Desire which is off the charts!
Anyway...
I don`t have that problem. These days any way, (Getting older) In fact, on Father`s day, my wife gave me twenty dollars. (I think it`s a hint for me to go get a haircut)... I`m still trying to decide if I should do that or use the money to buy some more Drano. (Clogged up the drain shaving my head the last time). (Smile).
You did travel to do some of your music in what I would call exotic locations. You by the way have a very exotic look about you but sure I`m not the first to notice that.
Can you tell our readers what it was like going to those places and how you and your crew were received by the locals?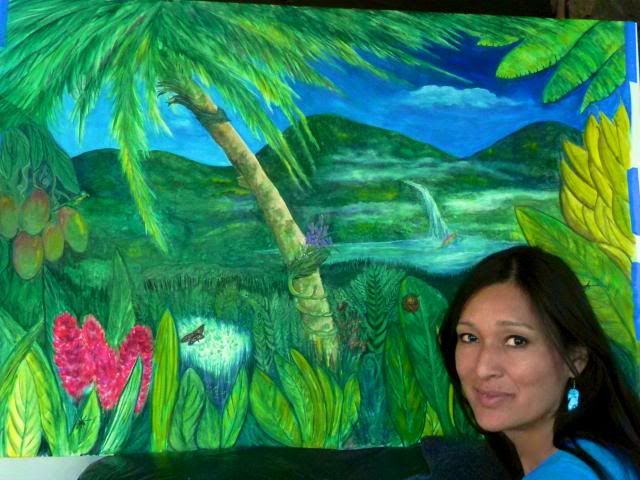 Large (Roll up Murals) going to San Francisco Apachula was commissioned to paint for a client from Puerto Rico
Apachula: My second Album "Tree Of Life" basically was produced and performed in Puerto Rico, Colorado, New York and Hawaii. Puerto Rico was absolutely my first love but all we came in contact with were kind.
But Puerto Rico? It is such an amazing and magical place!
So much so that while I was there I also published a book "PRecious Is for Puerto Rico", an artistic view of my journey there.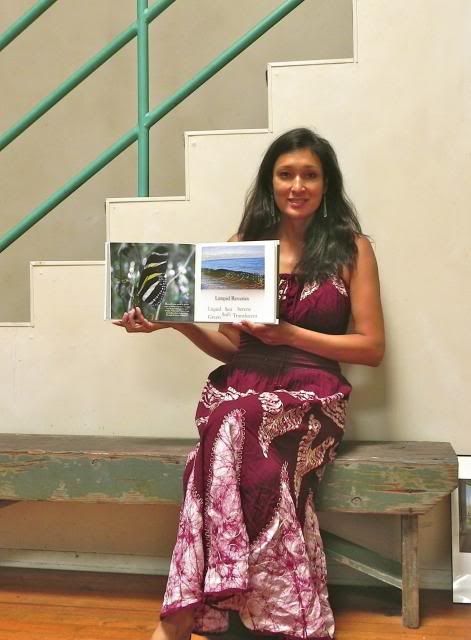 I found it still had a hint of untamed and wild in it. The tropical jungles and oceans are absolutely stunning. The colors and scents that fill the air put you into a trance.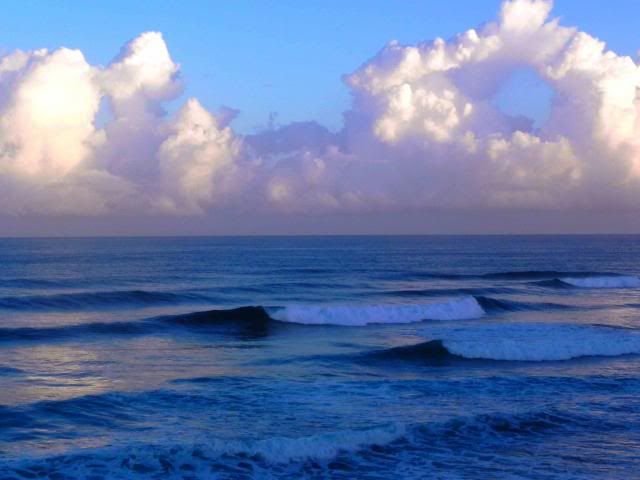 Rincon Puerto Rico Beach I got to wake up to everyday! Love it! This was Domes Beach!
Painting by Apachula, titled "Tropical Fireflies and the Enchanted Forest"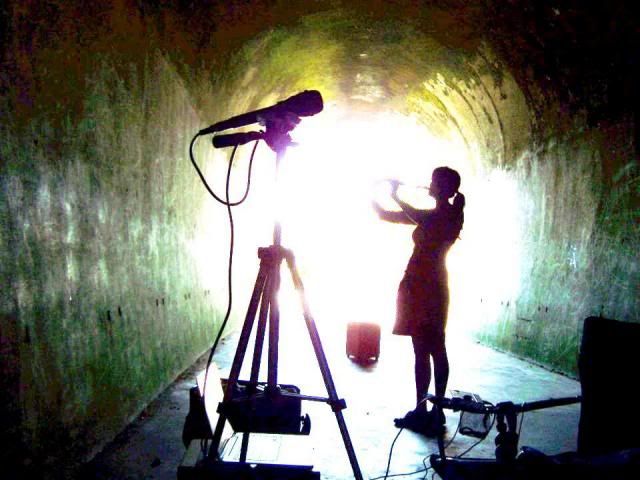 Apachula Live Recording Session For "Tree Of Life" In Spanish Guajataca Train Tunnel
Fireflies, whales, tarantulas and manatees were a constant attraction for me.
I very much enjoyed the culture and the experience. I had a traveling studio. I was able to work with a colorful pallet of musicians. From a cello, percussionist and electronic sound arrangements with other music artists for example in NYC!
My favorite collaboration is "FIRST DAWN" where I recorded with a Cellist and I perform with a Native American style flute. We got to record in the tropical forest in Puerto Rico. I also did separate recordings of the live sounds of when dawn was arriving. The sounds of the forest with the birds were so amazing. I can only imagine how people in the age of times respected when the sun would come to greet the earth.
We are so glossed over with the modern times. I think most of us tend to forget what it was like to live without electricity and fire was the only source of light. Putting myself in that perspective gave me an overwhelming awe for nature. How we as human beings are such pioneers in channeling our resources good and not so positive just blows my mind.
Photo credit Fico Photography
Chase Von: That`s wonderful! I remember going to Russia and being shocked that folks there were pretty much the same as us here.
I`m Black, Blackfoot Indian, and Cherokee Indian and according to family lore, a tad bit French. But I was also born in Japan because I was born as a military unspoiled child. Don`t know why they call us military brats. It`s a hard knock life. You have to move around all the time, get friends and say good bye to them. Harder still, you then have to make new ones. But what tribe are you from and does that influence your music?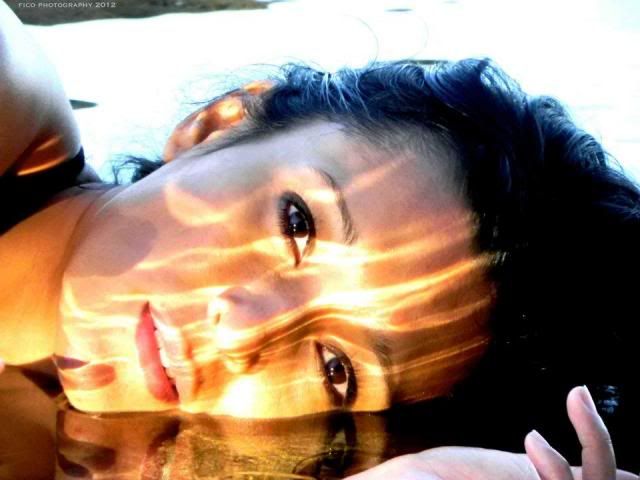 Photo credit Fico Photography
Photo credit Fico Photography
Apachula: Blackfoot Indian, Navajo and Lakota are all my peeps. My children have their papers with the Navajo Nation and yes, my heritage has definitely had an influence in my music. I have always gravitated towards the Native American side.
Even as a child I found myself more comfortable with the Native American transience`s that hung outside of the pawn shop next to my mother`s Asian Imports Store.
I have fond memories of listening to their stories and feeling a great kinship. My mother disapproved because all she saw was--- "Dirty bums" and I totally understand her point of view; a five year old wanting to hang out with a bunch of "Vagabonds" definitely puts a mom on safety alert!
Chase Von: Can you share your links so people can learn more about you and also buy your music?
Apachula: Here are some of my links Chase...
http://www.cdbaby.com/artist/Apachula


http://uplaya.com/artists/apachula/info


http://www.sbwire.com/press-releases/apachula/tree-of-life/sbwire-184644.htm


http://artist.pumpaudio.com/Contact.aspx?profileId=f56297c8-b805-4cc9-93a8-816ca5b66731


http://216.169.248.35/music/download-songs/124328-happinisis


http://www.reverbnation.com/apachula
http://www.blurb.com/b/3859571-precious-is-for-puerto-rico
https://itunes.apple.com/us/artist/apachula/id265379024
Chase Von: I told you about Brown Eagle, Wodige Wehali, also known as Reggie Solomon. He plays a mean flute as well. Any chance you two might hook up and make some music?
Apachula: Always open to collaborations with other artists. Really enjoy blending the music and learning.
There is always room to grow since I am a small seed!
Chase Von: You`ve been many places in the world. One of my favorite places was Hawaii. Is there a "Place" where you feel most at home?
Apachula: I feel most at home in nature and with family, preferably close to a tropical ocean or the mountains and the crisp cold rivers and lakes and green trees. Nature and family is my first choice. Nature and family is where I feel most at home.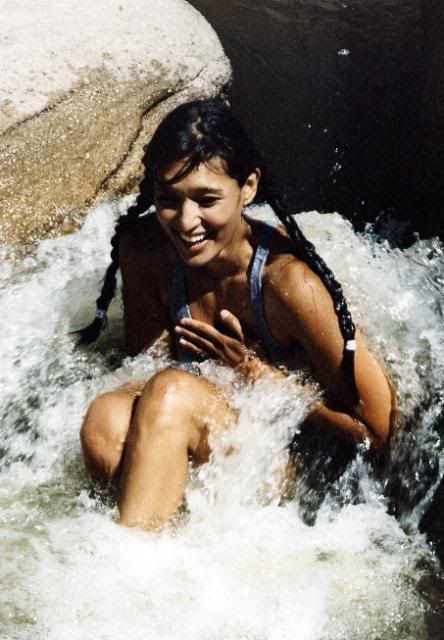 Photo Credit Suad Photography
Chase Von: Leah Devon flew into war zones to entertain the troops. Is that something you have also done or something you would consider doing?
Apachula: I haven`t done it yet but--- Absolutely!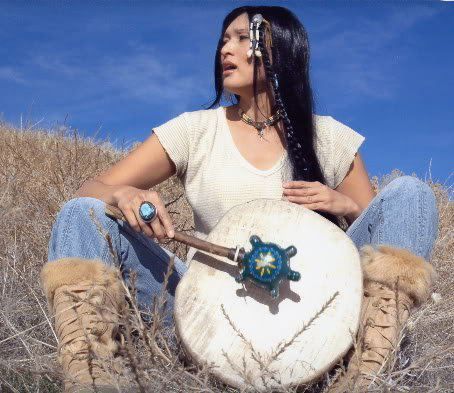 Photo Credit Suad Photography
Chase Von: The other day, I was playing Lisa Lavie singing Hallelujah Apachula. I play the guitar sometimes but it is really hard to play and cover your ears at the same time. (Smile).
But after the song ended, I heard my 13 year old daughter in another room play it on her flute. And it got me to thinking.
We all get songs stuck in our heads at times, but what is it like, for an accomplished musician such as yourself when you can play anything you hear?
Because I was thinking of Daredevil. Who slept in water to keep the sounds out. Not that all sounds are bad but when you are at the level you are, how do you handle that?
Apachula: I have plenty of room to grow. I have had good fortune in the sense I have achieved two Platinum Auddies Trade Mark Awards for the songs, "Seraphic" & "O-La-La" with my current Album "Tree Of Life." I also have a Professional Musicians Catalog with Getty Images NY, commercial clearance for broadcast networks.
We currently place #1 in Hilo in our Genre with the site "Reverb nation." The Band APACHULA has the honor of working with a great director who produced a handful of our videos and currently is showing his works with Gary Numans World Tour.
Then I think to myself--- I am but a small seed in this big garden.
I can only bow my head to some of the greatest Music Artist of all time and do my best to keep growing up. I had the opportunity to meet Brendan Perry of Dead Can Dance.
Brendan Perry of "Dead Can Dance" and Apachula backstage
I have to say this has been one of my lifelong pipe dreams and to actually get the opportunity to see their performance live and go backstage was an awesome experience.
When you stand next to people who have been in the field and have accomplished as much as they have--- And they are the ones who inspired you? I just say to myself--- "You have much to learn grasshopper."
If you do what you love and love what you do with knowledge--- The ratio of success is right there!
It depends on how hungry you are and what exactly as a music artist you are trying to obtain in this career.
I work with producers and songwriters to help sculpt my ongoing career as well. I enjoy the art of collaborations and the influence of other professionals in this industry.
Chase Von: What are some of your favorite meals Apachula?
And I know you also can obviously cook. (I tell my wife I married her for her looks because in that department ah... Sometimes she gets it right)... (If I can hide the salt before she gets started because she does over do that. (I like to season it to my own taste). (Smile).
Apachula: Some of my all time favorite meals are Thai dishes. I will never turn down snails! Yep! You heard me right! I love snails for breakfast, lunch and dinner! Ha Ha Ha! Seriously--- Mexican, Italian, Japanese, Indian, I love it all!
Chase Von: Where we live is a magnet for snails it seems! Feel bad every time I accidentally step on one. And--- Have already told the kids, if things get real bad--- (Smile).
I had snail in Germany Apachula, they called it check spelling "Schnecke" there and it wasn`t bad at all! But I also use to eat ants when I was little. (Smile).
Apachula: Hmmm--- Ants? Now you got me interested in what they taste like! (Smile).
Chase Von: We`ve all heard of "Chocolate Covered Ants" Apachula but in my case, I was sitting in a sand box with another child and his mother brought each of us an "Ice Cream Cone" and walked away. He stuck his in the sand and started crunching and I looked at him like he was crazy, dropped mine and went back to eating ants.
Hindsight being twenty, twenty we were both right, I was getting protein and he was getting his minerals. (Smile).
How important are dreams to you? And what would you say if you were standing before a microphone that could be heard by every child on the planet, and regardless of what language they spoke, they would understand you? What positive advice would you give the children, if that were possible?
Photograph by Apachula, all rights reserved
Apachula: One of my favorite quotes;
"The future belongs to those who believe in the beauty of their dreams"- Eleanor Roosevelt.
Dream big and know that failure is always around the corner and almost always inevitable. It is the belief in the courage to continue and dream on. Sometimes it takes a sonata of dreams to find the right song in the end and I believe eventually most of us get the right tune.
Chase Von: How important is family to you, and what is your take on the state of our current world?
Apachula: Family is what makes the world go round. Not necessarily by blood as well. I am currently a single mother of four children and share custody with their father. It is a challenging affair when marriages dissolve. As Pink says, "We are not broke, just bent and we can learn to love again, Just Give Me A Reason,"--- What a great song!
As far as the state of the current world? It`s a mad, mad, sad, happy, beautiful, horrific world. We as individuals have to make sense of all this.
Thank goodness for all of the light workers in this world.
Chase Von: Who are some of the people in life that you truly admire or people in general?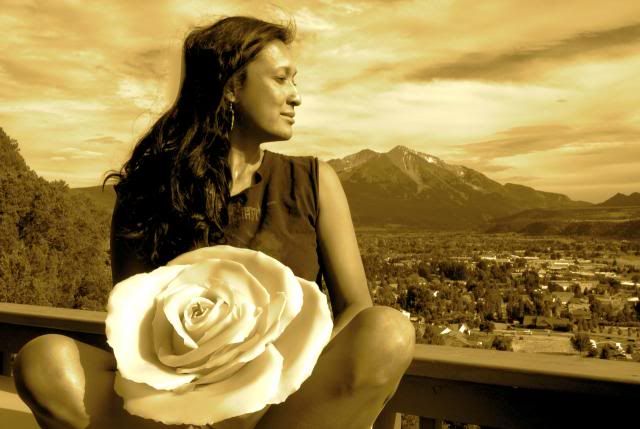 Multimedia Artist Apachula holding one of her hand sculpted beeswax candles. Photo op for a Gallery Showing.
Photo credit COVALLI
Apachula: All of the Earth movers and those who bring illuminations towards darkness. Emergency responders, teachers, doctors, visionaries of peace and knowledge.
Dreamers who dared to dream for the dreams of goodness and well being!
Martin Luther King is a favorite and David McCullough, Tesla and George Washington. In my immediate circle it is friends and family!
Chase Von: The Bee`s are dying Apachula. When I see one in its death throes on the concrete on my porch, I pick it up gently on my Fly Sword (Fly Swatter), and lay it on the grass or a flower if one is available.
Say a few words... I used to catch them when I was a kid, study them, punch holes in a jar etc and it wasn`t a good idea to hunt them barefoot but you learn. The only creature on the planet that to my knowledge creates a food that never spoils...
I feel like the Indian in that commercial of the American Indian shedding a tear about pollution.
But the flies seem to be out in full force!
Are there other people on the planet giving Bee`s proper burials?
Apachula: My neighbor downstairs!
Chase Von: I know you also study martial arts, Delphine French and my friend that is also in the Martial Arts Hall of Fame do as well. Is that another way you stay in shape?
Apachula: Staying in shape comes from my past. I was a personal trainer for 7 years and have been a student of Kung Fu from the age of 19. This was my main application when I had a private practice. I used the applications of Kung Fu to help people with chronic and degenerative ailments to gain back their Chi. "
We are all energy. Sometimes we have to find the right batteries to keep our high pro glow. Through my travels, swimming in the oceans, surfing, and skiing, hiking, jump roping when I am seriously cut for time and of course yoga.
I have tried my best to eat right for my blood type, "Eat Right 4 Your Blood Type" and focus on high fiber and things that benefit my blood type. We are only as good as our lifestyle, our genetics and how we feed our souls.
This is my formula for well being.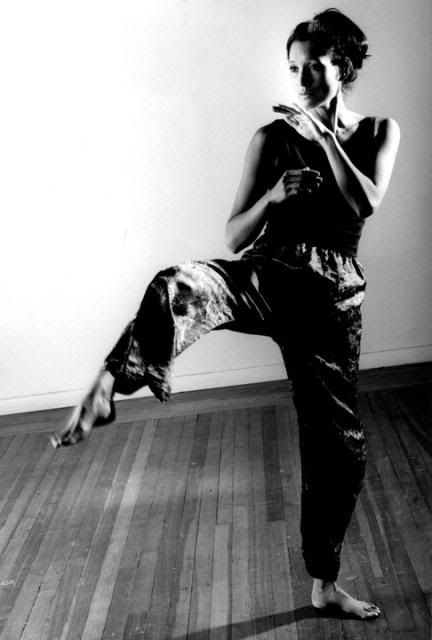 Photo Credit Suad Photography
Chase Von: I thank you for fitting this interview in Apachula and again, love your name! I`m wishing you and yours a God bless and I do hope we stay in contact! And my co author Betty Dravis is going to love this video of you! She interviewed Clint Eastwood! Also looking forward to hearing your audio interview with Judyth Piazza. (Smile).
Apachula: My thanks to you Chase and the Student Operated Press and will stay in touch, blessing to you and yours!
Living Arts Magazine
In the event the video does not work, please click link below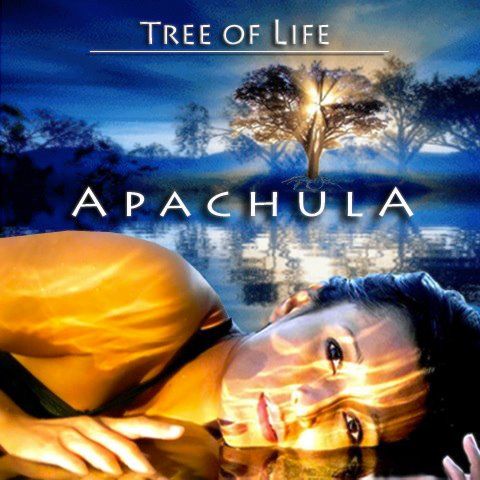 Design Credit to Kenneth Flowers Media Man, Greater Denver Area, Marketing and Advertising
Free gift from Apachula below!
Also for those taking the time to read this interview. I would like to offer a no hassle complimentary download on the link below. I perform the Native American style flute and it is titled "Moon Song."
http://www.reverbnation.com/apachula/song/15524331-moonsong