Published:
January 11th, 2010 20:10 EST
| | | |
| --- | --- | --- |
| | Chase Von Interviews Talented Wordsmith, Yolanda (Yo) Jackson, AKA Poetic Flow! | |
Chase Von: Hey Poetic Flow and on behalf of the Student Operated Press and myself, thanks for finding the time to share yourself with our readers! I know we were supposed to do this what? Years ago now? So I appreciate your patience with me but like yourself, have had a lot on my plate and things still keep popping up!

But also, the New Year is upon us so maybe we were supposed to do this to kick off 2010! (Smile). Again, glad you`re making time for this to share yourself with our readers and we`re getting to this!
Poetic Flow: Hey Chase! Thank you for the opportunity to interview with you. I`m avid believer things happen in their appointed time, so this was the time for the interview instead of a year ago or so (Smile). We all get busy and it`s understandable, but I`m glad we are having the chance to do it now, in a brand new year, wow 2010, I remember when we went into 2000, 10 yrs have flown by! WOW!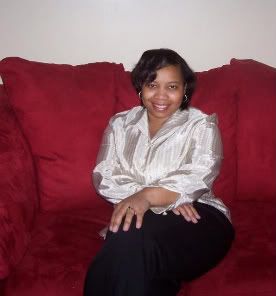 Chase Von: What were your younger years like? Are you a native of Chicago? And was writing something you knew you wanted to do at a very young age or is it something that came to you later in life? (I`ve read your web page mind you, and it says you began in 1985 but I don`t know how old you are.) (Smile). For example, if I had started writing in that year I would have been--- Never mind, next! (Heh, Heh). Also, is it just me? Or is Chicago one the main cities in the US that seems to have an over abundance of love for the written and spoken word? And if you agree with my belief that it certainly is one, is it harder to stand out there for what you do considering there are so many that truly appreciate poetry there? Or is it just the opposite of that, because there are so many that are truly and sincerely into it there?
Poetic Flow: Hmmm, my younger years, lol. Well I`m the oldest of 4 children and the only girl. My grandmother was a HUGE influence on my life, she taught me a lot about life, people, GOD, spirituality, education, etc. I had a really good childhood into teenage life and transformed into adulthood very smoothly. I am born and raised Chicago, IL. I always had the gift of writing, it wasn`t what I thought I`d be doing, my profession is in the legal world, I`m a Paralegal, my career goal is to become an attorney. In 1985 I was 12 years old, my grandmother and I use to have conversations about so many different things and she had seen some of my poetry because we use to have to do poetry/prose in grammar school. She told me I had a gift and I should use that gift. I begin to write more and more thereafter and my poetry just piled up one after another after another. One night we were talking about life and how unfortunate it is for some people and she told me I should write a poem about Street People, hence my poem "Street People". In my freshman year of HS, my black history teacher wanted us to write about black history, so I figured I`d write a poem using the letters of the alphabet. My father helped me out a little and I ultimately wrote "The A-Z Black American Poem" which followed me throughout HS (i.e. recited it at assemblies, was published in the HS paper, etc).
Chicago most definitely is a city full of talent and love of poetry; there are many, many places in Chicago that host open mic/spoken word events. Kind of like New York, which is also a good place that has talented poets with a true love for this art. I believe that each poet/spoken word artist is different in their own right. We stand out on our own accord based upon the audience and who likes to hear what type of poetry or spoken word pieces; you know the genre of it like music. My style of poetry is free-style, I don`t conform to specific ways poetry can be written, and I write it the way I feel like writing it (smile). As you`ve seen and read before, my motto is "Inspiring, Motivating & Encouraging the World One Poem at a Time" - Each time I write something, it`s meant to reach someone in a positive way. I write my poetry based upon conversations, thoughts, feelings (not necessarily of my own), the universe, etc.
Chase Von: I have out three books, two of them being mostly poetry. I also know as a poet there are a myriad of subjects people can address and I like to think of myself as eclectic in that regard. But if someone was to ask me, what the overall theme of my books regarding poetry are about, I would have to say relational ship kind of things mostly. What do you say is the overall theme you believe your book addresses or what readers can expect from reading it?
Poetic Flow: Well Chase, as I stated above my motto is "Inspiring, Motivating & Encouraging the World - One Poem at a Time" - My poetry focuses on Life, Love, Feelings, Thoughts, Situations, Circumstances, Spirituality. My 1st book published in May 2008 through Author House Publishing (self publishing company) is entitled `Poetic Flow Poetry for Your Soul` all of what I mentioned above is reflective in my book. It is a collaboration of poems from 1985 through 2008. It encompasses 127 pages of poetry.
If people want to be inspired, motivated or encouraged, they will find a poem in my book to help them. I believe in being a positive being and I put out positive vibes in all I do, it is reflective in my book, my words, and my poetry.

Chase Von: We just opened up a Spoken Word portion here at the SOP! (Smile). So one, can you add some of you work here for our readers and two, when I did mine it was just beginning and I taped it in a closet. (Heh, Heh).

I know, ghetto, but the first one I did in my recording studio--- OK, my BATHROOM and it had too much of an echo effect I was told. (Smile). (Everyone I know thinks that bathrooms have the best acoustics for whatever reason so any way--- I wasn`t trying to be professional, just to share.

But you also have hit the stage and I for one, admire anyone with the guts to stand up in front of a room full of people and do their thing! (I`m a shy person). (Smile).
What was it like for you, your first time? And do you enjoy it or is it something you have to mentally prepare yourself for each time you do it?
Poetic Flow: LOL, you are funny (smile). The first time I ever read my poetry I was a senior in high school (1991), my teacher wanted me to read my "A-Z Black American Poem"; the second time I ever read my poetry before a large crowd was in 2007 at Navy Pier "A Celebration of Jazz" during Black History Month. A long time friend of mine Dee Yelvington invited me out because she put the event together. I`ve performed at various churches and some other open mic events. I was nervous the first time, the second time, the third time, lol...I don`t get the chance to go out much due to my work schedule (most events are held during the week at 9pm or later). I`ve gotten better, my knees don`t shake anymore, my hand doesn`t tremble anymore, lol. I enjoy it. I do prepare mentally, I read over my work (I`m a Poet, not a Spoken Word Artist) although I`m working on transitioning over (smile) - So I practice memorizing my poetry so I can perform it w/o the book or paper in front of me, but that`s still a work in progress (smile)



Chase Von: Thanks for sharing that Poetic Flow. I`m also interviewing Taalam Acey if he gets the chance to get to the questions I sent. (He`s a busy man, so I ain`t rushing the brother). (Smile). But he`s so good at the Spoken Word Living Legend Stevie Wonder himself interviewed him on his radio show! But who are some of the poets you yourself admire, spoken word artist you look up to? And just people you admire in general?
Poetic Flow: I`m probably one of the few poets who really didn`t know lots of poets. I enjoyed reading poetry by Gwendolyn Brooks and later on Maya Angelou; I`ve read some Nikki Giovanni. New school poets I`ve read some Taalam Acey, Donna Solitario, Tren, Poetic J, Joanne Stephens (who I did a collab with), Makeda (who I also did a collab with), Malik Yusef, Donique, Poet Janet Dawson, Poetic Central, Poetic1, GPA, Emmanuel Louis...just to name a few. Now when you talk about admiration in general, I admire my mother, my late grandmother (Verena), my late cousin (Centerius) and many other women, men in my family along with friends. I`ve learned so much from people who have come into my life and impacted me, spit knowledge on me, opened my eyes to other ways of doing things, it`s just amazing! I am a very humble person and I know factually if not for the grace & mercy of GOD and people he has put in my life to help me along my journey, where would I be? I give thanks and honor and all glory to the Almighty Father for any and every blessing that has come into my path to walk in this life with me.
Chase Von: I see some of the folks you admire are on my list as well! (Smile). Now I`m also waiting on someone else to get back to me if she can. And that`s phenomenal actress Christine Elise McCarthy!
She`s been on 90210, The Heat of the Night, movies with Chucky, (Yes, that doll that comes alive) and really, I think she needs no introduction and it would take up pages to list all her credits but that wasn`t why I was bringing her up any way. The reason I am bringing her up is she is an avid dog lover! And you are as well! (Smile).
How many dogs do you have? Why do you love dogs so much and is there a particular breed you`re most fond of? Also, what are some of the causes you yourself support or feel extremely strong about? Because I also mentioned in another interview I did with Jenny McShane, about the former Governor of Alaska and her campaign against wolves. Something Ashley Judd made it her business to get involved in as well. But what are your feelings in general regarding that?
Poetic Flow: I had 3 dogs, but one of my dogs recently died (sad face). I am now down to 2 (A black lab mix -boy, and a pit bull- girl). I love dogs because I was raised around them; there hasn`t been a time in my life, except for when I was married, that I didn`t have a dog. They are so loving, I mean we as humans can really learn a LOT from dogs, they love unconditionally and they bring a sense of joy to your heart when you walk through the door. I grew up with all breeds of dogs (German Sheperds, Dobermans, Pit Bulls, Collies, etc. all big dogs, LOL). I support the cause for homeless animals by donating money when I shop for my doggies. I feel horrible when I watch the commercials of all the abandoned and abused animals. I rescued my black lab from a humane society, my dog who died of illness; I rescued her from the streets. I put up signs to see if anyone would claim her and no one did. She was a Rhodesian ridgeback, AWESOME, AWESOME DOG!!!! - When it comes to wolves, ummmm yeah I don`t know. A wolf is not a domesticated animal, it`s a wild animal. They are beauuuuutiful, but I wouldn`t trust one as a pet.

Chase Von: I`m a dog lover myself Poetic Flow, we have a Shepherd. One Shepherd. (Smile). And I still don`t think wolves should be shot from planes and have their front legs cut off wild or not.

Where can our readers learn more about you and where you`re going to be doing your next appearances? Also can you share your web sites and give our readers any inside scoop on any future projects you have in the works?
Poetic Flow: Great! Readers can learn and follow me on my website TRUE DAT THURSDAY www.yolandajackson.bravehost.com - I created this website in 2007 through the idea of my friend Shari. I used to send out my poetry every week (Thursday) to a list of readers which grew from 40 in 2007 to almost 1800 today. Last year in 2009 I opted to send my poetry out only once a month on 3RD Thursdays and I incorporate guest poets on my page also. Within my TRUE DAT THURSDAY website I have links to connect people to me on myspace, face book and twitter. Also whenever I do performances, they can get that info from my website as well, there is a link regarding my upcoming performances on the page, just click and it`ll have all the info. I am currently working on my 2nd book of poetry entitled "Love~N~Life Poetry" it encompasses 20 Love poems and the rest is about Life, hence the title :-) ... I am also going to simultaneously release a book of positive quotes for my readers so I`m hoping that goes over really well :-) Both are scheduled for release this summer 2010, so stay tuned...
Chase Von: What are your favorite meals? Also when I lived in Jersey one thing that was almost like a piece of Heaven was a hoagie from Wawa`s. (Smile). We also weren`t far from Philly, so of course Philly Cheese Steaks were another slice of Heaven when it came to getting one`s grub on! (Heh, Heh). But since I haven`t too my knowledge been there, what is a trade mark thing in Chicago that falls into that kind of a category? (Just in case I show up there, I will know what to get if I`m a bit famished. (Heh, Heh). Also what do you do to remain in shape or is that something taking care of your dogs takes care of for you? (Smile).
Poetic Flow: My favorite meal is at Thanksgiving, love turkey, dressing, potato salad, rolls, greens, cranberry sauce, yuuum yuuum! My favorite food is chicken (grilled, baked, fried, broiled, boiled...) it doesn`t matter, I just love chicken. Chicago is known for #1 its Pizza (the deep dish from Giordano`s) and #2 it`s Maxwell Polishes down by the University of Illinois, delicious!!!! - I walk A LOT! Especially working in downtown Chicago, I think that keeps me in shape :-) ... I use my treadmill at times and I just let the dogs out in the back yard of the house, lol
Chase Von: On to something truly more serious now Poetic Flow. When we first met, I became aware of the loss you suffered of your brother. I also know something like that is painful to address, but address it you do in your poetry. Can you share one of your pieces that were inspired by that senseless loss and also, is that something that sparked your interest in working in the legal profession? Or were you already doing that?
Poetic Flow: I`ve been a Paralegal for almost 11 years now, so way before the killing of my brother I was doing that work. I have a passion for helping others and my ultimate goal is to become an attorney. The piece I wrote after my brother was killed was called "THE STAIN OF PAIN" written in 2007 (the year he was killed). I`ll share it with you now...
The Stain of Pain
Life is too short
This we know
Never knowing
When it`s our time to go
I woke up one morning (5/8/07)
Went on to work
Got a phone call
That could have given someone a stroke
My mother on the other line
Telling me my 22 year old brother was shot
This is just something
I would have never thought about
I left work
Got on the bus
Prayed to God
Didn`t make a fuss
Two stops before I got to my car
A few short blocks until I got in my ride
Another phone call from mom
Cinque has died!
My face is stunned
My heart confused
Not understanding
Why this happened to you
I called the family
Called some friends
Informing them
My brother`s life had come to an end
Still frozen in time
My mind working overload
Just saw my brother
A few days ago
We were talking about GOD
Talking about Life
Talking about the future
Man, this can`t be right
Someone took his life
They had no regard
Could care less
About our stress
As he stood and talked with friends
Laughing and talking smack
The gunman
Shot my brother in the back
He fled the scene
Still at large
I pray everyday
Knowing he has to answer to GOD
Now we`ve lost our brother
Mom and Dad, their son
His five children, their father
His life gone at the hand of a gun
Someone pulled the trigger
Never did they figure
The ripple effect it would have
Senseless Crime, it`s so sad
I thank God
For the 22 years
He gave me with my brother
Although I still shed tears
We conversated a lot
We had a real connection
I now think of Q as my guardian angel
My protection
I love you Q
Just the same
We`ll see you again, but until then
We live with the stain of pain
Written By: Yolanda Jackson
My brother lived his life knowing Christ died for our sins and he lived his life by giving love, which is why I know, he`s with the Father Above.
Copyright © 2007, All Rights Reserved
Chase Von: Thanks for sharing that Lady, and old as it is, it still rings true, an ounce of prevention is worth a pound of cure. So hopefully someone will read that and be influenced by it so they won`t cause someone else, undue pain.
What would you say if you were standing before a microphone that could be heard by every child on the planet, and regardless of what language they spoke, they would understand you? What positive advice would you give the children, if that were possible?
Poetic Flow: I would quote one of my poems A QUICK LESSON ABOUT LIFE "Life is a big ball of experiences, in order to experience it you must Live Life, in order to Live Life you must Love Life, in order to Love Life, you must Love Thyself, Once this is done, Your possibilities are Limitless." (c) 2007 by Poetic Flow...I would let them know that I understand it can be hard, life is hard, people are not always nice, but continue to stay true to self, don`t fall by the wayside of crime and carelessness. I would tell them that they each hold the key to happiness, success, power and positivity because it all is a blend of one who loves themselves enough to know that GOD makes a way when there is no way, that despite all we see around us, the killings, gangs, homelessness, poverty and the list goes on and on, that even still we serve a POWERFUL AND MIGHTY GOD and sometimes we have to go through some things before we are presented with our blessing, but that comes with Life and Lessons to be learned to make us better and stronger people. So no matter what it is that they may ever go through in life, just remember to keep a Positive frame of mind because there is a positive in every negative.
Chase Von: How important is family to you, and what is your take on the state of our current world?
Poetic Flow: Family means everything to me. It is the hierarchy organizational system of the world. There is suppose to a MOM & DAD, but more commonly we see just MOM handling the business and she has done so very well. Lately I`ve seen more men step up to the plate and be single parents and I think that is Awesome since there is such a lack of that (definitely in the black community, but throughout all races as well). The state of our current world keeps me shaking my head. There is SO MUCH I don`t understand, but I have to refer back to Proverbs 3:5 "Trust in the Lord with all thine hearts and lean not unto thine own understanding." That scripture helps me get through so much!
The current world is full of greed, heartlessness, carelessness, and the list goes on and on. It`s so bad that you can`t even say HI to someone without being looked at all cross eyed and evil. Have we really succumbed to a world where courteousness is a crime? Also, when did it become popular to carry a gun and shot people just because!? Why are these young kids, older kids and adults hiding behind guns to show their toughness?!! Why do the police feel the need to harass people instead of taking care of true crime?? Why are mothers and/fathers stealing their own kids toys and selling them on the streets for drugs or to obtain drug money? Why are we fighting a war we should have never even started!!? These are my thoughts on the world, I have many more, but I`ll stop with this...It`s just craziness to me!



Chase Von: Donna Solitario the author of Embracing the Light and more recently, Coming Home to My Heart introduced us, and I`m glad she did as you are a truly wonderful soul! But what I`m finding out as I get older is the more people I meet, the more people I meet that know someone else I`ve met or have had dealings with.
For example, I met, and it breaks my heart to say it and now even to write it, the now late, Brittany Murphy. I also interviewed actress, model and musician Jenny McShane and she too had met and worked with, not on a movie but a project with Brittany Murphy. So she was crushed by the news as well.
I also just interviewed Voice Over Extraordinaire Joan Baker. And I was looking through her pictures on my space (After), I had interviewed her and lo and behold, she`s in a few pictures with actress and model Shawn Richardz, who I`ve also interviewed! She told me, (Joan), that she and Shawn have known each other for, if memory serves me correctly, about ten years).

But what I`m getting at is the world just seems to be getting smaller for me in that regard. So I`m looking at your page to prepare for this interview, and I see one of your all time favorite movies is The Last Dragon.
I`ve communicated a few times with Taimak, who is an outstanding human being I might add, but my friend just recently got inducted into the Martial Arts Hall of fame and lo and behold, there he is standing in a picture with Taimak who also got inducted at the same time! I could go on but what are your feelings on that?
Is the world getting smaller or what? Or is the communication such as the internet making these things possible? And for me, it`s a good thing but do you think it can be used for an even greater good also?
Poetic Flow: Well Chase, I`m a firm believer in there truly being 6 degrees of separation (for every 6th person you know they know someone mutually and the cycle continues). People think our world is SO HUGE, it`s really not, that`s why things like this happen (people meeting people who meet people that other people know, etc). As for the internet, it is a MONSTER! People use it so much that they don`t even communicate verbally sometimes, it`s all via email, face book, myspace, twitter, text messages, etc. The internet is a BEAST! It can definitely be used for a LOT of good! So many people from kids to elders are on the internet, it is a great place for Positive Vibes, indeed!
Chase Von: Thanks not only for that, but for taking all the time you have to share yourself with our readers Poetic Flow! I`m calling you that instead of Yolanda because I`m respecting your wishes! (Smile). I`m also hoping you and yours had a wonderful Christmas and we and I say that as a collective we, have had a lot of bad news in 2009.
The loss of the lovely Farrah Fawcett, incredible actor and man Patrick Swayze, Brittany Murphy who I can personally attest to was so bubbly and so full of life. And the one and only Michael Jackson who I know the impact of that, was felt all around the globe. And I also wish I could list them all, who have positively affected so many of us with their gifts. But are you thinking what I`m thinking? 2010 can`t get here soon enough?
Poetic Flow: You are very welcome Chase and thank you for giving me this opportunity to share some of me with your viewers/readers, it is truly appreciated. Yes indeed we lost lots of celebrities (musicians, actors, actresses, etc). We also lost many unknowns (everyday people who don`t get the media coverage because they are in a different socio-economic level) - We lost many soldiers to the war also. With each year we face devastation of this magnitude and we look forward to the following year so we can leave behind the hurts, pain, disappointments, etc of the year before. I`m glad we are in a fresh and brand new year of a brand new decade of the new millennium!
Chase Von: Thanks again Poetic Flow and also looking forward to your audio interview with Judy. And also the very best of everything in 2010 and beyond to you and KIT!
Poetic Flow: Thank you Chase for this opportunity, it is truly appreciated and I appreciate you Love. I`m looking forward to the audio interview as well. Here`s to wishing you a Prosperous, Powerful & Positive 2K10! Peace & Blessings, Much Love ~ Poetic Flow