Published:
December 22nd, 2009 12:29 EST
| | | |
| --- | --- | --- |
| | Chase Von interviews Lovely Multi-Talented Actress and Dancer, Jamie McCall! | |
Chase Von: Hi Jamie and you`re like a magnet! (Smile). Meaning when someone learns of you, they can`t wait to learn more. You`re an actress and a dancer and a rising star in Hollywood, so thanks so much for spending some time with me and sharing yourself with our readers here at the Student Operated Press!
Jamie: Well thank you, Chase, and the SOP!
Chase Von: I have a lot of questions I want to ask, but before I do, can you tell our readers where you grew up? And also, what was your reason for going in the military and becoming an Officer? Have you always been someone that loves entertaining others, because I`ve seen your video of you Belly Dancing and quite frankly, if that was the last video left on the planet of someone doing that, I would still be happy! (Smile).
Jamie: I was born in Portland, Oregon, lived there a few years, then moved to Galveston, Texas, and then finally settled in Idaho. I went back to Oregon for college. I spent most of my adult life back East before moving to LA. Washington DC, NYC and then Puerto Rico were all homes. I have a long family history of Naval Service and wanted to continue in that vein, being the first female in my family to do so. My Uncle is a retired Navy fighter pilot, the real TOP GUN, F-14 Tomcats, and was my mentor growing up. I`ve always kind of lived a dichotomy, though, as I`ve always been interested in the arts as well, starting with dance and stage production as a very young girl. I`ve been a performing artist since I could walk, basically. I also studied music - specifically the violin and piano.
Chase Von: Normally I ask tough questions a little while later, but I`m a former Marine and as you know, the Marines and the Navy work very closely together. But you share a picture on your my space and your Face book of you shaking hands with the highest ranking Navy Officer and yourself, not long before he committed suicide. Your comments regarding him are quite respectful but I`m just wondering, is the family to your knowledge OK with that? And how did that affect you yourself when you heard it? After having so recently met him? I didn`t ever meet him but I thought it was truly sad when I heard it as well.
Jamie: I`m not sure how his family would feel about it. It was quite some time ago now, but I just recently found the photo, which is the reason for the recent blog. It`s a personal blog, not a formally published work, so I didn`t seek any clearance or approval from his family. It was very respectful, because I respected Admiral Boorda. It`s personal, because I worked for him. I was speaking from personal experience with my article on the subject.
Chase Von: Thanks Jamie and of course, your perspective is valuable since you did in fact meet him. I myself had a troop show up looking like Chesty Puller one day (As many ribbons as me or more), when we had to wear Charlie`s. I was in a rush, but later I found out that the Sergeant Major had seen him as well, and ran a records check and low and behold, he didn`t rate a lot of what he was wearing. I`ve got friends that were shot in the face, people that worked for me, that have one leg now and people I`ve worked with that are no longer here. In the case of Admiral Boorda, I`m sure it was just an honest mistake, but there are quite a few people that are pretending these days and yes, he was punished for that and rightfully so, but enough on that.
You`re also writing a book titled, Living the High Life without Drinking the Champagne. And also have another book out of poetry called Renaissance Girl, and I`ve seen you reciting some of your poetry and I also have to say, you excel there as well! Can you tell our readers a little more about what Living the High Life without Drinking the Champagne is about, and why you titled it that?
Jamie: "High Life" is an inspirational memoir telling of my time in the Navy and the transition to Hollywood. I basically lost my Navy career to alcoholism. I`m sober now 8 1/2 years, but it was quite a struggle. I was dying in hospitals, rehabs & emergency rooms for two years. I nearly lost my life. It was humiliating, extremely painful and shameful. I had to start over from scratch, having lost everything I ever wanted & fought for. This is where the title comes from. I`m living "the dream", hob-nobbing with the stars, following adventure without the drugs & alcohol. It can be done!
Chase Von: I`m probably going to take some heat for this, (Smile.) But when I saw your video of your Belly Dancing I was amazed! I even showed it to my wife and asked if she could dance like that. (She is a natural when it comes to dancing as well). I already told you, Shakira herself has some legit competition now! But what I wanted to say is, some folks are born with two left feet it seems, and have no rhythm. Have you been able to dance like that all your life because I`ve also seen videos of you doing other dances and you`re remarkable in those also! And gifted as you are in so many areas, why aren`t you on Dancing with the Stars? Or do they just not know about you yet?
Direct link to JMac Sexy Back -
In the event the video doesn`t work, the link:
http://www.youtube.com/watch?v=CkAct_l3WQs
Jamie: Yes, I often joke that I came out of the womb dancing! I love Shakira, she`s one of my favorite artists. Here`s a quote I love "I get up, I walk, I fall down...meanwhile, I keep dancin`!" I`ve actually started a campaign to get cast on the next season of DWTS! I`ve met many people from the show already - the word is getting out. Contact ABC & let them know you want me to represent veterans & the military on the show!
Chase Von: You`re just making your start really in Hollywood, but a great start it is! You`re going to be in The Reapers, still in pre production, but you`ve already been featured in God Complex, Pushing Daisies, Private Practice, Grey`s Anatomy, Splitting Hairs, Ascension Day, Back in the Day, Bravo`s Shear Genius, and various other projects! Are you living your dreams Jamie? Also, how important do you think it is that people do try and live their dreams?
Jamie: It`s not only important, it`s the purpose! It`s the whole reason we`re here in this life experience, in my opinion, to find our joys and our passions. It takes courage, but yes I`ve always lived that way. I`d be more mad at myself for not trying, than if I tried and failed.
Chase Von: You`re a fantastic dancer and actress but also a great at poetry and as well! Which you know is very dear to my heart as well because I think I`m a poet first.
But do you think in the future you will be also writing scripts since you also have that in your background from being in Public Relations while you were in the military?
Jamie: Yes, that`s part of the Master Plan. I`ve already written the treatment. I love writing, whether it be poetry, or editorial articles, blogging or just journaling for myself at home.
Chase Von: I also told you, that in some ways, you remind me of the phenomenal actress Brittany Murphy! I got the chance to meet her when I was in the last war I was in. She was part of the USO tour that came to entertain the troops, and unless you meet her in person, this won`t make sense. But Brittany Murphy seems to be able to say complete sentences just with her eyes! I know that sounds silly, but it`s true to me because I`ve met her.
But what I want to ask you next, is one, do you consider that a compliment? And two, do you think the military time you spent is also helping you with what you learned, to be successful in Hollywood?
And also three, it looks like we`re going to be there for a while, so is that something you would consider doing as well? Entertaining our warriors?
Jamie: Sure, I`ll take that as a compliment. She`s a fine actress. I`d love to meet her myself! I`ve not met her yet. And yes I absolutely believe my military service has given me the edge to make it in showbiz! The self-discipline, character, leadership skills, courage and sense of adventure I developed have been crucial to my progress! I`m very excited about doing a USO tour and am working with some folks to make that happen when the time is right, hopefully early 2010! It is absolutely one of my goals on the top of my priority list, and I`d be honored and thrilled to do it!
Chase Von: Who are some of the people you have really enjoyed working with in your acting career? And also who are some of the people you consider mentors? And lastly, who have you not worked with yet, but would love to in the future?
Jamie:Ving Rhames was the first I worked with who became a mentor. He`s been in the game so long and is always working, which is a feat in & of itself in this business! We met on my first professional acting gig down in Puerto Rico and became friends, and stayed good friends for my first three years in LA. I`ve worked with Kristin Chenowith a couple of times and she is adorable and so talented. There are so many people who I want to work with - Clint Eastwood, whom I`ve met a couple of times, Jamie Foxx, Susan Sarandon, Ron Howard, Quentin Tarantino, Daniel Day Lewis, Meryl Streep, just too many on my list...
Chase Von: Are there any future projects you`re working on you can give our readers a heads up about?
Jamie: I`ve recently started hosting a couple of web series, "Hollywood Minute" and one that has a good shot at turning into a TV pilot, "Lifestyles of Celebrity Pets". "The Reapers" is set to start filming early spring 2010 to hopefully be on the big screen by Halloween! There`s a few other tricks up my sleeves as well...
Chase Von: Can you give our readers some links to your various web pages so they can learn more about you?
Jamie: Certainly, I`m all over the place! You can`t miss me! Pick your platform:
www.youtube.com/OfficialJamieMcCall
www.myspace.com/OfficialJamieMcCall
www.facebook.com/OfficialJamieMcCall
Chase Von: What would you say if you were standing before a microphone that could be heard by every child on the planet, and regardless of what language they spoke, they would understand you? What positive advice would you give the children, if that were possible?
Jamie: Love yourself! It sounds so simple and cliche, but I really think we have an epidemic of low self -esteem in this country & the world over, which is the root cause of so many problems.
Chase Von: What are some of the causes you either support or feel extremely strongly about?
Jamie: Of course the USO and all the veterans` organizations out there, animal shelters and the protection of endangered species & prevention of abuse & rescues, sober living, recovery and rehabilitation advocacy and education! Keeping music & the arts in schools! We short-change the future of our nation when we short-change our school system. It`s atrocious what`s happened to it.
Chase Von: Besides dancing, how do you stay in such fantastic shape? And what are some of your favorite meals?
Jamie: I`ve always been an athlete. I`ve always been very active, both in the gym and outdoors! I like to switch it up & try new things. I was also a competetive swimmer for years, all the way through college and swam in the Navy. Martial arts, horseback riding, downhill skiing, jogging, hiking, you name it, I`ll do it. On diet - balance. That`s it. Just try to have balance and moderation of all things. Eat smaller portions more frequently. It really works.
Chase Von: Personally, I don`t think I could get tired of watching you dance. (Smile). But you`re also learning Martial Arts from the legend Billy Blanks himself! My Sifu and friend, Nick name (Scrappy), and I won`t say his real name because I`m going to share some more and I have to ask him if he`s OK with that, fought Billy Blanks three times. He won once, lost once, and drew once back in the day in competition.
He also just recently got inducted into the Martial Arts Hall of Fame and I`ve learned, the same people that make the rings for the Super Bowl winners, also make their rings as well. Taimak The Last Dragon and quite a few other notables got inducted the same time he did, but I will only mention one of those others for now, and that was David Carradine, post humously.
But are you studying Martial Arts because you think it will benefit you in acting? And also, is it also benefiting you just in life in general based on your view?
By the way, he (Scrappy), was also shot in the face his last time to the war, and obviously survived and is still recuperating. Bottom line, is, he`s going to have to deal with this injury for life. But he has also got certified to be a referee for Mixed Martial Arts even despite all that, since because of his own injuries, (He`s won two purple hearts mind you), it`s doubtful he will be able to compete himself any more. But then again, neither he nor I believe in saying the word never. (Smile).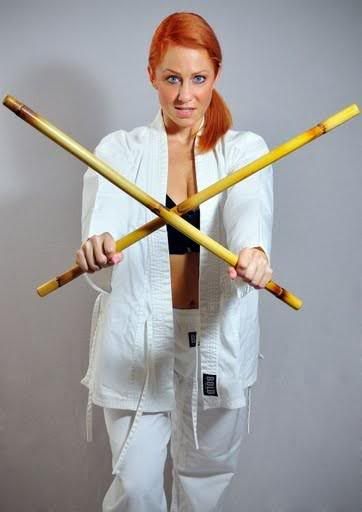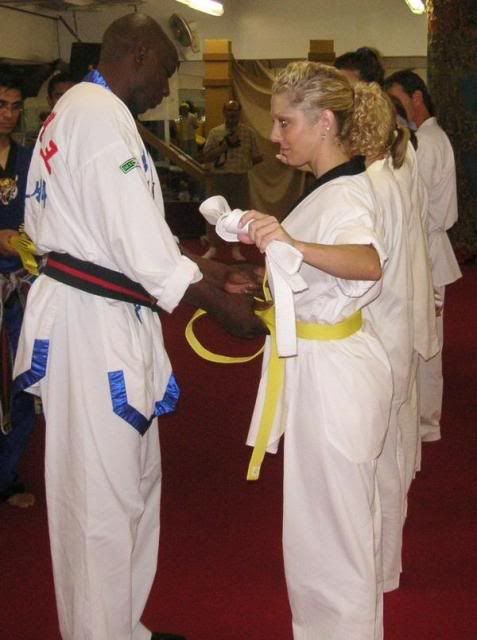 Jamie: I love the Martial Arts! Billy`s the best. There`s a reason why it`s called an "art" and not "martial sports", because it is a performing art as well, and with all the different styles, everything is up for personal interpretation and expression. That`s another thing that I love about it. I`ve studied TKD and Karate, and want to get into the Chinese styles next - Kung Fu. Yes, it`s good for career, but it`s something I`ve always wanted to do on a personal level as well. I get so much more out of it than just physical fitness. Self confidence, spiritual inspiration, clarity & balance, discipline...the list goes on.
Chase Von: Can you share one of your shorter poetry pieces, so our readers can get a glimpse of that side of you? And you have so many sides Lady! (Smile).
Jamie: Hmm, Ok, a short piece:
Cracker Jack Love
Back & forth, forth & back.
Say goodbye then take it back.
Take it slow. Take it fast.
Desperate to make it last.
Hanging on with all your might...
Ten knuckles turning white.
Fighting panic. Feeling frantic.
Panting, manic from the chase - WAIT! Don`t go!
Ebb & flow. NO! Tug-of-war.
Who`s in control? Think you are?
Then you`re a fool.
Addiction`s the Star.
Like a sugar high eatin` Cracker Jacks
Snackin` late at night, feeding only fat
Packin` that crap deep into cavities in your teeth
Pains sharp and wrenching yet you continue stuffing
Your mouth gluttonously with the candy-coated popcorn
Wedging itself deep in the crevices causing discomfort
The sugar feeding the black hole that`s now embedded deep
Rotting its way from your teeth down into your soul...
You need a root canal - a deep cleaning
Yet you can`t stop!
You keep munching `till you finish the box.
It`s empty...now what?
Change your diet? Self-discipline?
Or try it YET again with another box
Of Cracker Jack snack addict love...
~jMc 2006 copyright
Chase Von: Thanks so much and talented oozes from you! I`m wishing you all the success life has to offer Jamie! And I do have a request. Because the only complaint as I`ve told you before, about your Belly Dancing video I had, was it wasn`t long enough! (Smile). You have a plethora of talents and I`m so glad you are sharing them with the world and also that you took the time to share yourself with us here, at the Student Operated Press! Love and light and don`t be a stranger OK? And wishing you and yours, a wonderful Holiday Season!
Jamie: Thanks so much, Happy Holidays to you & all the readers as well! I`ll leave you with my mantra: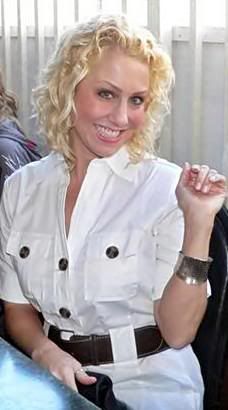 "Do not wait and hope to be discovered...make yourself so you cannot be denied!" ~Jamie McCall
Jamie McCall Acting Reel
In the event the video doesn`t work, the link:
http://www.youtube.com/watch?v=sUM57CTTvJI
Jamie McCall Poetry- No Doubt! (Note, some profanity, not suitable for children).
In the event the video doesn`t work, the link:
http://www.youtube.com/watch?v=VOq9zYIm430