Chase Von: Hey Claire and it was a pleasure talking with you the other day! Not only are you beautiful but you have such a lovely voice! I`m like most American men, meaning I`m blown away myself by a woman with a foreign accent, but your speaking voice is also as sought after as your acting and singing!
And you are extremely pretty as well so you`re also sought after as a model, though I know you prefer action! (Smile). So thanks for finding the time to share yourself here with our readers. I have many questions I want to ask you but first, I want to know more about your childhood.
What would you say it was like growing up in France? My father was in the military so I was in other countries as well as a child, and I know there`s a difference compared to those raised solely in the States.
And we spoke on both your parents being school teachers as well. How supportive have they been of you, their daughter who is making a serious mark in the world of entertainment, with your choosing that path in life as a career choice? We didn`t get to talk that long but I would think they were thinking you might pursue what they both do and I also imagine it wouldn`t be something that they would just easily accept. (Smile). Also I know you have siblings as well, are they supportive also?
Claire: Thank you Chase, you are very kind and I`m blushing!! J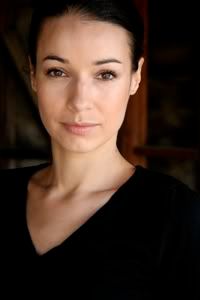 Photo by Karianne Flaathen
I was told that as an artist we are supposed to have had a terrible childhood; humm " well mine was actually very happy, because my parents were teachers, they had lots of holidays so we would travel throughout Europe, visiting the many gorgeous cities and countryside. It was a blast! It`s probably the reason why I ended up moving to this country, I was raised with the desire to explore the world and its beauties.
My Mum built a theatre in the attic of our huge apartment when I was around seven. I remember putting on plays there with my sister for our friends. It was such a happy time and when I decided I`d just have to play for the rest of my life! (LOL!)
It took a while for my family to accept what I do, as it was not exactly what they had in mind for me, (he, he)! This is simply because they worry about me and they know how hard it is to make a living in this profession. They hoped I would have a regular job and be safe, but now they are happy for me because they can see that everything is going well. When they saw me on TV the first time was probably the moment they started to believe that I could make a living at this. My grandmother was very excited when she first saw my face printed in big on a newspaper!
My sisters and brother have always been supportive, but they are a different generation, when you are young you believe in your dreams. It`s when we grow older that we lose the ability to believe, and we start to worry about money, stability etc ", the truth is that life can be hard and it is not always easy to keep positive.
However, how can you achieve your dreams if you don`t take risks? I`ve always thought that I would rather try and fail than not try and settle for less than what I want. But like everyone I`ve had moments of doubts, moments that were so hard I nearly gave up. Somehow, I always managed to find a light of hope, and keep going. I now have no regrets, I`m really glad I went after my dreams because my life right now is amazing. It was all worth it! And I`ve still got many dreams to look forward to living! J
Chase Von: You speak not only French, but also English and can also converse in German! We spoke on how being able to speak another language basically opens up your world. I remember I gave you the example, that if you and I were walking down a street in France, you would be able to understand everything where as I, who can`t speak French, would be in a bubble so to speak.
Like being present, but still, not totally there because of my inability to understand the language. Bazhe, whom I`ve interviewed as well, is a writer, poet and artist and also the author of the acclaimed book Damages, and he speaks seven languages! (Smile).
But you also told me you can understand other languages like Spanish and Italian and such, and although you can`t converse freely in some of these languages, you still can communicate and get your point across! How important do you think it is for people to stretch their boundaries and learn other languages? And do you think your ability to grasp languages so quickly helps you in your work in entertainment?
Claire: I speak French and English fluently, which of course is a huge advantage in this world.
If I didn`t speak English, I couldn`t work in English speaking countries. Whatever your profession is, speaking other languages allows you to expand both at work and on a personal level.
My German is unfortunately very basic, and I don`t speak Spanish or Italian, but when I am in a conversation, we can manage to understand each other because communication is not just about spoken language, it`s also about body language, facial expressions, body movements etc. These languages, particularly French, Spanish and Italian, are very close; the words are similar, just pronounced differently, so we can get by and it can be a lot of fun too!
Chase Von: I know I told you I took three years of Spanish and it got me laughed at when I went to Mexico by people on a bus holding chickens. (Smile). Still more to learn. But that brings me to your sought after voice! You`ve been runner up in the 2008 Best Foreign Voice for the Voicey Awards and 2009 and are a member of the Society of Accredited Voice Over Artist or SAVOA! You`re also the voice for a popular video game in France. Universe at War by SEGA and your character is Queen Masari Altea. Are there any other games you`re the voice for I`m missing?
And I have to tell you, what really threw me for a loop as well is when you told me you are also the voice in France for the French version of the Laugh and Learn Bear by Fisher Price!
My kids like many children, have had toys that have voices but for the first time after speaking to you I thought, wow, what an awesome responsibility to have! How does it make you feel knowing that when kids are learning they are learning from your voice? And isn`t it ironic, that even though both your parents are teachers, and you`re in entertainment, you are still teaching? (Smile). That really has to be something they are extremely proud of!
Claire: I also recorded a video game for Disney called La Maison de Mickey (Mickey`s funhouse) and it was hilarious, so much fun! I love doing this kind of work!
I have voiced a few toys for Fisher Price, but my favorite one of all times was the bear. It actually is my favorite job ever. When I was in studio recording it, I was picturing the kids playing with it and it made me so happy! I was on cloud nine for days after that, a smile would never leave my face!
Moments like these make me feel like the luckiest person on earth, because my job is awesome! J
It is true that I`ve recorded a lot of educational projects for children; soon you`ll be able to hear me on an iPod application that teaches animal names. Another very cute job! J
I love recording things for children, it is very rewarding.
I have also just recorded an audio book for children with extracts from very famous classic books/ fairytales and French poetry. When I do this kind of work, I feel like I am contributing to passing on knowledge and it is wonderful.
Chase Von: You`ve worked extensively in France and in England, and now your here in the US! I know I told you I myself lived in England for 4 years, and you were there for ten, but how do you like the States? And will you be making this your home? Or do you plan on returning to France one day? Also, what would you say is the biggest difference between being in England and being in the U.S. now? I know you said you no longer have to ride the tube, but have to deal with the traffic here but I mean culturally speaking. Like are the people here as nice as in Europe?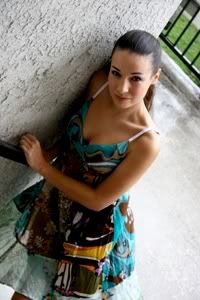 Photo by Karianne Flaathen
Claire: I love the US and I am planning to stay here if I can; but I will also always go back regularly to England and France. I don`t think I`ll ever live over there for a long period of time, but I`d love to go back to shoot films. I will always be attached to Europe and the old buildings, the gorgeous architecture, the small cafes and of course my family and friends.
And yes, people in LA are as nice as the ones in Europe! It`s a myth that Americans don`t like the French; everyone is always lovely to me and loves my accent! J I`m having a great time; people here have made me feel really welcome. When my Mum came to visit, she was surprised to see that everywhere we went Americans were smiling and helpful and chatty; it was not what she thought it would be like. Now she`s raving about America! J
Chase Von: I also know you have a background in Aïkido, so they better be nice. (Smile). And you`re very skilled with the sword as well! You`ve also been very busy playing in 2084 as a French Newscaster, Rubicon, Diamond Ice`d, Face to Face, Murder Club, Grab One Thing, and also 5 episodes of Under the radar: "CMONS" which is on the French version of MTV! And I can`t possibly name all the things you`ve done but you`ve also acted in quite a few stage plays such as, Footprints of the Giants of Musical Theatre: Sondheim, Notre Dame De Paris, The Man Who Knows, Café de Paris, Arabian Nights, Private Lives, Canterbury Tales and really again, too many things for me to mention here! (Smile).
But by doing musicals and cabarets and singing and also by knowing so much about weapons, and martial arts do you think that enhances your chances above others when it comes to winning roles?
Claire: Absolutely, all extra skills make you more employable, and they are fun to learn!
Chase Von: How do you stay in such great shape and what are some of your favorite dishes to grub on? And although I don`t miss the fog in England, I do miss the Fish and Chips, do you? And also, how supportive are your fans bases from Europe, now that you`re on this side of the pond? (Smile).
Claire: I keep in shape by exercising when I can. dancing, (sword fighting, he, he)! And eating well. I`m not really a fish & chips girl, even though I`d eat it sometimes, I`m more a vegetable and whole grains person. A perfect meal would be for example poached salmon with brown rice, broccoli and salad.
I do have a vice though: chocolate. So I ask my boyfriend to hide it and only allow me one or two pieces a day. This way, I don`t do excess. Because otherwise, I`d eat everything there is in one go! (Smile.)
As for the fans, let`s just say that thanks to the internet, it doesn`t matter where you live! J I am so grateful for their support and I feel very blessed that there are people I have never met who care about me.
Chase Von: That`s right; you did say you also dance as well! (Smile). Where can our readers get more information on you and the things you`re doing and have done? You know like your various web site links, and web pages?
Claire: My acting website is: http://claire.dodin.net. I post on it the latest news so you can easily keep up to date with what I am doing.
My voice over website is www.clairedodin.com
I also post videos of my work on YouTube when I can: http://www.youtube.com/user/clairedodin
And there`s my IMDB page where you can see more details about the films and who is in them: http://www.imdb.com/name/nm2749457/
And here`s my My Space page as well: http://www.myspace.com/clairedodin
Chase Von: Are there any projects you have in the works now you can give our readers a heads up about?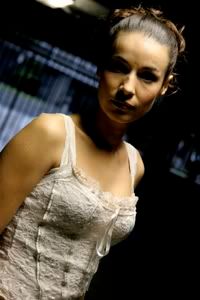 Photo by Karianne Flaathen
Claire: Yes, I`m very busy right now, LA seems to like me J .
I have a small part in an exciting feature film which will come out in cinemas soon called 2084. It`s a film about a group of survivors following a virus outbreak. The official website is: http://www.2084movie.com
I`m also currently shooting a feature called The Last Act: A man diagnosed with cancer decides in a desperate moment to involve himself in a scheme to rob a Drug Lord. It`s going to be both fun and touching. My character is called Paulene and lives in cozy gorgeous place in Ireland.
I`ll be playing Francine in the French film La froideur de l`été, an arty stylized film, very intense. This will be very visual, the director is super talented, the photography will amaze you!
http://lfdlfilm.weebly.com/index.html
Then I`ll be shooting another French film called Marcel et le Petit Pois, my character is called Magalie. It is going to be a beautiful poetic film in the style of Amélie. I can`t tell you more about this yet, but it will be really fabulous.
And after this one, another film in French language called Women in which I play Delphine. It is a surreal and strange film; my character is pretty provocative which is going to be a change from the characters I usually play.
And I am a series regular on the radio play We`re Alive that you can listen to for free on iTunes or on the website: www.thezombiepodcast.com . It`s a really fun story of survival against zombie with great music and sound effects. I highly recommend it, I`m super proud to be part of this!
I post info on my website when it is possible, so to know when they come out and what I`m doing next, just log onto http://claire.dodin.net
Chase Von: You also have a CD out! Can you tell us more about that? And where that can be purchased? Also, who are some of the people you`ve really enjoyed working with? And who are some of the people you admire and look up to and would love to work with in the future here in the United States?
Claire: I sing the song Goodnight, Miss Louise on the Solo Eclypse album called Artifacts.
You can buy it on iTunes or Amazon, just enter my name in the search to find it or follow this link:
http://www.amazon.com/Goodnight-Louise-Vocals-Claire-Dodin/dp/B001AW0PS4/ref=sr_1_1?ie=UTF8&s=dmusic&qid=1262326341&sr=8-1
I collaborated with the amazing song writer Scott Pollak on this song. It is his album. I added lyrics to the song and started singing a melody; at first it was just for fun because I loved his music, and then we ended up keeping the song because everyone liked it.
I also sing the most gorgeous song on the soundtrack of La Froideur de l`été. It`s a French song with piano and cellos. The recording will be available soon to download. I`ll post the release date on my website as soon as I know.
I have been lucky to work with a lot of talented and inspiring people on many projects; but working with Billy West on the film 2084 was without a doubt one of the highlights. I am such a fan of his, his voice work is just incredible and he is the kindest person you could meet. A real sweetheart! I hope I get to work with him again.
Like probably every actor on this planet, I would give anything to work with talents like dame Judi Dench or Cate Blanchett. There is so much to learn from incredible talents like them. But they are not the only ones; I could give you a really long list of hugely talented actors. This is part of the reasons why our job is so much fun; we constantly learn from others and get to meet amazing people.
Chase Von: What would you say if you were standing before a microphone that could be heard by every child on the planet, and regardless of what language they spoke, they would understand you? What positive advice would you give the children, if that were possible?
Photo by Karianne Flaathen
Claire: Oh, I would most likely sing something instead of speaking. Something beautiful and fun. And I would say to them to always love one another and never forget to dream and go after their dreams. The secret to happiness is in the joy of the journey.
Chase Von: What are some of the causes you either support or feel extremely strongly about?
Claire: There are many causes close to my heart. One of them is the Compassionate Eye Foundation: http://www.compassionateeye.org . It brings water, sanitation, schools etc to poor areas of Guatemala and Africa where conditions of living are extremely difficult. Our mission is to support, honor, and empower those in developing nations in order to expand educational opportunities, basic health services, and tools for sustainable economic development.
Once a year a group of actors and photographers get together to shoot pictures and sell them via OJO images and Getty Images. The proceeds go to the Compassionate Eye Foundation. I did this for the first time a couple of years ago and we managed to raise enough money to build a school in Guatemala with our London shoot. It made me so happy! This event happens every year in several countries. J
Here`s a link to see what we did (can you spot me in there? He, he)!
http://www.youtube.com/watch?v=DlgNMVFovGs
If you are an actor or a photographer and would like to donate your time and talent, please get in touch with the foundation via the website. You can also give donations. Thanks!
Also, because of the terrible recent events in Haiti, I strongly recommend to go to http://www.directrelief.org/ and show your support. I am so fortunate to be safe and well, and when I see the suffering of the population over there it truly breaks my heart. We must do everything we can to ease their suffering. I believe that the Red Cross also does a terrific job helping in Haiti, it is also a great charity to be involved with.
Chase Von: I always try and ask what might be a tough one Claire. What are your personal feelings on all the hype about the H1N1 Flu Virus? And do you personally plan on taking the shot or have you? This is a video of a girl that was going to be a Cheer Leader for the Washington Redskins football team. I think it`s very sad and those who have seen it will be using this to make their own choices as to whether they are going to take it or not.
UPDATE ON WASHINGTON REDSKINS CHEERLEADER CRIPPLED FOR LIFE AFTER BEING VACCINATED
The link in the event video doesn`t work:
http://www.youtube.com/watch?v=mh5F5wP8RdU
After being overseas all that time, I know not only are you busy, but you must still be adjusting to life here. (Smile). So thanks again and I did have one more question. I know you`re still doing voice work in other countries but will your voice be in any American cartoons and video games here in the near future?