Published:
September 8th, 2010 14:00 EST
| | | |
| --- | --- | --- |
| | Chase Von Sharing Betty Dravis's interview with artist promoter JESSICA GILBERT! | |
Interview by Betty Dravis
Betty Dravis: Hey, Jessica... It`s great to see you. I`m overwhelmed by the number of entertainers and artists who suggested you for this interview. You`re a promoter of new talent, building fan bases for them, but it looks like you have a big fan base yourself. (laughs) On your various websites you state that you couldn`t live without music in your life. I assume that`s why you love entertainers so much and want to help them succeed.
There`s so much I want to ask you, but where to begin? Hmmmm... How about at the beginning... with your childhood in Canada? What kind of precocious kid were you, Jessica? When did you first start swaying along to music and realize you enjoyed it so much? Were you pushing your little friends off the merry-go-round, encouraging them to sing and dance instead? I bet you did something like that...
Jessica on vacation in Italy
Jessica Gilbert: Hi, Betty. Thanks so much for having me here. I feel very honored to be among so many wonderful and talented people. You`re right, music (and the arts) is something I can`t live without, but I never went so far as pushing my childhood friends to perform. (laughs)
I truly love working with artists and being a part of their journey to the top. There is so much great talent out there and being able to assist an artist in even a small way makes me feel good because it`s one step closer to helping them reach their dreams.
I was born in Montreal, Canada, but left as a baby for Houston, Texas. I spent my childhood there until the age of ten. I was, generally, a very good and independent child because I was as happy doing things on my own as I was being with other children or adults. As a child I liked creative endeavors too: drawing, painting, coloring, writing and especially puzzles. I had learned the alphabet through the medium of puzzles by the age of two, which apparently was unusual, according to the playgroup "directrice"... much to my Mother`s surprise. I loved the performing arts: took ballet and tap-dance lessons; enjoyed singing to myself and making up songs and recording them as I came up with the words. At about age eight I organized a school play, Return to Oz, in which I was involved in all parts of the production, placing myself in the lead role. (laughs) I was also engaged in fundraising activities for various causes. In fact, at my school I was the first child to initiate a fundraising activity which led to many other student fundraisers.
Betty Dravis: Just as I suspected, Jessica, you were a precocious child. (laughs) And then when you grew up, did you start attending concerts? If so, can you recall your first concert (who you were with, who was performing, etc.)? Please share the emotions the live music aroused.
Jessica Gilbert: Yes, Betty, I`ve been fortunate to have had the opportunity to attend many concerts! My first concert was Tina Turner in MÃ¥laga, Spain at age ten with my parents and sister in the summer outdoors. I can`t say it was the best concert experience because it started really late. It was also hot, buggy and I got tired of standing. However, I still loved seeing her live! Back then I played Tina`s music a lot as she was one of my top favorite artists (still is today), so getting to see her in concert was an exciting experience for me. I was overwhelmed with joy to be there.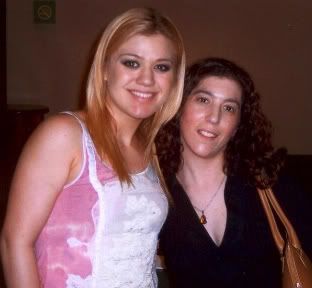 Jessica with popular singer Kelly Clarkson
To read this entire interview, do visit the below link:
http://damesofdialogue.wordpress.com/2010/09/07/betty-dravis-presents-jessica-gilbert-artist-promoter-founder-of-talent-spotlight-magazine/