Published:
February 18th, 2010 23:11 EST
| | | |
| --- | --- | --- |
| | Chase Von Sharing Story by Poetic Friend, Glynis M. Boyd on the now Deceased Influential Poet, Lucille Clifton... | |
I do not belong here.


That thought ran through my mind as if training for the Boston Marathon and it would come in first place. It was June 2002 and I sat in a classroom on the campus of Bennington College in Vermont with a group of up and coming writers, as evidenced by master`s degrees and PhDs in any kind of writing you could think of.

I had an award from Lucille Brown Middle School as a hero in the making and a full-time job as a social worker that kept me in my journal but I didn`t think that would get me on anybody`s writing panel.


I had applied for a fellowship from the National Book Foundation and they felt I had "promise" as a writer. I chalked it up to a need for diversity.
My colleagues (as the facilitator had asked us to refer to one another) were literally tearing poetry apart. It was the 21st century version of Gladiators and guess who was in the center of the arena?


Glynis, they said, you can`t write in lower-case...Glynis, it confuses the reader when you only uppercase deities...Glynis, what was your degree in again...
And I, as uncertain and gawky as I was at eight hoping to be chosen for kickball, could not explain myself.


I was an inner-city girl raised mainly by my Grandma Cat who believed in doing good, church and total reverence of God. I could no more lowercase God`s name than I could not feed a hungry child. Writing rules confused me.


I loved words and putting them together in a way I had no explanation for, only a need to do. My life up until that day hummed on books, poetry and anything I could read or write. This was the one place I felt accepted, just me and my pen, with no one telling me I was too short, too fat, too anything. In writing, I was perfect.

"Why can`t I just write?" I blurted. "Why does it have to be in a formula any kind of way?" Eloquence escaped me as the rawness of my discontent took over and I was reminded of my unspoken fear:


I am not a writer.

Later that night we adjourned to the Barn for our weekly meet and greet, update on the week`s activities and so forth. Tonight was special because we had the opportunity to choose books, donated by a publishing house.


I reached my hand into an endless barrel of reading and pulled out "Blessing the Boats" by Lucille Clifton.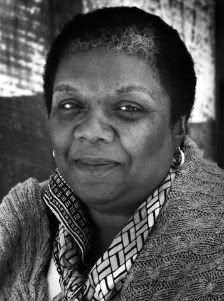 Now Deceased Influential Poet, Lucille Clifton
I did not know who Lucille Clifton was nor why she wanted to bless boats. Maybe her daddy was a sailor, I mused as I looked at the book in my hand.
I opened it and realized one thing immediately:

Lucille Clifton wrote poetry in lowercase and uppercased the name of God.

In that moment I heard my Grandma Cat say "God may not come when you call but He is always right on time." The Lord, in His wisdom, did not think a firestorm in class earlier that day was the right thing to do, not to hurt anyone just get me out of there.
As always, He met me at the need I could not speak.
I vowed that night as I lay in bed if I ever had the chance to meet Miss Lucille I would thank her and try to tell her what she had done for me.

And I will not cry, I decided. I will be strong and amazing and she will be very pleased.

In June 2009 I met Lucille Clifton, seven years to the day I first held one of her books in my hand. She was in attendance at James Madison University for a week devoted to her life and work. Again, I was the odd one out. The seminar was slated for professors and teachers of writing, with a focus on African-American poetry. When I received the notice of this opportunity through my beloved Kalamu-listserv, I could not allow a little thing like not being a professor of poetry to stop me. So I wrote and explained why I needed this and because it was meant to be, I was accepted.

We had been waiting to see Miss Lucille with barely contained excitement, anxiety and all out yearning we could not describe. I was at lunch mid-week when the word came around..."She`s here! She`s here!"

Miss Lucille arrived in a wheelchair, her hair gray; I only saw a queen with a silver crown rightfully being taken to where she needed to be. I was enthralled with her, the memories of Vermont flooding me, the feelings overwhelming me. Dr. Joanne, ever mindul of those who need a little extra help, asked me if I`d like to meet her.

I went to her and introduced myself. I wanted to tell her about Vermont and those awful writers, about feeling inadequate as a writer and sometimes a person, how I didn`t understand why you couldn`t write however you wanted. I wanted to say a lot, to be intelligent and interesting.

Instead, I cried.

She gently held my hand and comforted me, a blubbering 41 year old who did not care that everyone in the luncheon area at James Madison University was watching our exchange, privy to my runny nose and swollen eyes, my worst look ever. I can`t tell you what they felt or how they looked because I did not see them.

I only saw Miss Lucille, with a smile as kind as a hand to help and as warm as the sun after a very harsh winter.

She had pulled me back, once again.

As my tears subsided and I could actually converse, Miss Lucille announced to the group "I teach my students to comfort anyone in distress. It is the very proper and human thing to do."

I told her I did not get a writing degree in college.
She said me neither.

I told her I felt God was in everyone and everything.
She said me too.

I told her I was not sure I was any kind of writer at all.
She smiled, her eyes with a crease of a twinkle as she delivered the verdict.

Of course you are, she said. Writing is your life.

I read this morning Miss Lucille has finally gotten to see God face to face and tell Him a thing or two about the Psalms. My tears this time are different.

Sometimes tears serve as a herald of sorts, confirming we have grown, that another place in living has been reached, for those who have moved on and those who continue to keep the watch.

How is it a heart can be as heavy as the burdens of Atlas yet as light as air waiting to become breath? I suppose that will be a line for a poem someday, a Lucille Clifton kind of poem where all I am in that moment is given easily, my vulnerability as transparent as a baby`s cry. Miss Lucille saw no need to save anything for another piece; the writing will call you, she said. It is the nature of words to come together as need be.

My daddy told me never to say good-bye, only see you later.
"That way, Pooh," he said, "you know you`re gonna see that person again."

See you later Miss Lucille.

(C)2.14.10
glynis m. boyd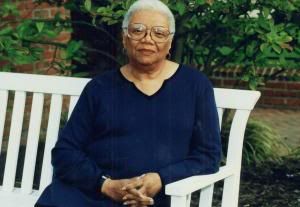 Influential Poet, Lucille Clifton
For more on the late Lucille Clifton do read:
The New Yorker
http://www.newyorker.com/online/blogs/books/2010/02/remembering-lucille-clifton.html
Glynis M. Boyd
(Pictured above)
Is someone I have known for years. And definitely one of the best poets I have come across in my own writing journey. We were supposed to publish a book together but things took place that prevented that from happening.
Maybe in the future we will.
With respects and also my condolences as well to Lucille Clifton`s family, friends and fans...
Sincerely,
Chase Von