A very short time ago it seems I had the pleasure of interviewing Hollie (Hot Stuff) Dunaway.
In fact, I thanked her for the honor of being able to interview a true Champion to start off the New Year which we are still barely into. I`ll include the link for those who wish to read that interview in closing but like the true Champion she is, Hollie will be stepping into the ring 28 Jan 2010 to face what is going to be a truly formidable opponent.
That being, undefeated Chantel (Gorgeous) Cordova. Cordova is indeed gorgeous but she`s also a very experienced fighter! Hollie (Hot Stuff) Dunaway with (22 wins, 8 losses, (10 KO`s), has no amateur experience and willing admits she got her boxing education with OJT, (On The Job Training) her first year in boxing.
Chantel (Gorgeous) Cordova on the other hand, is currently undefeated with (7 wins, and (three KO`s). She also is the former two-time United States Women`s National Champion!
So this is going to be a fight I don`t believe anyone who can make it, is going to want to miss!
Hollie also told me in our interview she grew up fighting with her brother, a soldier in the United States Army now. I haven`t communicated with Chantel but if she grew up fighting her brother, Marvin "Much II Much" Cordova, who has an impressive professional boxing record of his own, this is definitely going to be a show down in women`s boxing of truly Epic proportions!
The event is being held at the Coca Cola Bricktown Events Center, 425E California, Oklahoma City and labeled the OKC CHARITY FIGHT NIGHT.
Boxing Legend James (Buster) Douglas, the first man to defeat (Iron) Mike Tyson will be the celebrity guest host. Previous celebrity guest host have include the legendary Larry Holmes, Sugar Ray Leonard and Shawn Grady.
For more information on the event do visit the below link:
It will also feature not only boxing but for the first time this year, Mixed Martial Arts bouts as well! And on a side note, if you haven`t seen the movie "The Hangover" (If you`re an adult that is), it is a hilarious flick and (Iron) Mike Tyson is fantastic in it! (Smile).
I also interviewed number one contender, Stacey (staLo) Riele recently and just like Hollie, she told me there is still a lot of politics and corruption in boxing, but I believe both Hollie and Chantel are going to be fighting in a venue, as well as everyone else on the fight cards where fair, legitimate decisions will be made.
OKC CHARITY FIGHT NIGHT, with its mission for the prevention of blindness and saving sight has a great reputation and tradition it upholds, so I believe if anyone is going to get a fair shake in the ring, it will be there!
I`m wishing both these ladies success and as I`ve said before, may the best woman win!
Respectfully shared,
Chase Von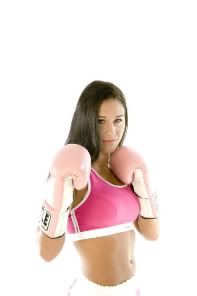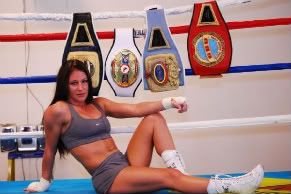 Four Time World Champion, Hollie (Hot Stuff) Dunaway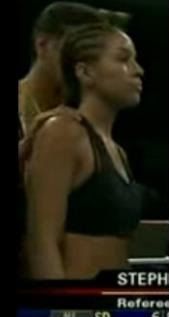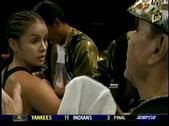 Undefeated Professional Boxer and two-time
United States Women`s National Champion,
Chantel (Gorgeous) Cordova
Related Interviews and Articles I`ve written here at the SOP:
Chase Von and Four Time Women`s Boxing Champion, Hollie (Hot Stuff) Dunaway!
http://thesop.org/sports/2010/01/09/chase-von-and-four-time-womens-boxing-champion-hollie-hot-stuff-dunaway
Chase Von and Female Boxer on the Rise! Stacey, (stayLo) Louise Reile! The Fighting Angel!
http://thesop.org/sports/2010/01/16/chase-von-and-female-boxer-on-the-rise-stacey-staylo-louise-reile-the-fighting-angel
Women`s Boxing, Krisztina (Baby) Belinszky and Sarah Goodson!
http://thesop.org/sports/2009/11/25/upcoming-bout-in-womens-boxing-krisztina-baby-belinszky-and-sarah-goodson