Published:
December 20th, 2010 01:09 EST
| | | |
| --- | --- | --- |
| | Chase Von with Breath Taking Beauty, Actress, Model and Singer Elham (Elie) Madani! | |
Chase Von: Hi Elie and on behalf of myself and the Student Operated Press, thanks so much for finding the time to squeeze this interview into your hectic schedule.
I personally think you have some of the most intriguing and beautiful eyes I have ever seen and I know I`m not the first to share that with you, but before we go into your natural beauty and your acting, singing and modeling endeavors, thanks again for sharing yourself with our readers here at the SOP!
Lovely Actress, Model and Singer, Elham (Elie) Madani!
Elie: You are so welcome and it is also my pleasure to be interviewed by such a great person. You are a very talented poet and writer --- And you also seem to be so gentle and brave from what I have discovered so far. (Smile).
And about your beautiful eyes compliment? Yes, I have heard about my eyes almost from everyone during my life --- Mostly from men! (Ha, Ha)!
Chase Von: And thank you so much for the compliment yourself Elie! (Smile). But getting back to this now, how about first if you tell our readers about your growing up years --- Where did you grow up? Was it a happy childhood for you being the only child?
And when did you first become aware that acting was in your blood? Also was anyone in your family involved in acting or any other forms of entertainment? And lastly for this part, how supportive is your family of you pursuing your dreams?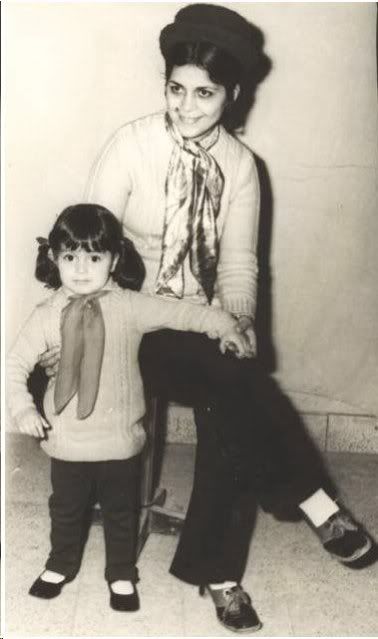 Elham (Elie) Madani when a child with her Mother...
Elie: I grew up in Iran but in regards to my family background and history, I was raised mostly by my Mother because my Father was in a mission and progressing in his career in another country.
So I hardly saw my Father. In other words, I can say my Mother and my Grandmother and Aunts were the ones around me in my early childhood.
That`s also the reason my parents preferred to have only me of course, because it was and is still, very, very hard to raise a child when only one of your parents is present.
About my Mom, she was also doing her studies in another city and I can say I had a very independent but lonely time while growing up. But being alone is like a tablet; it has both good effects and bad side effects yes? (Smile).
To be alone, that pushed me to discover myself more than the other little kids around me and also be so curious and independent. I discovered literature and movies at an early age. I mean by the time I was 7 or 8 years of age, I had already read big novels by Charles Dickens, Emily Brontë, Fyodor Dostoyevsky and a few others --- That`s what made me aware of the beauty of literature, and to love the drama in movies by so many different personalities.
It was also a big help that I loved art, especially acting, modeling, dancing and singing but there is a reason why I did not pursue it sooner than I have --- And that`s because of the Islamic Revolution that first barred so many things in Iran and also none of the things I was interested in, interested family members. They were not into Acting or Singing or Modeling at all. Both my parents as you know Chase were professionals in the Medical Profession.
So it was a very brave revolutionary step for me to not study medicine and instead become a literature teacher. Even now I quit that job and now I am here to go after my heart`s desire but better late, than never --- Right Chase? (Ha, Ha).
I wanted and still want all the time to be the top and 1st in everything I participate in because I put all my soul and energy into it! At that time, however, the only part of art I could take part in was reading the Holy Quran --- It was all we could do then --- Meaning around the early revolution, (Around 20 to 25 years ago). It did help however, that I`d had big success at "Holy Quran" singing events in my native country!
It was really the only thing that I could do during those times and I won 18 times! I beat out all the people I competed against and got 1st Place Winner as the Best Holy Quran Singer according to my voice and manner of pronouncing Arabic and its accents. That is why I know the Arabic accent very well now. (Smile).
But I should tell you, Mother passed away in a harsh accident some years ago, when she was still relatively young and too much beautiful. It was the biggest and worst shock ever in my life!
She never knew I loved acting this much because she passed away before I could share that with her, but I am sure she would be the best supporter for me as she was truly there for me as best as she could be, in everything else prior to her death.
She also may have had some idea though because at all the family parties and get togethers, I always got in trouble because I had a novel or a modeling, cinema magazines and not my class homework. (Ha, Ha). Reading was my hobby instead of playing with other kids.
Chase Von: So sorry to hear of the passing of your Mother Elie and I know you`re making her soul proud! And you do have quite an extensive education to fall back on with a Bachelor`s degree in Literature and a Master`s degree in Linguistics, not to mention you also speak Arabic, Hindi, Persian, (Farsi) as your my native language, Afghani and English but I really think with your beauty and talent, I don`t see you having to rely on those at all!
I do want to ask this though, since you were an only child, although you don`t have to be an only child to do this --- But did you have any imaginary friends? Or did being an only child make your imagination more active?
Elie: Every child has imaginary friends I think and I had them as well. But not any in particular that was always there. Mine were more so during the reading of books I was reading and I could communicate with them (Characters) very well --- Feel them ever but even more so with the movies. I mean even now, if I see a sad story, even if it is in a cartoon, I will cry or happy ending I will laugh out loud and recently I`ve discovered I can even smell things when watching some movies.
Can you believe that Chase? I mean I can smell hot chocolate or like fires burning etc... Strange or what? (Smile).
Chase Von: Interesting Elie and that`s taking Empathy to a whole different level! If you haven`t seen it, please don`t watch Blazing Saddles! There`s one scene in there you would be better off not --- Smelling --- (Smile). Also, you`re very experienced at horseback riding, have some background in Martial Arts and are skilled in Belly, Hindi, Bollywood, Latin, Ballroom, Salsa, Meringue, Cha Cha, Persian, and Afghani dances as well! Are there any video`s of you dancing? Ah --- I believe there are some curious minds out there, which just might want to know --- (Heh, Heh). And also, if not now, is there a chance you could make a video with perhaps an introduction saying, this is Hindi, and do a sample of that dancing, and this is Cha Cha, and do a sample of that and so on? And let me, (I mean the world know)? (Smile).
Elie: (Ha, Ha) Chase--- (Smile). And of course I love to show case my talents! Especially if you`re asking me! Are there any directors out so we can make this happen? (Ha Ha). If so, I will be there!
And I do have some homemade video`s that aren`t professionally recorded and unfortunately, I left them in my country while moving here but I would be very happy if I get a acting role and get to dance also during it!
And Chase, I can say I was so scared at first to learn to ride a horse! I wanted to so badly though, I had to tell myself to get rid of this fear and I`m glad I decided to do it because I also wrote a script where I`d have to ride a horse and even jump on it later!
That happened when I took part in a 24 hour short movie making and I wrote this script were I acted as a paralyzed girl who has to ride the horse to escape the dark life she has.
I was doing all actors makeup as a makeup artist --- That is also another one of my skills --- So I had multiple jobs in that movie and yes, my good acting class mates and me made it within 18 hours only with the student facility and it won as best short movie and me best actress and director! But far as learning horseback riding? I had 6 month training prior to that and broke my finger as well but I did it! Scared but --- Yes I did!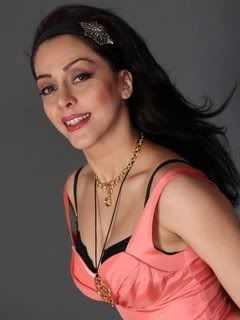 Chase Von: I --- Ah, I mean the world will surely appreciate that dancing video Elie! (Clearing throat) --- (Smile). And knowing how to ride a horse will probably help you a lot in your future roles --- And now on to your many accomplishments and I can`t list them all! You were voted the best actress for your role in I Know You Will Come and Search of Freedom, The Best Player in the Theatrical Play Shahid, Top Finalist Actress at the Universal Academy of Acting for 2010, 1st Place Singer in the Singing Competition, My Country, and Miss Beauty/Most Photogenic in 2009 for Internet Votes and that`s just listing a few!
More recently you were cast in Killer`s Freedom with the extremely well known and accomplished actor Michael Madsen and talented actress Rachel Hunter, as well as Lazar Rockwood, Jennifer Dale and Tony Pearce! My friend Jenny McShane has worked with Michael Madsen in the past as well but what was your experience like working on that project, and who are some of the actors and actresses you admire most and would love to create with?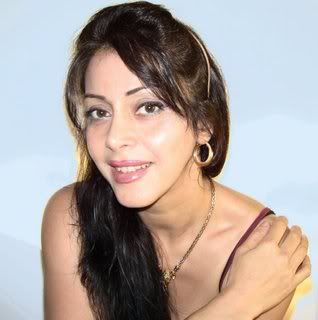 Elie: Great question, all of them are great, because they are doing hard work but I would love to work with Robert De Niro, Al Pacino, Dustin Hoffman, Johnny Depp, Tom Hanks, and Keanu Reeves and may I add Bollywood actors too?
I`d also love to act with Amita Bachan, Salman Khan, Shahroukh Khan, Amir Khan as well and Meryl Streep, Jodie Foster, are two of my favorite actress. I dream to be in the next James Cameron, Steven Spielberg movies too!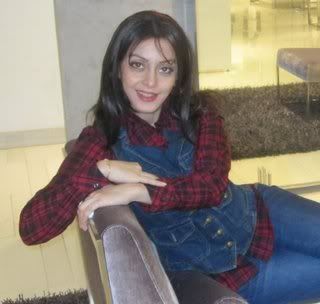 Chase Von: I know at present you are still in Canada Elie, but that you do want to come to the US and further pursue your dream in actual Hollywood! How do you like living there and how soon do you think you`ll be here in America?
And also, your parents obviously didn`t know, or weren`t very understanding of your chosen profession, but what advice would you give to people who know they want to pursue something that will make them happy, but aren`t getting the support from others or even worse, face ridicule for even thinking about it?
Elie: Yes Chase, of course I moved to Canada only to pursue my deep long term desire to do my best and use this highest energy that is burning in me to cry out and say here it is!
There is a star who wants to be discovered in the galaxy! (Smile).
And about your second question? Yes again, this is exactly my story! Not only did none of my family or friends support me --- But also tried to mock at me some in a way but I never gave up and I believed in my hidden desire and dreams and power!
So my advice is that people do what they want and not what they might think would please others. It OK however in this movie business to have other educations and job skills to run your life as well in the beginning until you truly establish yourself. But if you don`t ever try Chase, you won`t ever know!
And yes, some might think I am so crazy because I left my PHD and now I am here and ready to get a break and move to Hollywood! When? I should be ready after April 2011 when I finish my project here.
I`m working on a theatrical project and also different types of modeling projects like lingerie, classical looks, part modeling like hands, eyes and feet right now, but as I mentioned before, I`d love more camera work, so we`ll see what will be my gift from Santa Claus and hopefully it will be happy news for 2011 and 2012 in Hollywood! (Smile).
Chase Von: Great answer Elie and often we see people who appear to be living their dreams, but having interviewed quite a number of people, I know quite a few who have not only had no support from those you would think would be close to them ---But who have strained relationships with parents, siblings and even supposed friends because they are pursuing what they themselves want in life! Granted, success is the best revenge but reaching that next level isn`t made any easier if you don`t have people supporting you.
I`m also interviewing the amazing Kimberlee Morton and her attitude has been to prove everyone that has anything negative to say about her pursuits --- Wrong! (Smile).
Are there any projects you have in the works now, you can give are readers a heads up about? Or are you waiting to get to the States to really get going?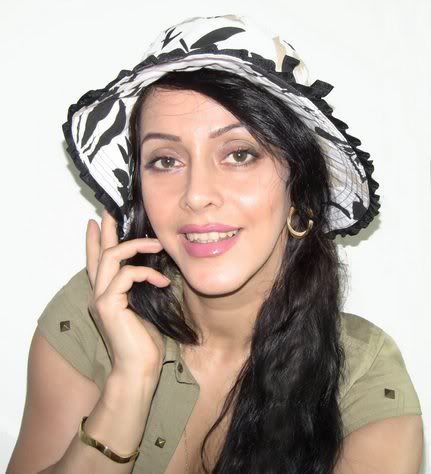 Elie: Yes, I am working on a theatrical project named The Conference of the Birds by a very successful Canadian-Persian director, Dear Soheil Parsa and I have an attorney role and some commercials, however, my aim is to get leading roles in feature movies in Hollywood. You know, there are many good subjects around or about the Middle-East and USA --- And I will be a very good, strong choice for those kind of movies. As a person who lived over there and knows the cultures very well besides knowing the languages.
But about your other question, here I should add, beside all of those other elements, like unsupportive friends and family in my case Chase, there were also governmental issues, community and cultural points of view as well. As I mentioned before, I had big, big barriers! Just thinking about that I left all my family members, friends, my permanent job --- Even my PHD just to get more opportunities to be seen universally!
Oh My! But success needs big sacrificing and lots of passion does it not? So it wouldn`t be fair if I do not have a big break! What do you think? (Ha Ha).
But I do have one good supporter --- You know who? My big talented singing Parrot! She also loves the camera like me and starts making kissing poses when I turn it on and loves singing --- She even sings Diamonds Are a Girl`s Best Friend by Marilyn Monroe! (Smile).
And most of the time when I wake up or come home; she is asking me what is your name Mama? And she answers it, "Superstar." That of course makes me smile and more motivated when a bird can discover my talent --- Why not directors? (Ha, Ha!)
Chase Von: Lucky Bird! (Smile). But you know you have me, my co author Betty Dravis and I can only see your fan base growing as more people see your exotic beauty Elie!
What are some of your links, or web sites where people can learn more about you Elie?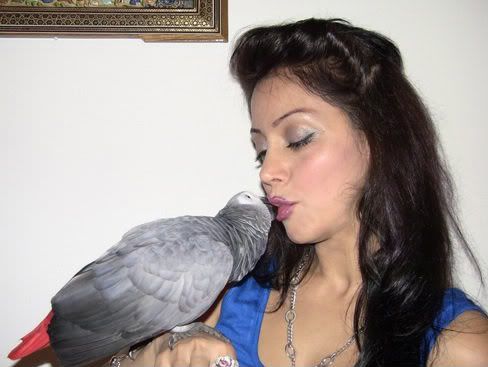 Multi Talented, Actress, Model and Singer, Elham, (Elie) Madani with pet Parrot!
Elie: People can learn more about me at my IMBD page here, http://www.imdb.com/name/nm3354774/resume and also these as well Chase ---
http://www.youtube.com/user/souniama1?feature=mhum#p/u

http://elhammadani.workbooklive.com/Home.aspx
http://www.facebook.com/home.php?#!/elhammadani
Chase Von: I always try and ask a tough one Elie, so the one I have for you is the Ambassador of India, after her experience in an American Airport, said she would not ever visit the United States again!
I think we all understand the need for security in today`s age but I think that what is taking place is ridiculous! What are your thoughts on that and also, because beautiful women, children, elderly and those with physical disabilities etc seem to be being singled out, are you flying or driving when you make your move to the United States?
Elie: As far as I know the reason was her "Traditional Dress" --- Meaning she was wearing a long dress named Sari. That seemed for the security people to make it look like she was kind of hiding something illegal or maybe some harmful things.
Of course it is not right for a respected Ambassador to be treated that way and I feel she has every reason to be upset about it! But in my case, I think I will have to fly otherwise I might not get there as soon as I would like. It would take weeks or more of driving.
What do you think? Or maybe I can borrow an invisible cloak or something and perhaps by pass the investigation? (Smile).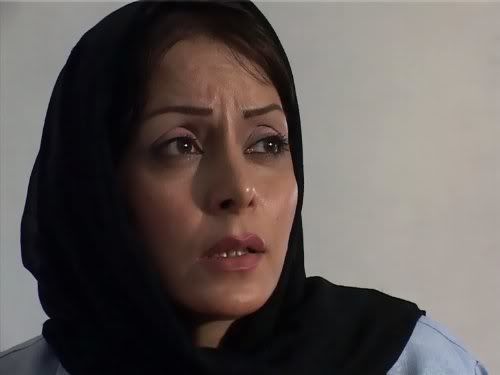 Actress Elham (Elie) Madani in "I Know You Will Come !"
Chase Von: I think in all honesty Elie, if they are in fact singling out beautiful women; you are certainly going to get picked! Thanks for sharing your perspective on that very controversial subject.
And now, what would you say if you were standing before a microphone and could be heard by every child on the planet, and regardless of what language they spoke, they would understand you? What positive advice would you give the children, if that were possible?
Elie: This is my message and it is not only for kids --- That after any bitterness, there is better happiness and after any breakage, there is a big victory! After any closed door there is an opened door and just have hope and try to get to your goals in a way not to hurt yourself and anybody else!
Meaning by hurting --- You don`t do drugs and no violent actions! Or anything that will take you away from who you really are is not good for you! Be yourself at all times because that is your success already because no one is you! And don`t use too much alcohol or any kind of drug that will take your real "Self" away from you!
Because if you do not like yourself --- Do you think drugs or abnormal things will help you or make you better or change you into something you do like? Not at all!
Only you and just you only can make YOU a better person! And one more thing, I hate this philosophy when the parents get old enough the children make an excuse and leave them in nursery homes! It is not right at all! They raised you when you were small and weak and unable to do anything for yourself! Is that OK now for you to leave them alone if they do not want it?
I will refer all to a movie that touched my heart a lot! Named Bagheban acted beautifully by Hema Malini and Amitabh Bachchan for you to watch!
Chase Von: What are some of your favorite meals? And how do you stay in such lovely shape? (Smile).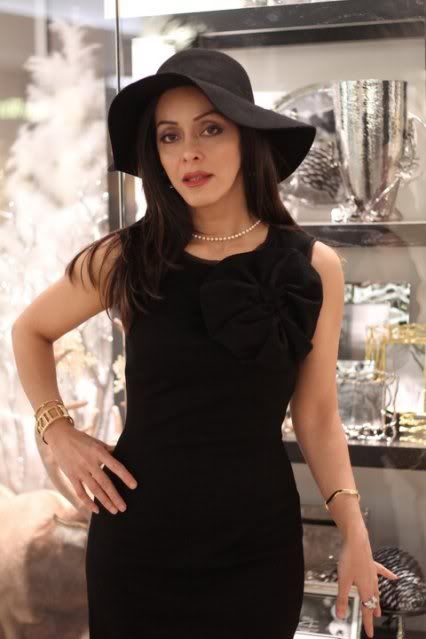 Elie: I do love "Spicy" foods Chase like Indian food (Cari-Tandoori) a lot! (Smile). It is why I am spicy too! (Ha, Ha)! But seriously, I am in shape because of walking too much shopping for dresses, jewelry, that I love a lot! As I mentioned before, Diamonds Are a Girl`s Best Friend! (Smile).
But acting classes and walking around the city just finding the places for auditioning in Toronto will help you lose all your fat as well! (Ironically)!
Chase Von: I know you`re a model and actress, but is there the possibility you might be putting out any music CD`s in the future Elie? And if so, what type of music do you think you will be recording to share with this world of ours?
Elie: OH Yeah! I have very good vocal cords for singing! I am now learning how to sing and also different types of dancing. I do love Country Music and Pop Music and of course Bollywood music and dances a lot! I do think it depends on discovering what vein I can go the furthest in. Maybe one style will work better for me than others since English is not my first language.
Chase Von: Looking forward to hearing that Elie and thank you so much for finding the time to share yourself with our readers. I`m truly wishing you continued success and also looking forward to seeing you in more movies here!
On behalf of myself and the SOP, I truly appreciate you making time for this and don`t be a stranger Lady and wishing you a wonderful Holiday Season!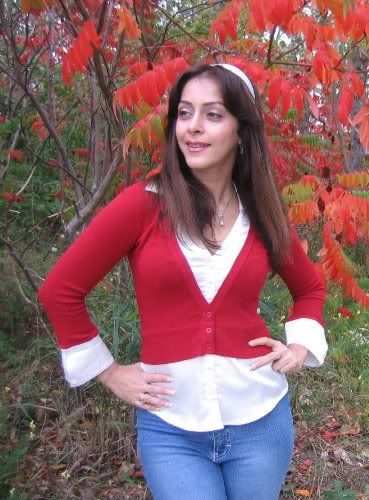 Elie: I appreciate your time and you generously giving me a chance to say some parts of my story. And also share my ambitions and my looking forward to getting an opportunity to make a life in movies! Hopefully one day I will also be able to share a very hopeful and positive story of a girl who survived after many very hard times in her life.
Although most people would think of her as only a luxuriously spoiled girl Chase, but I know better because that girl is me. Thank you so much again for this opportunity and I thank the Student Operated Press as well and wish all Happy Holidays and you know I will stay in touch with you my friend! (Smile).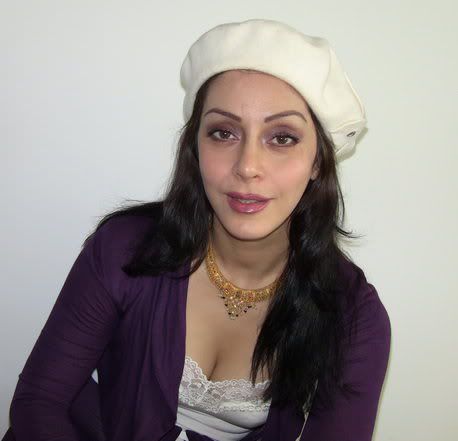 Elham Madani in feature movie for Hollywood as killer`s wife
Killer`s Freedom - trailer