Published:
March 1st, 2011 02:51 EST
| | | |
| --- | --- | --- |
| | Chase Von and Judyth Piazza, The Italian Oprah and Founder of the SOP and Host of The American Perspective! | |
Chase Von: Looks like the tables have turned a wee bit huh MJ? (Smile). For the remainder of this interview I will refer to you as Judy or Judyth because MJ is my nick name for you and that might throw some people off. For the record, those that do know you or have worked with you will totally understand why I call you that. It stands for "Mighty Judy" and I began calling you that ages ago!
But back to business, years ago now our mutual friend, the incredible Inspirational Singer, Song Writer, Speaker and Life Coach Willard Barth introduced us and after the interview you did with me, you asked me to write for you and I accepted. And wouldn`t you agree it has been quite an interesting ride Lady? (Smile).
However before we begin, since I personally know how busy you always are, thanks for finding the time to fit in this interview.
Judyth: I really thought you had already interviewed me Chase but let`s do it!
Chase Von: No better time than the present so what I would like to ask first is---Where did you grow up? How was your childhood? And in your case, you are doing exactly what you wanted to do as a child now but can you share the Barbie Doll " story with our readers? (Smile).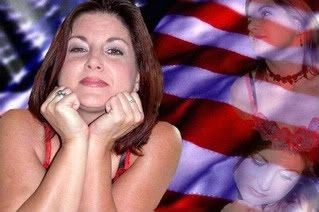 Judyth: I was born in Patchogue, New York to the parents of Joseph and Joan Piazza, a sister Lori 10 years old and brother Glen 6 years old. After 5 short years the family packed up and moved to Fort Pierce, Florida to be closer to grandparents and so that my dad could follow his dream of owning his own business. My parents enrolled me in St. Anastasia`s Catholic School where I spent the next 3 years until we moved to Vero Beach, Florida when I was 8 years old and was transferred to St. Helen`s Catholic School where I continued my education through High School. In the early 70`s there was a TV series that came on every Friday night about a gritty reporter that investigated strange and somewhat paranormal crimes called Kolchak: "The Night Stalker." That is where I got the idea to wear an old fedora hat that belonged to my father. I wanted to wear it everywhere and once it started getting old and dirty and somewhat torn my mother started trying to bribe with other things so that I would get rid of the hat. One of the bribes was a Malibu Barbie doll with the corvette no less. I reluctantly took the Barbie doll but it couldn`t have been more than ten minutes before I went to grab the hat out of the trash and place it back on my head. So, I guess you could say that is where the saying came from, "When most little girls were asking their parents for Barbie and Ken dolls for Christmas, I was asking my parents for Peter Parker and Clarke Kent dolls. Even as a little girl I knew super heroes and Barbies were not real, but super writers were."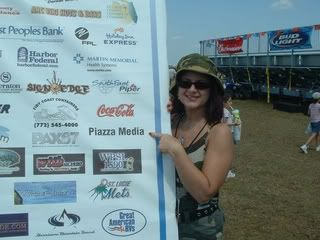 Chase Von: That`s really cute Judy and I`m going to have to pay closer attention to my own children because like I discussed in my interview with Voice Extraordinaire Joan Baker, I believe our basic personalities are formed when we are around 12 or 13 and from that point we just build on them.
And ironically, I was around that age when I wrote my first real poem. (Heh, Heh).
Was there anyone in particular at that time that peaked your interest in being a news reporter? To be honest, when I wrote my first poem, I didn`t even know that is what it was at the time and I hadn`t paid any serious attention to poetry. In fact, for quite a long time after that, I wouldn`t even read any poetry by anyone else because when people found out I wrote, they would inevitably mention someone else who wrote that was famous--- But I didn`t want my style influenced. (Smile).
Judyth: Once again this all stems back to the TV shows that I was interested in. Kolchak was one of them but I absolutely loved Nancy Drew and The Hardy Boys. I couldn`t get my hands on enough of those books and of course, the icing on the cake, TV.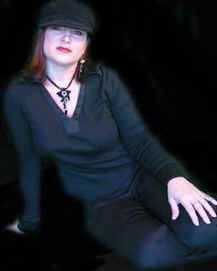 Chase Von: Personally, I`ve always had what some would call an inquisitive mind.
In addition to Batman, Superman, Conan, Luke Cage, Spiderman, Submariner, Ta Challa, "The Black Panther", Bruce Lee, Muhammad Ali, Sugar Ray Leonard, Julius Erving, "Dr. J", The Jackson Five and later, just Michael Jackson, Encyclopedia Brown, Daredevil, Electra, (I know, she`s a woman but she`s bad A--!) (Heh, Heh).
One of my other hero`s was Curious George! (Smile).
As you know, I`m now retired military--- But in the military you`re often too busy to follow the news and if you have down time, unless it pertains to you, the LAST thing you want to do with your free time (Or should I say in my case as not to generalize), is look at or read news!
Alright, you got me, I still read comic books but I`m still growing OK? Yes! I did watch the Curious George movie--- Yes! We own it! (Clearing throat). I`ve got small kids you know! (Heh, Heh).
Now back to you--- Since I`ve been writing here at the SOP, I`ve also begun reading more and more things pertaining to news. What is it you learned when you were working as a reporter before going your own way, that still remains with you in the present?
Judyth: The one thing that I noticed as a street reporter was the necessity to write in 3rd person and covering both sides of a story. The biggest challenge for me as far as owning my online newspaper, The SOP is getting new media journalists to follow traditional newspaper guidelines. This is important for website credibility and for the writers to land really good jobs by building an online portfolio. Speaking of Bruce Lee, I have been watching some of his films to grasp some his movements to use in boxing, which I recently became interested in. There is not another work-out like it.
Chase Von: When did you decide you wanted to fly? And how much did you have to go through before you could pilot that thing solo? And as a former Air Traffic Controller I know a little bit about the subject but what is that called? (Smile).
Judyth: I first became interested in flying when I had a guest on my program, Wesley Frieson. He is one of the inventors of the ultralight. Flying ultralights is a little different as far as FAA regulations go. You only need to be 14 to get what is called a sports license. I solo took off and landed after my first eight hours of training. As of now, I have logged around 240 hours. Also, I had a chance recently to take flying lessons in a Sesna 172 and I need around 30 more hours before I will feel comfortable soloing but again I believe that you can solo after 8 hours. I guess one of the reasons that I love flying is that believe it or not journalism has turned me into a bit of an adrenaline junkie so that probably explains that boxing as well.
Chase Von: I`ve interviewed Four Time World Champion Hollie (Hot Stuff) Dunaway, Top Contender Stacey (sta lo) Riele and as I type this, am working on an interview with Ada (Ace) Velez who has held numerous belts and was the first Puerto Rican woman to win a World Championship! Ahh... I was just visiting your Face book page now but what is this?
And are you planning to step in the ring with any of the above mentioned? And did any of those interviews in any way lead to you stepping into the ring? (Smile).
Judyth: You know... I wouldn`t mind getting in the ring with the Hawaiian Mongoose to see what I am made of (LOL). However, I will admit after I began boxing I went back and reread your interviews several times for motivation as well as checked out a few YouTube videos of the women boxers that you met.
Chase Von: There are a lot of people that want to write news or be reporters Judy, however there are NOT a lot of people that start their own online newspapers and host their own radio shows! Obviously you are going for your dreams Lady!
What was it like in the beginning when you first started? Also, you endured a painful divorce prior to doing any of this, went back to school to learn your trade and were older than most of the other students. Despite that, you`ve been very successful and are encouraging so many student writers and just writers in general that are in fact building resume`s from their contributions here at the SOP!
So again, can you share what it was like starting out? And also what would you say to someone who has something they really want to do but think the ship for that happening, has already sailed due to their age?
Judyth: First of all, no one`s ship has sailed forever. Anyone with the survival instinct would chop down a few trees and build their own boat. I have to say that I have been very fortunate to have some very good mentors the whole time and along my whole journey starting with one of my college professors at IRCC who encouraged me to become a writer because otherwise, I hadn`t thought of it since I was a kid. My first editor at the Sebastian Sun Newspaper had a huge influence on me as well. She gave me a chance to write for the oldest printed newspaper in Florida with very little experience. She worked with me until I found my writing style and didn`t discourage me from keeping on keeping on.
I also met another friend, Daren Copley at the College Press, which was an online student newspaper. Daren`s vision was very similar to my vision and as I helped him with his paper it motivated me to start my own, The Student Operated Press, which today we call The SOP because we now work with more than just students. I was anchoring the TV news at WWCI TV 10 for a bit and asked them to give Daren a try. Not only was I writing for the college press while I was in college in my mid 30`s, I was writing for The Calder Gazette and that is where I met Bruce Calder who noticed something in me that no one else did, Bruce helped me to develop my craft as well as teach me the ins and outs of online news. We worked well together so I asked him to build The SOP for me and work with me as my mentor. I had to figure out a way to fund the operation so that is where the radio show came in.
I started an online show to host on The College Press and after 12 weeks we took the show to a couple of local radio stations and they loved it. My producer and I started selling advertising for the show and in the first year we had enough money to keep the show on air as well as promote The SOP on air for 6 months prior to launching The SOP. This is one of the reasons that The SOP did so well from the start. Not many people are able to afford advertising on three radio stations where the show played a total of 6 times a week.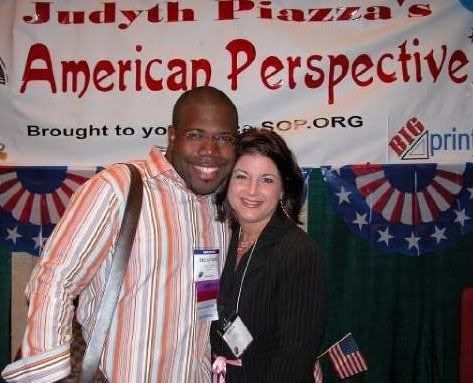 Chase Von: I know you have told me you wake up early and go to bed late, but that you can`t wait to get back to work because when you love what you do, it isn`t work, it is a pleasure!
Can you share what a typical day is like in the life of Judyth (Mighty J) Piazza?
Judyth: I have changed a bit since I started The SOP. I now go to bed early and wake up early. I really try my best to get 8 hours of sleep a day because I know it will make me feel better and live longer. I am usually in bed by 10 p.m. and up by 7 a.m. Coffee is the first thing I must get as soon as I roll out of bed. For Christmas I got a pull up bar so now in the mornings I do pull-ups first thing to get my blood pumping. I then turn on my computer and round up my immediate staff and then start going through mounds of emails. I have four people that help me first thing in the morning. I edit Newsblaze, The SOP as well as several other online papers until 10 a.m. as well as my new website, the official Judyth Piazza home page www.judythpiazza.com.
I usually start interviewing for the radio show at 11 a.m. and interview each hour until 3 p.m. In between interviews I edit, publish news, watch the networks and assign stories for writers to cover as well as help with the production of new programs on The SOP Radio Network. I usually eat lunch between 12 and 1 p.m. and take a stroll around the block to stretch or get in the car and head to the beach for some inspiration. If you can`t find me at the studio I always tell people I am at the beach. Everyone that is close to me knows that I am a beach bum. At 3 p.m. I usually help my daughter with her homework; Hillary is a senior in high school so we are hoping to get her into a good college. At 5 p.m. I box for 1 to 1 ½ hours 6 days a week. After working out, I eat dinner, work for a couple more hours and then head to bed by 10 p.m. " 11 p.m.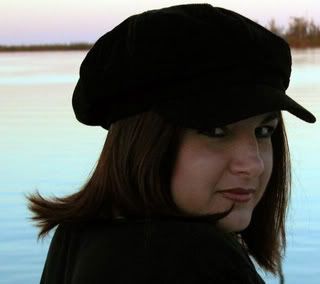 Chase Von: Changing gears, can you tell me and our readers a bit about this fitness program you are now doing and is your buddy John Basedow someone that helped you with it?
Judyth: John has been a regular on my show since 2005. I have always struggled with fitness because I work so much and always felt like I never had enough time. One of the best things he ever told me was to take baby steps. Miracles don`t happen overnight so when he mentioned baby steps this made sense. I now I have two different types of workout routines. The first one of course is boxing and the other is strength training that I do in the mornings before I start work 3 days a week. On day one of the 3 day work out I do 4 sets of seated dumbbell curls, 4 sets of standing curls, 4 sets of tricep extensions, 4 sets of calf raises, 4 sets of dumbbell reverse flies and 4 sets of pull ups. On the 2nd day of my 3 day workout I do 4 sets of pushups using a push up stand, 4 sets of pushups with the exercise ball, 4 sets of calf extensions and stretching. On the 3rd day we focus strictly on different type of leg exercises.
For my boxing workout I start out with 10 minutes of stretching, then 30 minutes of jump rope. Next, I put on my wraps and shadow box three 2 minute rounds. Then I put on my boxing gloves and work on the heavy bag, the reflex bag, and mitt training usually 3 two minute rounds. Then it is time for my favorite part, full contact sparring. I don`t know if I mentioned it but my daughter and my niece also box with me. Needless-to-say, this is a great way to work out family differences or a sassy mouthed teenager (LOL). Eating the right food is also very important to your fitness routine.
Judyth Piazza and Billy Dee Williams
Chase Von: You have interviewed so many famous people in different areas it would take up I don`t know how many pages to mention them all! But who are some of the people that have really left a lasting impression on you?
Judyth: In the past this is where I would take the opportunity to start name dropping some of the great people that have been on my show, great people like yourself. But I guess if I really thought about it and had to pick one or two, I think they would be Sean Stephenson, Author and Speaker and Robin Meade, CNN. Sean was a guest that personifies and embodies the true soul of my program. Sean was expected to die at birth due to Ostegenesis Imperfacta or the glass bone disease. Sean has proven that giving up is not the answer. He is one of the most remarkable guys that I have ever met. Sean has worked on Capitol Hill as Legislative Affairs Support Staff for Congressman William O. Lipinski and in the White House as a Presidential Liaison for the Office of Cabinet Affairs with President Bill Clinton.
Another person that had a very huge impact on me was Robin Meade. Robin Meade was the first person to give me a chance and my very first interview. When I started my radio show, The American Perspective in 2005 I had to figure out who would be my first guest. I wanted to choose someone that inspired me and that I knew that I could learn something from to help me in my journalism career. I had watched Robin almost every morning before leaving for class so I just decided to reach out to her and ask her for an interview. A smart person told me that all I had to do was ask. If she said no, life would go on. So that`s what I did. I found her contact information and just asked. During the interview Robin told me, "Judy, someone has to do this job and it might as well be you."
Chase Von: You`re an award winning journalist and you also use to be a News Anchor/Reporter on WWCI TV 10 News. You`ve also been a Freelance Correspondent for Sebastian Sun Newspaper Sebastian Florida, Fort Pierce Tribune, Pt. St. Lucie News and Women`s Independent Press, Pittsburg, PA and are also the two time winner of the Italian America Civic Association Scholarship and also won the American Association of University Women Scholarship!
You were also the Executive Editor of Florida People Magazine, a Freelance Writer for SOTAC Magazine out of Charlotte North Carolina and the Editor and Chief and Content News Manager for NewBlaze in Folsom California where you add more than 200 stories a day! And your radio show can of course be heard on The SOP Radio Network.
You`re a member of the Florida Press, the Committee of Concerned Journalist, The National Press Photographers Association and the Association of Women in Communications. Might I also mention you`re a graduate of the University of Central Florida with a degree in Organizational Communication!
I`m sure there is more but getting tired of typing all your credits. (Smile). What can you tell our readers about on top of all that, you are also acting in movies as well?
Judyth: Another thing that I am really proud of is that I received a planning grant from the University of Central Florida to come up with better ways to use the Internet for information dissemination. Yes, I am toying around with a few acting roles that have been coming my way. The most recent movie that I was in and completed was "Blood Moon." Producer Chuck Williams recently asked me to be in one of his up and coming movies.
Chase Von: What are some of your favorite meals Judy? And since you have begun this exercise program, are there things you use to eat you are staying away from now?
Judyth: I live in South Florida so I am partial to Cuban food. The best way that I can describe the cuisine is it is kind of like American soul food meets the tropics. I also eat a lot of Medditerrian food and of course my all time favorite is PIZZA. The workouts that I do involve a lot of sweating so I can pretty much eat what I want.
Chase Von: So Judyth Piazza`s all time favorite is Pizza? (That sort of fits huh)? (Smile). I know you are not only a dreamer, but a doer--- What would you tell people that do have dreams that haven`t acted on them yet? Also, what would you say if you were standing before a microphone that could be heard by every child on the planet, and regardless of what language they spoke, they would understand you?
What positive advice would you give the children, if that were possible?
Judyth: I would tell people that have a dream and have not yet acted on them simply this: The very moment that you take the first physical, tangible step towards a goal or a dream it has already begun to come true. All you have to do now if forge ahead, break your dream or goal into little baby steps and complete them one at a time then the only possible outcome is success. If I could talk to every child in the world at one time, I would say love your neighbor, learn to read and speak as many foreign languages as you can, find a problem in the world that needs to be solved and go fix it.
Chase Von: How important is family to you, and what is your take on the state of our current world?
Judyth: I have two wonderful children, Tucker 20, and Hillary 17. Family is very important to me but at the same time my family can be my biggest critics and obstacles sometimes. However, being Italian I am very close with my family and I am glad that we can all be close together during these exciting times that I am currently living in.
I am very concerned about the state of the world right now. The Middle East has always been an important part of the world, long before our dependency on oil came along. So, I believe that we need to keep a very vigilant eye on the violence that is taking place over there. One thing that bothers me is that we went to war in Iraq to eliminate Saddam Hussein`s chemical weapons stockpile but we found nothing. Today on the news I heard a reporter talking about Kaddafi`s chemical weapons program. So, my problem is, if we were willing to go to war over a weapons program that did not exist why are we not willing to go to war over a chemical weapons program that everyone knows exists and will probably be used on the people of Libya at any moment. I also think that we will soon have to make a choice when democracy rears its head in Saudi Arabia. Will the US protect our friends and oil interests and turn our backs on democracy or will we risk democracy and a free market economy in Saudi Arabia which will lead to astronomical oil prices. Because in a free market economy, need dictates price.
Chase Von: Who are some of the people in life that you truly admire and look up to?
Judyth: One of my biggest mentors in journalism is Djelloul Marbrook. I met Djelloul as a guest of my radio show in 2006 and asked him to be a part of The SOP. Djelloul is always available to mentor our writers and goes out of his way to support The SOP. Also, I met Alan Gray at Newsblaze in 2006. Alan saw what I was doing with the SOP and knew that I needed an income while developing our business model. I started editing for him as a contractor and never looked back. I have also became very good friends with Joe Estevez, uncle of Charlie Sheen and brother of Martin Sheen. He has been the person that has encouraged me the most when it comes to acting and Hollywood. Joe is a great guy and willing to help anyone that asks.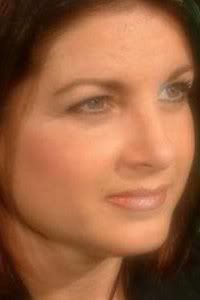 Chase Von: Do you have any projects your working on you can give the readers here a heads up about?
Judyth: I am currently working on my first book, which you are working on as well. The book is a collection of some of my most memorable interviews as well as a few other special features such as my fitness routines, lots of photos and a few surprises. A neat feature of the book is that readers can visit TheSOP.org and search our archives to listen to the original audio interviews from the book.
Chase Von: Well Judy, (Mighty J) before we close, is there anything you would like to tell possible writers or those interested in writing for the SOP? I.e. What kind of credentials you are looking for, what they can expect because speaking from my own experience, I`ve met so many fantastic people through writing here and in so many ways, it has broadened my world.
So I thank you for that so very much and again, if someone is interested, how should they go about contacting you to get started?
Judyth: Well, we are currently looking for new writers, broadcasters, cartoonists and up and coming musicians to submit their work. The best thing that someone could do if they would like to work with us is email a short bio and a brief summary of why they would like to be a part of the SOP team to judy@thesop.org and I will get back to everyone personally.
Chase Von: Going to let you get back to that busy schedule of yours now Lady and WBIT! (Will be in touch) but that is something we always are any way huh? (Smile).
Judyth: Thank you Chase for believing in me as an author and being a mentor at The SOP.