Published:
September 14th, 2011 19:01 EST
| | | |
| --- | --- | --- |
| | Joan Baker, Rudy Gaskins, Rolonda Watts! Host Another That`s Voiceover | |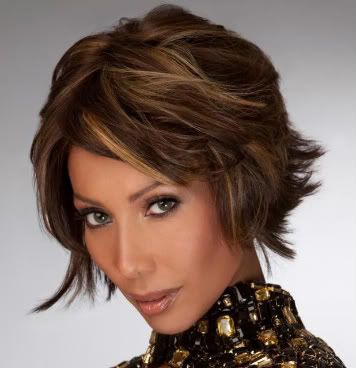 The lovely and multi-talented Joan Baker, Queen of Voiceover!
There are some people you meet and you feel like you`ve known them forever. I had to look to see when I initially interviewed the lovely, vivacious, intelligent and drop dead gorgeous recognized Queen of Voiceover Joan Baker--- December 22, 2009? Still seems like it was just yesterday! J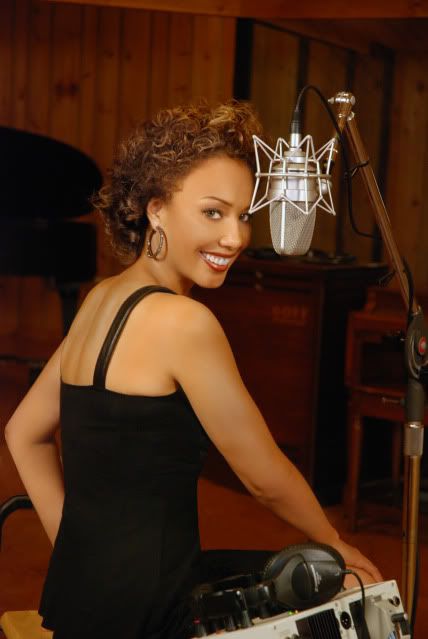 Joan Baker, spokesperson for Neumann USA with the TLM 49 mic "
Both Joan and her equally talented husband, Rudy Gaskins are at the top of their game but oddly enough, they are some of the most down to earth people you will ever meet! I can say the same thing about quite a few of the others I`ve interviewed like actress Jenny McShane, Kiara Hunter, Shannon Grissom, Leah DeVon, Dawn Huffaker, Aberjhani, Shawn Richardz, Ada "Ace" Velez, Debra Garrett, Bazhe, Vanessa Jay, Donna Solitario, Hollie "Hot Stuff" Dunaway, Kashy Keegan, Kimberly Prendez, Claire Dodin, MT Robison, Alina Smith, Barbara Evans, Katania "Kitty" Kavey, Darcy Donavan, Nhojj, and a host of others too numerous to name.
But back to point, after interviewing Joan Baker I was more than happy to announce here on the SOP that they were holding an event in New York last year called--- That`s VOICEOVER! I told Joan it was also something near and dear to my heart because in addition to them giving jobs to some people to get into a very lucrative field, the proceeds also go to benefit those who have Alzheimer`s. I had a Uncle, my favorite Uncle who died of it and distinctly remember how hurt I felt when I saw him last and he didn`t know who I was.
The link for the announcement for last year`s event is below the following pictures.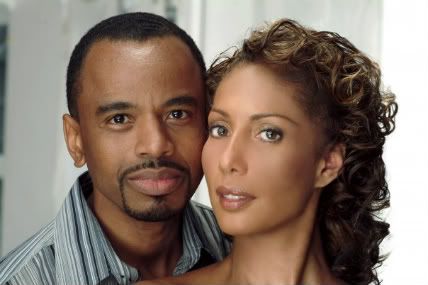 Rudy Gaskins with wife, Joan Baker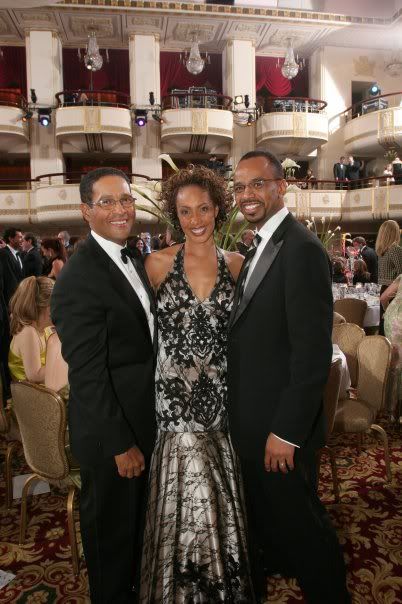 Joan & Rudy with Bryant Gumbell at the Rita Hayworth Gala for Alzheimer`s.
The Kings and Queens of Voice Over! Do You Have What It Takes? That`s Voice Over!
http://thesop.org/story/entertainment/2010/07/20/the-kings-and-queens-of-voice-over-do-you-have-what-it-takes-thats-voice-over.php
Joan Baker also blessed us by appearing in the second installment of Dream Reachers which I wrote with my phenomenal co author, Betty Dravis, i.e. Dream Reachers II and if you have taken the time to look at the previous that`s voiceover article listed above you can clearly see some very heavy hitters were present at that event!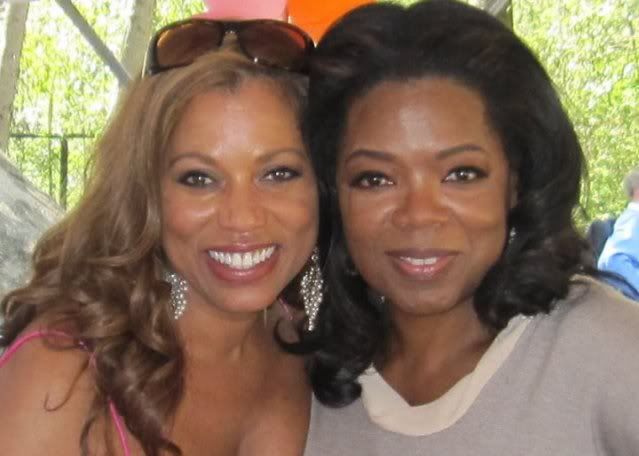 Rolonda Watts left, Oprah right
Another--- "Heavy Hitter" is going to be at this year`s event! Rolonda Watts! But unlike most in voiceover that you hear and become familiar with their voices, but couldn`t pick them out a police lineup if called to identify them, Rolonda Watts is KNOWN BY ALL!
It is a well worn phrase they`ve done it all but Rolonda Watts truly has done it all! And when viewing her web page I was particularly touched to find out she truly supports the troops! While I was still in, a USO tour came over to entertain us and two people that really left their mark on me as being so down to earth are Kidd Rock, and the sadly, now late Brittany Murphy, (Who also did voiceover), she`s the voice for one of the main characters in "Happy Feet", a movie my kids love. Rolonda also does voiceover for one of my personal hero`s characters--- Curious George! I`ll provide her links but below is a press release and I have to agree with it, our economy is in bad shape.
If you, or someone you know is interested in doing voiceover work or you know someone that has a great voice and has been told that all their lives then tell them about this! It could change the very path of their lives and in a good way!
So--- Do YOU or someone you know, have what it takes? Do read the following press release and also check out the videos I am including. And also share with those you think might benefit from this.
Blessing to all
Chase Von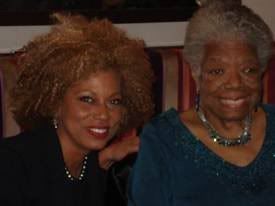 Rolonda Watts and Maya Angelou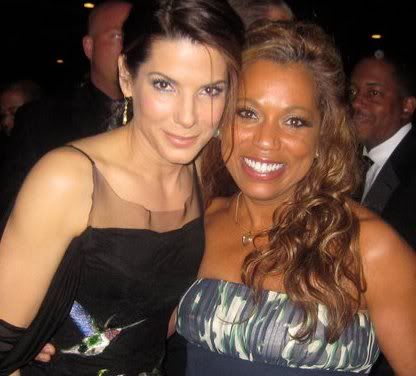 Sandra Bullock and the equally lovely Rolonda Watts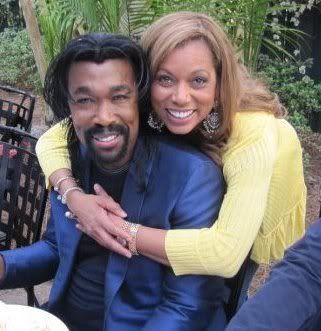 Rolonda Watts with the late Nick Ashford
The Rolonda Show - Most Memorable Moments
The All Too Shy, Joan Baker!
Joan Baker and Michael Jackson in Times Square. from Joan Baker on Vimeo.
What`s Voiceover?
Joan Baker hits New York`s Times Square to find out, "What is a voiceover?" from Joan Baker on Vimeo.

NATION`S TOP VOICEOVER ACTORS REVEAL
CAREER SECRETS FOR CHARITY.
West Hollywood, CAILFORNIA, OCTOBER 6th -- AN EXPERT PANEL OF TOP VOICE-OVER ACTORS, TALENT AGENTS CASTING DIRECTORS AND AD EXECUTIVES PROVIDE A CRASH COURSE FOR THOSE SEEKING CAREERS IN THE EXCITING WORLD OF VOICEOVER ACTING. AND THREE LUCKY AUDIENCE MEMBERS WILL WIN VOICEOVER CONTRACTS RANGING FROM A CBS TV AFFILATE PROMO TO AUDIOBOOK NARRATION CONTRACTS FOR ACX, A DIVISION OF AUDIBLE.COM. PLUS, ONE WINNER WILL WIN A HOLLYWOOD AGENCY CONTRACT WITH TGMD TALENT AGENCY AND OTHER PRIZES PROCEEDS FROM THE EVENT BENEFIT THE ALZHEIMER`S ASSOCIATION.
Joan Baker, author of Secrets of Voice-over Success (foreword by DAVID HYDE PIERCE) and talk show host and promo voice of the courtroom show Judge Joe Brown., Rolonda Watts host an entertaining and immersive evening of hands-on practical career guidance, as well as an American Idol-styled audition, complete with industry executives as judges. At a time when "jobs" is the word of the day, That`s Voiceover! brings the voiceover talent together with the buyers and producers who provide the jobs.
Attendees will also meet and hear from the talented voices behind movie, TV & radio ads for, DISNEY ANIMATION, THE SIMPSONS, THE OSCARS and EMMYS, DEAL or NO DEAL, AMERICAN IDOL, the NBC OLYMPIC GAMES, HBO, SHOWTIME, VERIZON WIRELESS. BET and countless others. These consummate pros will separate the facts from the fictions about BREAKING INTO THE VOICEOVER BIZ. Even seasoned voiceover actors will find incredible guidance as the conversation will include best practices for enhancing and revitalizing careers in an industry of evolving trends.
Valerie Smaldone, known for her award winning radio work in New York City is also an accomplished voiceover actor and will be appearing at this Los Angeles industry event. She will be joined by many voiceover artists including TV game show announcer Joe Cipriano, as well as Gabrielle Carteris, President of AFTRA.
Says Rudy Gaskins, co-creator of That`s Voiceover! Voiceover acting is among the most intriguing career opportunities and it`s growing at an enormous rate. But because of its largely anonymous existence, it`s been very difficult for newcomers to get information and training from reputable sources. "
This is why insiders like me and Rudy and the extraordinary group of top talent we bring to the stage, saw fit to create a voiceover movement with "That`s Voiceover!" adds Joan Baker.
That`s Voiceover!, produced by Push Creative Advertising and Joan Baker has become the most respected yearly event of its type anywhere in the world, drawing from the top voiceover talents in the field as well as the agents, creative directors, marketing executives and advertisers who make up the wider voiceover community.
And the proof is further evidenced by A-list panelists like Wes Stevens CEO of Vox USA, Bruce Smith, Director of voiceover talent for Disney Animation, Jeffrey Weinstock, VP & Creative Director, ABC Family and Vanessa Gilbert, President of TGMD Talent Agency.
"In a historically challenging economy where jobs are scarce and people are seeking to diversify their options, we`re bringing together the industry insiders who know what it takes to succeed." says Gaskins. Joan Baker adds, "That`s Voiceover! Is, first and foremost, a career event. The award of actual jobs in this context is an industry first. It bolsters our mission to elevate the conversation and point people in the right direction."
SPONSORS:
AFTRA, BACK STAGE, ACX powered by Audible.com, NEUMANN USA, SENNHEISER, Voicebank.Net, WhisperRoom, TGMD Talent Agency, RSPE Audio Solutions, and the Pacific Design Center are major sponsors in what has been a growing effort by Push Creative Advertising to expand employment opportunities in the exciting and often lucrative field of voiceover acting. And, as is the case with Joan Baker`s breakthrough book, Secrets of Voice-over Success (foreword by DAVID HYDE PIERCE), proceeds from this event will benefit the ALZHEIMER`S ASSOCIATION.
PUSH CREATIVE, INC. IS A STRATEGIC BRANDING AND MARKETING COMPANY PROVIDING SERVICES ACROSS DIGITAL, PRINT AND FILM PRODUCTION FOR ADVERTISING AND ENTERTAINMENT.
CONTACT: Rudy Gaskins at 212-269-0700
Push Creative, Inc.
1697 Broadway, Suite 404
New York, NY 10019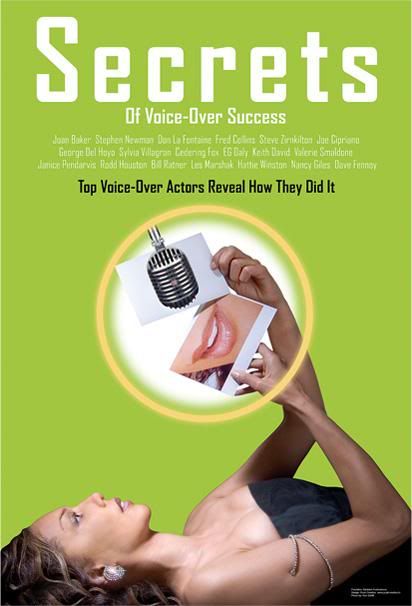 More on Rolonda Watts
http://www.facebook.com/media/set/?set=a.443217627116.240637.52751297116&type=1#!/RolondaFanPage
http://www.Facebook.com/Rolondawattsfanpage


http://www.Twitter.com/Rolonda


http://www.Myspace.com/Rolondawatts


For more on Rudy Gaskins and Joan Baker
http://www.facebook.com/profile.php?id=635847265&sk=info
http://www.facebook.com/profile.php?id=635847265&sk=info#!/profile.php?id=571637086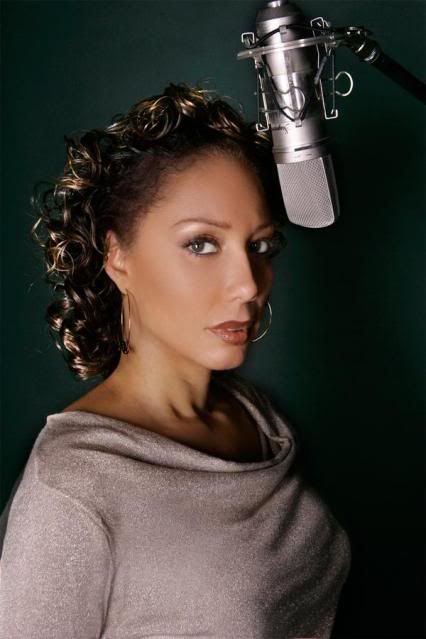 The Lovely Joan Baker
Host Joan Baker Interviews the Klitschko Brothers for Bio.
(Takes a little while to start so be patient)
Host Joan Baker Interviews the Klitschko Brothers for Bio. from Joan Baker on Vimeo.